If Peru's Inca Heartland isn't on your vacation radar, it's time to get acquainted. Trekking the Inca Trail tops many bucket lists but there are numerous unforgettable experiences to be had in this stunningly beautiful part of Peru.
The great Inca citadel of Machu Picchu and the sky-high altitude will literally take your breath.
You'll want to go deep. The indigenous people of the Sacred Valley's ancient culture and traditions remain vibrant. Connecting with them should be an integral part of your Peruvian experience.
Get Outdoors
Machu Picchu
Getting to this wonder of the world is a visual joyride. The Vistadome Train departs from Ollantaytambo and winds through the cloud forest, presenting magnificent views all the way to Aguas Calientes.
In Aguas Calientes, you'll catch the bus for a truly harrowing ride up a winding, narrow road to the entrance gates.
Ascend the stone steps and emerge at the top of this mist-shrouded city with the Urubamba Valley gracefully tucked-in below.
The fine craftsmanship has stood the test of time. The stone blocks are precisely fitted together without mortar, a true engineering marvel.
Experts dispute what this incredible construction's exact function was, but the awe-inspiring, perfectly-preserved beauty is indisputable. The air of mystery that surrounds it only adds to the powerful pull.
The Inca Trail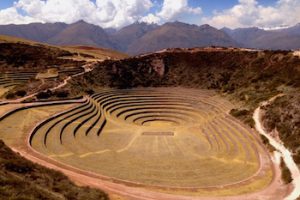 Built by the Inca's to connect the Sacred Valley with Machu Picchu, it usually takes four days to complete this rigorous hike. You'll trek on stone paths and over hanging bridges through the cloud forest and high Andean plains, surrounded by flora and fauna, including many rare orchid specimens. The total distance of the cliff-hugging trail is approximately 38 kilometers but it's very steep in parts and the towering altitude means many hikers are hungry for oxygen, so it feels longer.
There are dozens of agencies that offer guided tours, from roughing it to luxury versions.
Cusco
Cusco meshes Andean and Colonial Spanish cultures. As you stroll its cobblestone streets, you'll see cosmopolitan locals dressed in modern clothing as well as those in traditional dress. You're as likely to hear Quechua as Spanish.
The Plaza de Armas is Cusco's glorious main square, where you'll find the cathedral.
If you're craving a dash of hipster, San Blas is Cusco's version of Greenpoint. Behind its signature blue doorways lay galleries, cafes and bars galore.
Up-Close Experiences
Independent travel in Peru is a thrill but if you crave personal connection with the Andean people you need to know about Kuoda Travel. It's a Peruvian owned tour company. They pride themselves on providing person-to-person experiences. If you're looking for unedited interactions with the rural people of the Inca world, this is the company for you. Thanks to their extensive local connections, they can bring you to a remote village where you may spend the day weaving with the local women or to a rural school where you can observe and interact with the kids.
 You will work with a travel designer who will find out your specific interests. Want to horseback ride in the Sacred Valley? Find the best craft beer? Have an expert guide take you to under-the-radar ruins? Kuoda will help you to customize the perfect itinerary.
Eats+ Drinks
Peruvian cuisine is a fusion of flavors. The patchwork of indigenous and migrant people that make up this diverse country is reflected in its cuisine. The native Inca people as well as immigrants from Europe, Asia and Africa, have combined forces to produce one of the most dynamic gastronomic powerhouses in South America.
Quinoa and dozens of varieties of potatoes and corn make Peru a wonderful country for vegetarians.
For those who are partial to beverages with a kick, pisco is the local high-proof brandy and the national drink. Pisco sour anyone?
Cerveza Cusquena is Cusco's favorite beer, easy to drink and thirst quenching.
Stay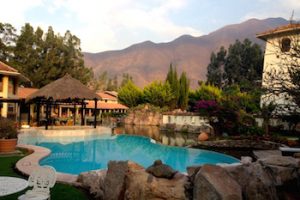 In the Sacred Valley, the Aranwa Sacred Valley Hotel & Wellness is a serene gem. Built on the land where a colonial hacienda once stood, its design seamlessly combines elements of colonial-era grace with Inca color and textures.
Rooms are loaded with amenities and the spa is top-notch. Don't miss a swim in the lovely outdoor pool.
In Cusco, the Aranwa Cusco Boutique Hotel is housed in a 16th century mansion chockfull of art and is located just a few minutes walk from the main square.
For more information go to Kuodatravel.com and Peru.travel.com
Photo credit: the author