Ann Arbor, Michigan is the quintessentially cool Midwest college town, intelligent with just a hint of granola around the edges. It combines small-town charm with amenities that you might think exist only in big cities. Though the year-round population is just over 100,000, the town is a magnet for the arts, shopping, nightlife and farm-to-fork dining, while remaining blissfully void of urban hassles.
These cultivated diversions somehow mesh perfectly with the football-fever that infuses the town each autumn, when the University of Michigan Wolverines play to a packed stadium of passionate fans. Ann Arbor's eco-conscious citizens bike everywhere, but it's so compact and full of urban flair that its streets are made for walking.
The Arts
The Ann Arbor Art Center features three rotating exhibition galleries displaying the work of local artists. Metal is a spacious studio where art and functional pieces are made out of reclaimed materials. It is a fine place to investigate repurposing while you view the artists in action. On select evenings, the space is used for concerts and poetry readings. The open-air Sunday Artisan Market runs April through December and presents original handmade works sold by the person who produced them.  Casual conversations with the artists are typical, as most everyone seems to have plenty of time for a chat. For something a bit more formal, head over to the University of Michigan Museum of Art. Their global collection includes over 18,000 works.
Shopping
If you are looking for chains, you won't find many here.  Independently owned stores crowd the town's two distinct shopping zones. The Kerrytown Market is home to an eclectic mix of some 20 shops under one roof. Most unique is Hollander's, which stocks over 1,500 different types of decorative paper. Savory scents will entice you inside Spice Merchants. They sell 150 exotic spices, including exquisite Himalayan pink salt and potent habanero powder. If those aromas have kicked up the hunger pangs, mosey on over to Fustini's next door. The staff encourages you to sample from its huge selection of barrel-aged balsamic vinegars and small batch olive oils.
The Downtown/Main Street area enjoys an energetic sidewalk culture. This neighborhood is a treasure trove for those who delight in the written word, with scores of bookstores inviting you to get lost in literature. You're sure to find something to peak your interest at the Dawn Treader Book Store. It sells over 70,000 rare titles and encourages finding a comfy corner and getting cozy with a book. Michigan is the primary producer of tart cherries in the U.S. and Cherry Republic is bursting with gourmet cherry products. You may ask to sample anything that catches your eye, but don't miss the best-selling cherry salsa or crunchy cherry almond biscotti. Ten Thousand Villages sells a unique assortment of fair trade handicrafts from 38 countries.  Its mission is to promote a living wage for artisans around the globe. Loyal volunteers staff this not-for-profit store. For a touch of European elegance, head to Nickels Arcade, a glass-covered atrium that houses high-end shops. Indulge in a midday caffeine fix at Comet Coffee. Be patient, as your java is brewed-to-order.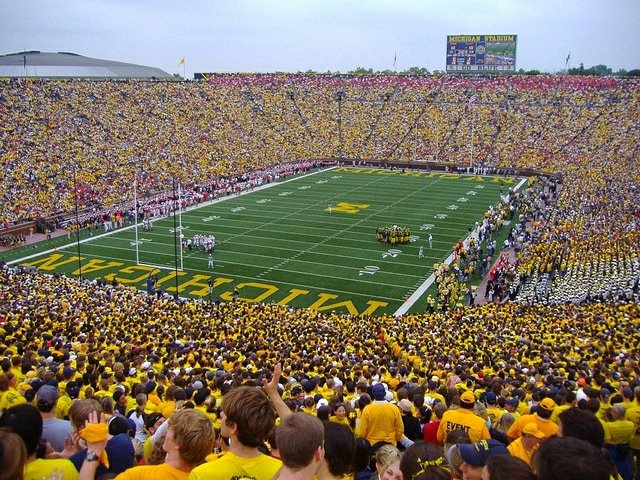 Sports
Michigan Stadium, aka "The Big House", is the nation's largest stadium, seating crowds in excess of 110,000.  Tickets to see the Wolverine's in action are tough to come by, so the prudent sports fan will reserve ahead.  To see the ultimate sports rivalry in action, come here when Ohio State is in town for the season's finale, which often determines the Big Ten Championship. Even if you can't score a ticket, sports enthusiasts will want to catch a glimpse of this mythical venue.
Farmers Market
Held on Saturdays year-round as well as Wednesdays during warmer months, the Ann Arbor Farmers Market will tantalize the most discerning foodie and please the most committed locavore. This is a producer's only market, so each of the 170 vendors is the grower of what he or she is selling. Most everything sold is from Michigan, but products from bordering states are permissible. Michigan rates second highest in agricultural diversity in the entire country, topped only by fertile California, so the range of goods is noteworthy. Heritage meats, farmhouse cheeses, home-baked breads and fresh produce provide perfect picnic provisions. If the weather cooperates, head over to Nichols Arboretum or the Matthaei Botanical Gardens and find a plum al fresco dining spot.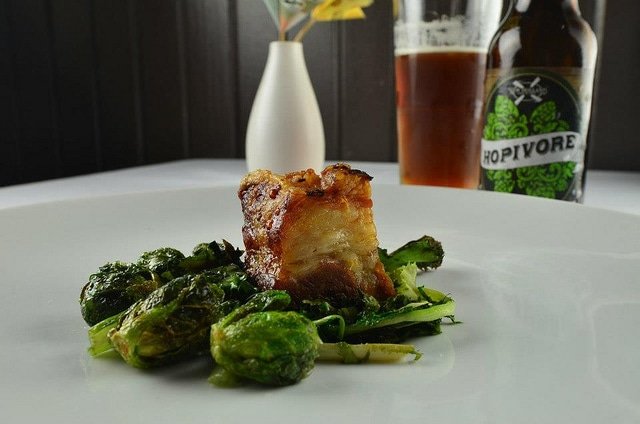 Eat
Ann Arbor's vibrant culinary scene is a utopia for diners who like knowing the origin of their food. At Grange, Chef Brandon Johns creates his nightly menu from products sourced from within a 100-mile radius. Expect a nose-to-tail feast, as Johns doesn't waste an inch. Start your meal with a vintage Manhattan made with bacon-infused bourbon. The wine list includes some Michigan bottles as well as a selection of organic and biodynamic wines.
New York is not the only place to enjoy a top-notch pastrami sandwich. Zingerman's legendary deli sandwiches challenge the biggest appetites and the most discriminating taste buds.  Their popular Reuben sandwich has a homegrown twist, as it is garnished with locally fermented sauerkraut made at the Brinery. Visiting the Brinery is the perfect way to educate oneself about fermentation. This simple method of food preservation uses naturally occurring lactic bacteria. The Brinery's cherubic owner, David Klingenberger, employs ancient brining techniques to lovingly make four varieties of kimchi, pickles and krauts, as he enthusiastically extolls the digestive virtues of fermented foods.
Coffeehouses and college towns go together like milk and cookies, but Ann Arbor one-ups it with its own teahouse, aptly named the TeaHaus. Dozens of fragrant blends pair with irresistible home-baked sweets like delicate Welsh scones from the owner's family recipe file.
Night Owls
Nightlife thrives in Ann Arbor. If your taste runs towards classical music, Hill Auditorium attracts marquee names, thanks to its reputed acoustical perfection. Trend seekers will enjoy an evening at the Blind Pig, where indie bands rock the house. If a mellower sound is your favorite note, the Ark is one of the nation's top folk music venues. Craft cocktail aficionados should have a sip at the Last Word, where potent concoctions made by expert mixologists are the perfect nightcap. Try one of their nostalgic classics made with locally distilled spirits.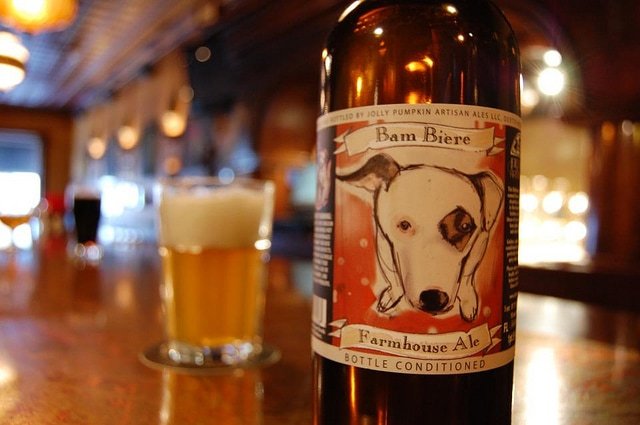 You can't go far without running into a microbrewery in Ann Arbor. The Jolly Pumpkin uses natural ingredients to produce a variety of unfiltered and unpasteurized rustic-style beers. Grizzly Peak Brewing Company benefits from a welcoming vibe, eight different brews on tap daily and a thirst-quenching IPA that uses only hops and barley grown in Michigan.
Stay
If you're looking for downtown digs, the elegant Bell Tower Hotel offers guests 66 comfortable rooms that are located in the middle of campus. The super-central Graduate Ann Arbor is another good choice. The lobby has lush marble and brass accents that hint at the luxuries you will find once you head up to your room.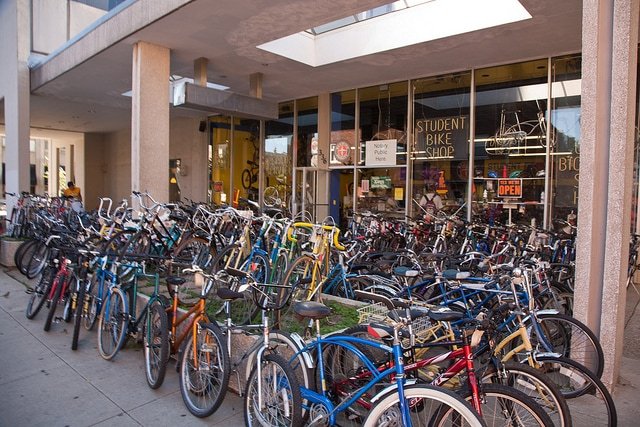 Getting around town
There are many bike rental shops in town, but Campus Student Bike Shop is a good place to start, thanks to its low prices and helpful staff. The Ann Arbor Bicycle Touring Society organizes daily group rides. The Ride is Ann Arbor's easy-to-navigate public transportation system, costing a modest $1.50 per ride.