In the far Northwest corner of the contiguous United States, sandwiched between the Salish Sea and the North Cascades, lies the small city of Bellingham. A unique blend of gritty fishing town and hippy college town, Bellingham is above all an outdoor lover's paradise. Mountain bikers, skiers, snowboarders, kayakers, hikers, trail runners – they all claim Bellingham as their ultimate haven, and they're not wrong.
With every outdoor adventure at its doorstep, Bellingham still manages to stand out with local craft food, live music and delicious beer. Get ready to experience the best of the Pacific Northwest. Just don't forget your hiking boots.
Get Outside
From forested parks to mountain summits and rocky shoreline, there are unlimited hiking options in and around Bellingham. Major trail networks include Arroyo Park, Galbraith Mountain, and Larrabee State Park in the Chuckanut Mountains just south of town. All three of these parks are bikeable, and connected by the Interrurban Trail network.
Oyster Dome is a 5-mile round-trip hike in the Chuckanuts, with stellar views of Samish Bay and the San Juan Islands. The 2,000-foot peak is one of the only mountains in the entire Cascade Range that meets the sea. There is no bus service to the trailhead, but it's a 9-mile bike ride along beautiful Chuckanut Drive from the nearest stop (WTA Route 5, at the intersection of Willow Road and Chuckanut Drive).
Serious hikers will want to head east into the North Cascades for trails through alpine meadows to high summits, and even glacier travel for the more experienced. Check in with American Alpine Institute in the Fairhaven neighborhood to book a guided climb. Mt. Baker Mountain Guides is another solid local guide service. Maps, gear and advice can be found at Backcountry Essentials.
Into mountain biking? Don't miss the chance to demo a bike from the Transition factory. Ride directly from the factory to Galbraith Mountain and 50 miles of world-class trails. From North-Shore style bridgework to beginner-friendly flow trails, Galbraith has it all, and it's free.
If you're seeking powder, hop on the Baker Bus to get to Mt. Baker, the holy grail of powder skiing. Despite a worldwide reputation for epic snow, Mt. Baker is still a family-run ski area with no condos, hotels or pretensions. A day pass is only $60, less than half the price of the corporate mega resorts of Colorado and Utah. The inbounds terrain is comparable to big resorts, and the terrain just outside the ski area boundaries is rowdy, suitable for experts only. Be fully avalanche-trained if heading out of bounds, and always ride with a partner. Ski rentals can be found at Glacier Ski Shop, or at the ski area. If you snowboard, stop by the iconic Mt. Baker Snowboard Shop on your way to the mountain.
Where To Stay

The Hotel Bellwether is Bellingham's luxury waterfront hotel, with up-front views of Bellingham Bay. It has well-appointed suites and studios, and the Lighthouse Bar and Grill serves fine dining inspired by the bounty of local ingredients from land and sea. Two spas round out the Bellwether's offerings.
If you want to live as the locals do, there are many options on AirBnB and VRBO. Ornate, Craftsman-era bungalows fill each neighborhood, and front-yard gardens bloom year-round in the mild marine climate.
The Eats
The best food in town is a 10-minute ferry ride away. The Willows Inn, on Lummi Island, features the culinary brilliance of Blaine Wetzel, a James Beard Award-winning chef who describes his approach to food as "a story about the land." Eater named The Willows Inn one of the 38 best restaurants in America in 2016. Going beyond farm-to-table, Wetzel's nightly orchestra of 24 tasting menu dishes is a showcase of the marine-driven cuisine of the island. If an ingredient wasn't caught that day in the Salish Sea, it was likely foraged from Lummi Island or harvested from the shoreline. The herb tostada is a signature dish: a mustard leaf fried in a batter of mustard flour, mustard green juices and sauerkraut, spread with a puree of oysters and parsley, and then arranged into a sculptural artform with herbs and edible flowers.
Brandywine Kitchen is a more accessible (and affordable) option, featuring organic, farm-to-table dishes such as the apple-jalapeño chicken or the Brandywine burger with locally-raised beef. Other sit-down options, all of which work with local organic farms, include Bayou on Bay, Boundary Bay and Aslan. Even the fast food options in Bellingham are on board with the local food movement, especially Goat Mountain Pizza. Bellingham's food truck game is strong, with more than 50 options available. Pel'Meni Dumplings and El Capitan's hot dogs are local favorites for late-night fast food. For breakfast, don't miss Homeskillet, but be prepared to wait in line for inspired omelets and massive breakfast burritos.
Saturday mornings are for the Farmer's Market, a Bellingham institution with live music, artisan crafts and tons of amazing food. Held downtown at Depot Market Square on the corner of Railroad Ave and East Maple Street, It's a great way to meet locals and get a taste of the tight-knit, friendly community.
Drink and Party On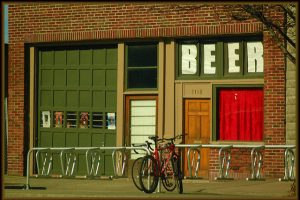 There are nine breweries in Bellingham, all of which deserve a visit: Chuckanut, Boundary Bay, Kulshan, Wander, Aslan, Structures, Stone's Throw, Gruff and Kulshan's sister location, K2. A bicycle brewery tour is a great way to squeeze in multiple tastings. Demo a bike from Transition, mentioned above, or rent one from Fairhaven Bicycle or Jack's Bicycle Center.
The best live music in town is often at the Wild Buffalo, where acts such as Macklemore come through. But don't overlook the Green Frog, where local favorite Polecat performs, and up-and-coming acts shine in an intimate setting. Stay after midnight, and you'll get two thick slices of locally-raised bacon balanced on each pint of beer you order. 
Mount Baker Theatre, the largest performing arts facility north of Seattle, hosts big name musicians, comedians, plays and film festivals. The Pickford Film Center shows independent cinema, and two local theater companies delight audiences nearly every night of the week: iDiom and Bellingham Theatre Guild.
Getting There and Getting Around
You can fly directly to Bellingham Airport, or to nearby Vancouver or Seattle. If you fly into Seattle, the Airporter bus from Bellair Charters is a reliable, affordable way to get to Bellingham. There is also Amtrak service, connecting Bellingham to Seattle and Vancouver. If you fly into Bellingham, the WTA bus stop is just south of the airport on W. Bakerview Road. You can use the WTA to get around town throughout your stay. Bellingham Taxi and Über are also available. 
When to Go
Like most of the Pacific Northwest, Bellingham is rainy during the winter months and sunny in summer. Skiers and snowboarders won't mind the rain, knowing that those winter storms are dumping snow in the mountains. Spring is an excellent time to visit, and if you stay through Memorial Day weekend, you can watch the iconic Ski to Sea Adventure Race.
All by photos by author except BEER photo by Erin and the Bellwether by Amy Parsons.