Dreaming of a secluded sanctuary in the Caribbean? Hello Petit St. Vincent. This discreet hideaway is part of the Grenadines, a chain of unspoiled islands that have been spared the hazards of mass tourism. The crystalline sea and undisturbed coral reef are an environmentally responsible travelers nirvana.
Everyone refers to this unpretentious private island as PSV. Guests come here to unplug and recalibrate. You won't find telephones or television on PSV and Internet access is available only in the main office. This low-tech philosophy is one of its hallmarks, so do yourself a favor and leave your laptop at home.
Carefully conserving the island's natural resources permeates each aspect of life on PSV and the island attracts guests who are similarly inclined. With a staff-to-guest ration of 3:1, a visit is the essence of eco-luxury.
Get Outdoors
PSV is all about unwinding but there are plenty of activities. Tennis, yoga, hiking, sailing, kayaking and a Balinese-inspired spa are a few of the options. The pristine coral reef is just a few feet offshore, so it's not surprising Jean-Michel Cousteau chose the island for his Caribbean dive outpost.
For an unforgettable day of snorkeling, hitch a ride on Beauty, a wooden sailboat that will bring you to pristine Tobago Cays Marine Park, an uninhabited archipelago of five islands and extensive coral reef. Mingle with a rainbow assortment of fish and swim with green sea turtles as you navigate seagrass beds loaded with plump starfish.
The Digs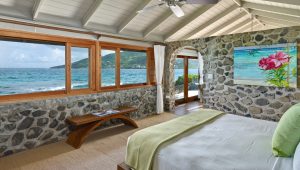 22 one-and-two bedroom freestanding cottages are discreetly dispersed throughout the island, offering maximum privacy. The uncluttered décor is as low-key as the island itself, with natural touches of native volcanic stone and locally sourced hardwood flooring. Simple furnishing made of teak wood and natural fibers add serenity. The indoor-outdoor flow surrounds you with native flora and fauna. Your private hammock is the perfect spot to relax with a book while you listen to the song of the sea.
No phones mean you communicate your needs to the attentive staff via a driftwood flagpole that is strategically placed outside of your cottage. When you want privacy, raise the red flag. When you have a whim that needs attention, raise the yellow flag. This old-fashioned system works like a charm.
Though all meals, activities and tips are included in the rate (starting at $1,100 per night per cottage), calling it an all-inclusive resort would be misleading. There are no all-you-can-eat buffets, cheap booze or boisterous spring breakers.
Eats+ Drinks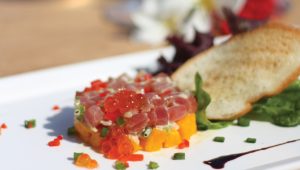 The culinary team strives to present creative meals with a healthy edge. With a large organic garden outside of the kitchen door, there is a wide variety of tropical fruit, produce and herbs that the kitchen staff fully exploits. This locavore methodology has delicious advantages, with fresh, clean flavors dominating the menu. Hundreds of free-roaming chickens mean your morning eggs were collected from the coop just minutes ago. Most guests have breakfast served in their cottage for a sunrise treat.
There are two restaurants on PSV. The Beach Restaurant is the more causal choice. The Main Pavilion is the property's white-tablecloth dining experience. You will feast on a three-course menu that changes nightly, according to the fisherman's catch and gardener's bounty.
Sustainable Practices
The resort is consistently working on ways to further reduce its environmental footprint with the ambitious goal of becoming one of the world's most environmentally responsible islands. There are no plastic water bottles on the island, rainwater harvested from roofs is used to for irrigating the landscape and an extensive composting system is in place. Plans to install additional solar panels and to implement renewable photovoltaic electricity will further reduce PSV's dependence on fossil fuels.
Get Here
There are no cars on PSV. Walking is the preferred mode of transportation or hop in kayak and paddle to the secluded beach of your choice. If you're feeling lazy, flag a golf cart that will whisk where you want to go.
Remoteness is part of the off-the-grid charm and getting here can be adventurous. Most guests fly to Barbados and transfer to a Mustique Airways flight to Union. You will be met in Union by a hotel representative, who will whisk you aboard the yacht where you will make your dramatic entrance to PSV, just in time for a picture-perfect sunset.
Photo credits: Jean-Michel Cousteau Diving and Mike Toy Photography