Is there anyone out there not craving a post-holiday sun-and-sand getaway? Combat winter (at least temporarily) when you catch a quick nonstop flight to the Bahamas. Capital city Nassau is a tropical treasure chest that combines relaxation and Colonial-style charm in perfect proportion. It ranks sky-high on the walkability scale, landing it in the bull's eye zone for a car-free, hassle-free and blissfully frost-free weekend getaway.
Get Outdoors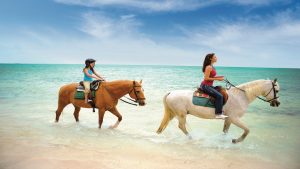 With beaches this stunning, it requires serious effort to pull yourself away from your chaise longue, you know, the one with an unobstructed view of the 80-degree crystal blue sea. Resist temptation and let one of the many activities lure you away from relaxing beachside.
Barefoot Sailing Cruises offer a ½ day sail and snorkel adventure that takes you beneath the surface where you'll explore a coral reef. You'll nibble on a selection of cheeses and sip rum punch on the breezy ride home. Transfer from your hotel, snorkel gear and instruction is included.
Get in touch with your equestrian instincts as you ride horseback on an unspoiled beach when you book a guided ride with the folks from Happy Trails. They offer hotel pick up.
A Segway tour will have you gliding the walkways of Nassau Harbor and exploring bustling Junkanoo Beach. You'll have time for some retail therapy during your stop at Nassau's straw market, where hundreds of vendors hawk everything from dime-store junk to handcrafted baskets. Bargaining is encouraged so be prepared to haggle.
Eats+ Drinks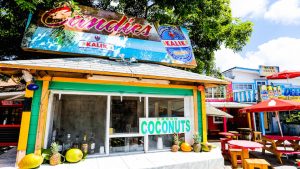 Dine with a local crowd at The Fish Fry, where candy-colored wooden shacks serve just-caught fish in a decisively no-frills atmosphere. Follow your epicurean instincts and choose whichever one of the dozens of eateries catches your eye. You'll fill-up on Nassau's favorite chewy crustacean, conch, prepared in a multitude of ways including citrusy raw conch salad and celestial conch fritters.
Nassau's John Watling's Distillery invites visitors to sip their small-batch rum made from freshly pressed hand-cut sugar cane sourced from around the Caribbean. The venerable distillery is located on the grounds of the historic Buena Vista Estate, founded in 1789. Movie buffs may recognize the estate from the James Bond flick Casino Royale. Take the complimentary tour and meander the baronial estate before you head to the Red Turtle Tavern to booze it up.
Stay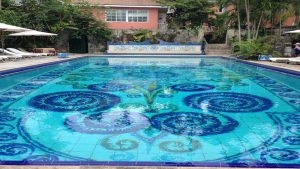 If you want to get away from the cookie cutter ambiance of big box resorts, look no further than the lavish Graycliff Hotel. Housed in an 18th century colonial mansion, each of the 20 rooms is individually appointed in grand style. Illustrious guests from the Duke and Duchess of Windsor to Beyonce have rested their famous heads on the hotel's primo pillows. The lush gardens are an oasis with enticing swimming pools beckoning you to dive in.
The onsite restaurant is the Caribbean's only 5-star dining spot, a jackpot for your taste buds. Sneak a peek at the labyrinthine wine cellar. With over ¼ of a million bottles it's said to be third largest in the world. It has garnered numerous accolades, including the prestigious Wine Spectator Grand Award. The hotel's downtown location puts you in walking distance of Nassau's best attractions and a short stroll from the beach.
Insider Tip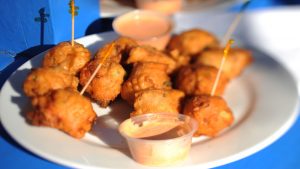 Book a 3-hour walking tour with Tru Bahamian Food Tours and you'll get a history lesson along with an in-depth look Nassau's dynamic food scene. Your expert local guide will have you sampling delectable goodies like rich rum cake and sweet fried plantains as you eye architectural gems such as Government House and Christ Church Cathedral. Eye-catching street art is the cherry on top.
Get Here
Jet Blue and Delta fly from JFK to Nassau's Lynden Pindling International Airport in 2 and 1/2 hours. It's one of the few Caribbean destinations that provide pre-clearance to passengers returning to the U.S.A. You'll clear customs in the Bahamas, skipping the tedious immigration lines at the New York airports.
For more information, visit www.nassauparadiseisland.com
Photo credits:Nassau Paradise Island Promotion Board, Tru Bahamian Food Tours and the author