Tel Aviv may have the reputation as a party city, but its 25 miles of beaches offer an alternative experience. Head to Tel Aviv's deep blue Mediterranean edge and you'll see boats bobbing and hear the fluid motion of daily runners thrumming along the sand. Outdoor adventure sports are a popular way to tap into this energetic city's soul. Easy gear rentals and bike sharing make access to the waterfront a breeze. With many fine restaurants and hotels near the beach, you can enjoy a view of the water at all times.
Get Outdoors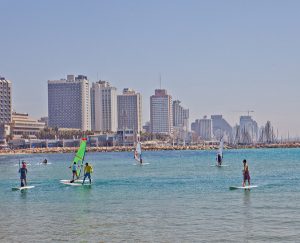 On any given morning, the Tel Aviv waterfront is bustling with fishermen, surfers and runners. The surf scene is popular and Hilton Beach is one of the key spots to paddle out and find waves. On the southern border of Hilton Beach lies the Tel Aviv Marina, home to an outdoor swimming pool for those looking to do laps, and a handful of surf and SUP rental shops. The marina is also where you'll find a bike dock for the lime green Tel-O-Fun share bikes. Just swipe your credit card and for a nominal charge the bike is yours to explore the miles of boardwalk.
Eats + Drinks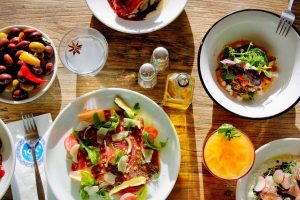 Though you're in the land of falafel and hummus, Yassou Tel Aviv takes a different approach to its Mediterranean roots with a mix of Israeli, Greek, and Moroccan tastes. The obscure entrance is found through the parking lot of the Prime Hotel. Once you enter the trendy spot you're greeted with colorful teal chairs and views of crashing ocean waves. The menu offers a variety of tapas, from Greek salad with rich feta cheese to off-the-vine fresh tomatoes to succulent lamb kebabs, all served with fresh baked pita. While Yassou is laid back, those looking for an upscale experience can try the chef Aviv Moshe's other restaurant Messa.
Stay Here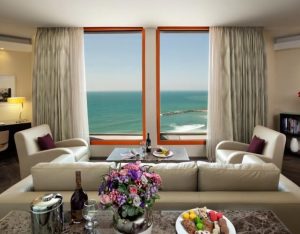 Located just a five-minute walk from the Tel Aviv Marina, the Carlton Hotel is a beautiful option with easy beach access. Deep brown wooden fixtures and personal espresso machines make each room feel luxurious while bathroom walls with clear glass add an interesting modern element (there's a switch that makes them fog up).
Ride the elevator to the rooftop and you'll find the hotel's large outdoor pool, with views of downtown Tel Aviv on one side and the ocean on the other. The hotel's free breakfast is a culinary experience in itself, offering an eye-opening assortment of fresh-pressed juiced drinks, a dozen cheese options, caviar and just-picked vegetables. Rooms start at $340 a night.
Insider Tip
Head to Independence Park and check out the stone Gate of Peace Sculpture, built in 1972. The sculptor, Italian artist Pietro Cascella, is known for his highly regarded 1967 memorial sculpture at Auschwitz.
How to Get There
The Carlton Hotel provides free taxis from the airport. As an alternative, Israel Railways will get you from the airport to downtown Tel Aviv in about 20 minutes.
Photos by: Dana Friedlander for the Israeli Ministry of Tourism, The Carlton Hotel, and Yassou Tel Aviv