"This is not normal," my friend Katharina said with a flick of her bike bell. "Stopping!"
We were in Copenhagen, halfway across the Dronning Louises Bridge, where 35,000 people pedal to and fro every day. Off to the side, we stood straddling our stadsfiets, hearts pounding, as hundreds of helmet-less cyclists in protected lanes whirred by automobiles, looking totally relaxed on their way to work. No wonder the Danes are the happiest people on the planet, I thought, calling to mind the claustrophobic interior of New York subways. As the sun perforated the clouds, we jumped back on the saddle and spent the following four days dissecting the town on two wheels, feeling like part of some miraculous urban experiment where bicycles and cars coexisted peacefully on the road.
Biking fuels the senses. Come springtime, it's the prescribed mode of transportation if you want to experience the town like a local, rolling along a charming, eco-conscious rhythm of life. When the bike traffic light turns green, here are the best eco things to do in Copenhagen, from where to eat, sleep, drink, and get inspired by a city well on its way to becoming the first carbon-neutral capital in the world.
Local Intel:
When in Wonderful Copenhagen
Best Quiet Place
Visit the grave of Hans Christian Andersen while exploring Assistens Cemetery.
Best Views of the City
Built in 1642, the Round Tower (Rundetaarn) is the oldest observatory in Europe and offers a panorama of orange rooftops, steeples, and wind turbines out at sea.
Best Snack
After working up an appetite ascending the Round Tower, stop by neighboring DØP, Denmark's first organic hot dog stand, for a surprise bite of goodness in a slowly raised, whole grain bun. ($6.50)
Best Gifts
Bring a bottle of Arwen Lilleø back home. Find some at Meyer's Deli in Frederiksberg. You don't need a reservation at the world's best restaurant to taste and appreciate the food, now that Rene Redzepi has produced Noma, Time and Place in Nordic Cuisine.
Best Fashion Purchase
Anything at Norr, a store (adjacent to Agnes) with exclusive brands, a koi fish pond, and smoothie bar. Make your way to nearby Strøget, Europe's longest pedestrian shopping street.
Best Meal to Go
Located on the eccentric street Jægersborggade, Lyst makes delicious healthy wraps and organic fruit smoothies. Take lunch up the road to Assistens.
Best Car-free Day Trips
Beauty is in the eye of everyone at this museum on the North Zealand Coast of Denmark. Enjoy the breathtaking setting and exhibits like "Klee & Cobra" and "Ai Weiwei" at the Louisiana Museum of Modern Art. From Copenhagen Central Station, hop the Oresund train ($18) for a 35-minute trip north to Humlebæk Station, about a 10-minute walk to Louisiana. For a full day retreat, take the 35-minute train ride ($15) over the Öresund Bridge to Malmo, Sweden.
Best Picnic Plan
Shop the organic food stands or pick up some fish and chips at Fiskerikajen inside Torvehallerne, Copenhagen's fancy new farmers market; Grab a plate of Stigs Oliven at Tapa del Toro before leaving. Find a grassy spot in The King's Garden at Rosenborg Castle or pick a bench on the banks of the Peblinge Sø lake.
Plus! Copenhagen Comes to NYC
For an authentic taste of Denmark close to home, visit Aamanns, which plans to open in Tribeca this December, serving traditional smørrebrød (open faced sandwiches—there's even a free iPhone app for that).
A model city for a sustainable future
When I sat down for lunch with Jørgen Abildgaard, Executive Climate Project Director for the City of Copenhagen, his jovial disposition revealed a unanimous city council decision made over the weekend to grant him 180 million dollars of green funding that will go towards things like more bike lanes—there are already 250 miles—energy production, climate adaptation, and retrofitting of buildings, overall helping to reduce the carbon footprint by 500,000 tons (a 20% CO2 reduction) by 2015. (Read Copenhagen's comprehensive carbon-neutral plan here.)
"We are working to protect a green future, and people demand a greener city," said Jørgen, who has met with Mayor Bloomberg regarding ways New Yorkers can roll up their green sleeves and take action to better prepare for the climate change he says is soon coming to our city. Though some might question how NYC's new bikeshare can succeed without a solid network of safe bike lanes, Jørgen was happy to hear of the city's two-wheeled advancements, while suggesting "more green transport, like hybrid cars, 2G biofuels and biogas from waste. Focus on energy consumption: focus on windows, insulation, lighting and air-conditioning in all buildings. Saved energy is saved money for decades."
Where to eat
Outside the restaurant, near a sign that read, "In an organic mood? Let's be eco-geekos together," I parted ways with Jørgen, who pedaled north to the scene of the 2011 UCI Road World Championships, and decided to go west in search of dessert and some physical evidence that Copenhagen's sustainable ethos went beyond a hardcore bike culture.
Walking into Tante T (www.tante-t.dk), you're met with a warm hello from the staff and a pleasant nose tickle from the cardamom- and peppermint-scented space. Tante has over 160 kinds of tea— consider an organic cup of Sweet and Spicy and Rooibos Chocolate Mint —as well as house-baked cakes; you can indulge after all that riding. Try a slice of citronmåne, a lemon moon cake, or gulerodskage, a carrot cake made with walnuts and topped with whipped cream. Pick a cozy nook and stay awhile or grab a giant peanut butter cookie to go. Crumbs has met their Scandinavian match with Agnes (www.agnescupcakes.com), a one-year old cupcakery near the enchanting old port of Nyhavn. Agnes' whimsical, all-natural treats—pick dark chocolate, red velvet, carrot, or lemon coconut—are made from scratch on-site.
Back pedaling to the main course, there are a growing number of restaurants in Copenhagen offering a taste of the new Nordic cuisine movement, which is a sexier way of saying the food is foraged and locally sourced. Without sacrificing taste, chefs are crafting menus that speak to the integral relationship between ecology and gastronomy, and are inspiring customers to want a clean conscience when they dine out. BioMio (biomio.dk) is a 100% organic DIY venue that tells its customers which meal choice is an energy-booster, libido enhancer, or rich in antioxidants. Monthly changing dishes at BioM (www.biom.dk) might include marinated scallops with smoked cheese, oat flakes and cucumber granité, Sødam cockerel with stuffed leek, pom Anna and tarragon sauce, and crème brûlée with pickled plums and plum sorbet. "The ambition is to bring the organic products all the way into the modern restaurant scene," said Søren Hansen, co-founder of BioM, Copenhagen's first organic restaurant. "We see this as just normal food, not trendy." Located in the old meatpacking district of Flæsketorvet, inside the white tiled walls of a retired slaughterhouse, Kødbyens Fiskebar (www.fiskebaren.dk) embraces new Nordic cuisine by featuring Scandinavia-sourced fish, be it grey mullet and ling cod sourced from Western Shores, or trout tartare from Southern Jutland; halfway through a dish, you'll wish it was possible to eat even more slowly. "I think the whole city should follow the Nordic concept; you want diversity and high-quality, biodynamic food," said Andrés, pouring me a glass of Arwen Lilleø, a dry, mineral-rich blend of Solaris, Sauvignon Blanc, Silvaner and Riesling that hails from the little Danish island of Lilleø.
Where to stay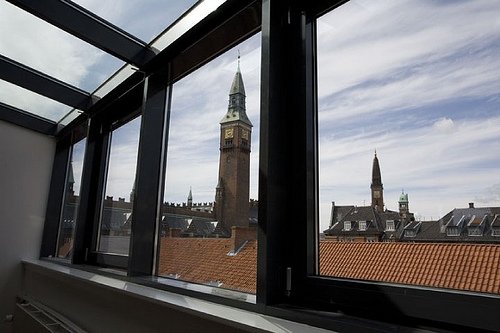 While eco-geeko restaurants outnumber eco hotels in Copenhagen, climate-conscious travelers still have several wonderful options for accommodations. Crowne Plaza Copenhagen Towers (www.cpcopenhagen.dk/en, from $130) is the world's greenest hotel, though its remoteness (think Bay Ridge to Manhattan) is less than desirable if in town for more than one night. Looming at the end of a cobblestoned cul-de-sac that faces the Peblinge Sø lake, Hotel Kong Arthur (www.kongarthur.dk/uk, from $235) proudly but discreetly wears the environment on its sleeve. "We have a social responsibility to take care of where we live," said Director of Marketing and Communication Kirsten Brøchner-Mortensen, who spoke with an endearing feistiness about her family's carbon-neutral hotel group—the first of its kind in the world. "We put our hearts into it," said Kirsten, disclosing that the four star property buys $30,000 worth of CO2 quotas every year. In addition to a gratifying night's sleep, Hotel Kong Arthur offers guests free wifi, a 24-hour café and bar, electric car rentals for $9 a day, city bikes, bright rooms filled with intriguing works of art, a lavish breakfast buffet (best enjoyed in the outdoor courtyard), an on-site spa, and a Latin Quarter address that manages to feel off the beaten path. Those wanting a slightly more touristy than tucked away setting should consider Green Key-awarded First Hotel Vesterbro (www.firsthotels.com, from $160) or Palace Hotel (www.scandichotels.com, from $240). A posh historic spot with balcony views of Town Hall Square (Rådhuspladsen) and Tivoli Gardens amusement park, the Palace is committed to producing zero CO2 emissions by 2025. Nearby Hotel TwentySeven (www.hotel27.dk, from $220) is the city's place to chill out, quite literally, with its Ice Bar and Mad Men-evoking lounges Honey Ryder and The Wine Room. And when was the last time your hotel provided complimentary breakfast and a light dinner? Other perks of the green-certified property include organic food, friendly staff, and free wifi.
Getting from here to there
Scandinavian Airlines has direct flights from Newark Airport to Copenhagen's Kastrup Airport. SAS is aiming to lower its greenhouse gas emissions by 20% by 2020, and makes it easy for its passengers to do their part by offsetting their flight through a partnership with the Carbon Neutral Company. Calculate your carbon footprint—in my case, a roundtrip flight released 1,920 pounds of CO2—and purchase the offset, which costs roughly $13 and goes towards funding wind farms and clean energy projects in India and China. If heading to Hotel Kong Arthur, take the metro ($7) from Kastrup Airport to Nørreport Station, which should take approximately 15 minutes, then walk west on Vendersgade, and make a left when you reach the river, then another left onto Nørre Søgade.
Exploring Copenhagen by bike is certain to be a trip highlight. It's not uncommon for travelers to gain weight while on vacation, but here, expect to drop pounds. The city has 2,000 free bikes across 110 centrally located stations that both tourists and natives can use with a deposit of 20 Krone (less than $3). These bikes may date back 16 seasons, however, and are not in the best shape. Most hotels will offer bikes for daily use at around 100 Krone ($15). Baisikeli Bike Rental is also a reliable and affordable shop with two locations and three types of bikes, which start at around 50 Kroner ($10). Helmets and a lock are included. Another option is to purchase a Copenhagen Card, which grants you free access to 65 attractions (don't miss a Canal Tour) and covers unlimited public transit rides on the metro, buses, and the bike-friendly S-train. The card costs $86.51 for 72 hours (free for up to two children) and also includes restaurant and store discounts.

View Guide to Eco Copenhagen in a larger map
KPICASA_GALLERY(BikeTownThingsToDoInCopenhagen)