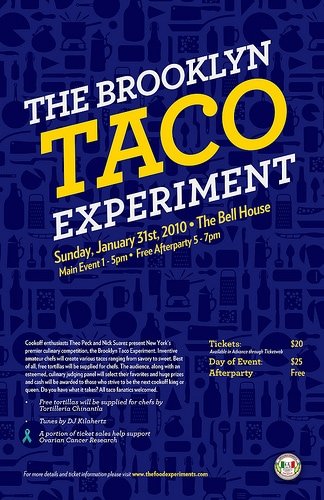 What: The Brooklyn Taco Experiment
Where: The Bell House, Gowanus, Brooklyn
When: Sunday, January 31, 1- 5 p.m., free after party
Why: The Atlantic recently tweeted a timeline on food history that dated the tortilla shell back to 5000 BC. Since its discovery, the utensil-less taco universal appeal comes from the limitless sweet and savory combinations found in the middle of its shell.
This Sunday, Nick Suarez and Theo Peck of the Food Experiments are bringing their latest cook-off to jack-of-all-venues, The Bell House. Sunday afternoon will feel like an endless indoor taco truck as 300 people consume the 11,000 four-inch mini corn tortilla shells donated by Tortilleria Chinantla in Williamsburg.
"This time we asked ourselves, 'What constitutes a democratic food that jumps racial, economic, and regional barriers? And what is a food that everyone likes?'" said Suarez. "The taco was the first thing that came to mind." The pair will host 30 chefs as they test their taco techniques with fillings like pork, beer, chicken, chorizo, and oh yes, chocolate.
Some of the judges include Andrew Knowlton of Iron Chef and Bon Appétit magazine Cesar Fuentes, and a secret Vendy award winner. Not only will contestants cook to win over the judges and a hungry crowd, they'll be competing for the biggest prize in New York cook-off history—two roundtrip tickets to anywhere in Mexico, courtesy of Aeromexico.
"You can't reach for greatness unless you experiment," said Peck. So, cancel your brunch plans, you've got to eat and vote for Brooklyn's first King of the Shell.
Cost: $20 Advance (includes one free beer and free after party), $25 same day, A portion of ticket sales will help support Ovarian Cancer Research
How to get there: Take the F train to Brooklyn. Exit 4th Avenue near 9th street. Walk North on 4th avenue towards 8th street. Turn left on 7th to the address. (The Bell House, 149 7th Street, Gowanus, Brooklyn, 718.643.6510, thefoodexperiments.com)