Since the 21st season of MTV's "The Real World" wrapped last fall in Brooklyn, Katelynn Cusanelli has migrated to the mountains of Montana where she lives with her boyfriend Mike. On the phone with offManhattan this week, Katelynn revealed some of her favorite spots in the borough, what it was like being a Red Hook resident, and how, perhaps more so than the other cast members, she seized the opportunity to explore Brooklyn in her free time.
oM: Coming from West Palm Beach in Florida, was it easy to settle into Brooklyn?
Katelynn: Moving to Brooklyn was definitely a trip, even though I'm actually not a stranger to picking up and moving to new cities. It was my first time visiting New York City, so there were certainly things that surprised me.
oM: Pray tell.
Katelynn: I found it really interesting how each neighborhood has its own clique—you've got the trendy hipsters and the Hasidic Jews—and there is such a family oriented vibe, especially in Red Hook where people really take care of each other. I think the communities band together because they are so accustomed to being the underdog, living on the fringes of society. They have created this support system, which was also tough to break into at first. Sort of like the mafia.
oM: What local watering holes would you recommend to Brooklyn first-timers?
Katelynn: Because we were with a camera crew for much of the time, we wanted to respect the local hot spots. Brooklyn really does have a lot of great local dives, like the Sugar Lounge, which is an awesome place to chill on a weekend night and in the summer in their outdoor garden. Before going out for drinks, check out Mucho Gusto for awesome Latin food. I'd also suggest people take the B63 bus to Park Slope and head towards 7th avenue; you can't go wrong there.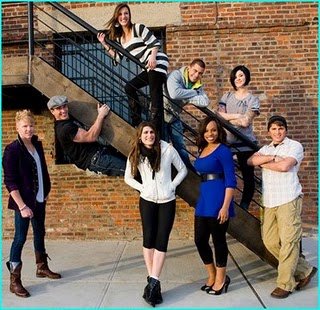 oM: What forms of transportation did you use? Any tips for travelers?
Katelynn: I took the train and bus all over Brooklyn and to and from Manhattan. I'm a fan of the F and G trains, the L train will frequently decide to run as an express train, skipping stops, without giving you much notice, and the B77 will break a happy home—it's never on time.
oM: When the MTV crew wasn't around, how did you spend your free time?
Katelynn: I spent time in Fort Greene, Brooklyn Heights, Bed Stuy (although not too much if I could help it) and Park Slope. In Prospect Park, I found this groovy little place near the ravine where I did a lot of writing. It is gorgeous. I also explored the many unique coffee houses—Seattle has nothing on Brooklyn. And I loved Baked in Red Hook. I went there probably every week for the red velvet cupcake.
oM: Where did you go for a real New York slice of pizza?
Katelynn: L & B Spumoni Gardens in Bensonhurst
oM: Any last thoughts about your life in Brooklyn?
Katelynn: There is a misconception about the borough, that it is seedy (and in some areas it is…parts of Red Hook…I digress) but there are also some fantastic neighborhoods. There's a niche for everyone. The funny thing is my roommates were like, 'Brooklyn, great, whatever' and they'd go to Manhattan. But there is a whole lot more to Brooklyn than people may realize. I wish I could have spent more time there.
The co-founder and editor-at-large at offMetro, Lauren is a sustainable travel specialist and freelance journalist with frequent bylines in National Geographic, Bicycling Magazine and Shape. Follow Lauren's adventures at @laurenmati.