Saltie co-owner Caroline Fidanza wrapped a coat around her and spanned the café from counter to door in four quick steps. She was sneaking out to catch a glimpse of a neighbor's recent discovery: newborn feral kittens. "We'll rotate taking looks," she assured her friend and co-owner, Elizabeth Schula, who was cutting a wide sheet of just-baked focaccia into large sandwich-sized squares.
Inside Saltie, an exposed brick wall warms the bold blue and white motif, making the eight-stool café feel more like your best friend's beachside sandwich shop than Williamsburg's latest edible attraction. The three owners, including third partner Rebecca Collerton, are longtime friends and former colleagues at South Side mainstay, Diner.
But the relationship is much simpler than that. Though Williamsburg enjoys a boon of reverse "bridge-and-tunnel" visitors for its buzzy night and dining scene (note brew destination Spuyten Duyvil and BBQ favorite Fette Sau within spitting distance), those who live and toil there don't see themselves as business partners as much as members of the same community. So for the three girlfriends starting a business in a small space, specialty sandwiches just "made sense."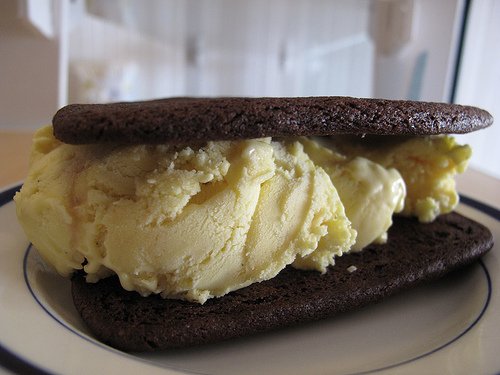 The maritime theme is sincere without gimmick. On what inspired the nautically named offerings like the Scuttlebutt sandwich—comprised of colorful veggies, eggs, feta, and a dollop of aioli on house-made focaccia—Caroline says, "At one point, we were all reading Moby Dick, and we've always had an interest in the sea and the history of the water around us. Even though we don't feel like we're surrounded by water, we are."
It's like you brought the sea to the shop, I noted to Caroline, as Elizabeth put forth an ice cream sandwich. It was the salty caramel kind, which tasted like creamy vanilla with a slight hint of butterscotch between two chocolate cookies reminiscent of Nabisco Famous Chocolate Wafers—dark, firm, and not too sweet.
Saltie's sandwich and pastry menu will change with the seasons, as will the ice cream sandwich flavors, which the owners plan to offer year-round. Perfect for those who are bound to seek some summery reminders in the coming months.
How to get there: Take the L to Bedford Ave or G, L to Metropolitan Ave – Lorimer St (Saltie, 378 Metropolitan Avenue, Brooklyn, 718.387.4777, saltieny.com)