With new trendy restaurants and cafés dotting the streets, visiting a classic New York City delicatessen, PJ Bernstein was a comfort. PJ's is also a full-service restaurant with tables covered appropriately with butcher paper and an atmosphere filled with an aroma of food that could best be described as "homemade". PJ Bernstein first opened in 1965 and three generations later, they are still going strong.
PJ's Triple Delight
My visit began with a large, sharable bowl of the famous PJ's Triple Delight: a rich consommé, shredded roasted white-meat chicken, a matzoh ball that was firm and tasty, surrounded by finely cut al dente noodles, buttery carrots, and kreplach.
Kreplach. Oooohh, kreplach, where have you been all my life? These little dumplings were soft pockets of scrumptiousness, filled with minced brisket and onions. My mouth is watering as I type. Here's the best part—if you don't have your fill of kreplach in the Triple Delight soup, you can indulge in a bowl of kreplach soup all on its own.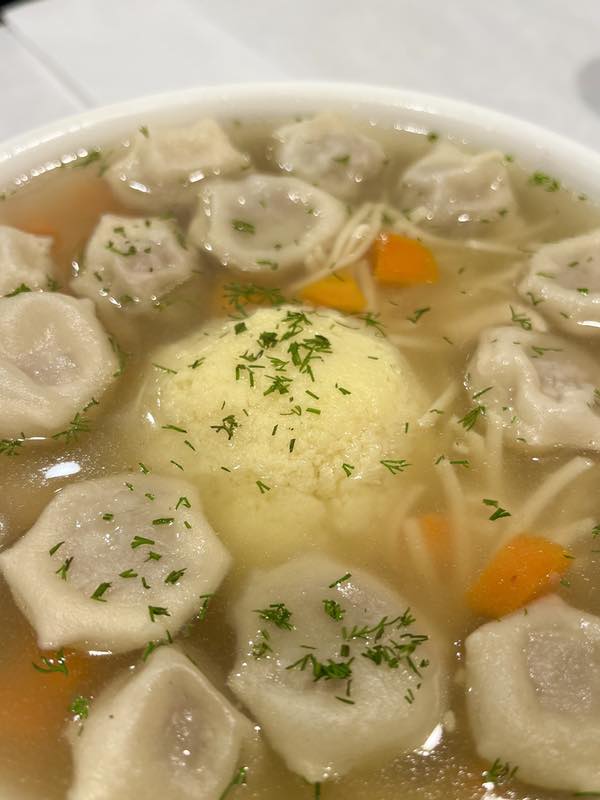 Next, pierogies. We had boiled potato, which was served with fried onions. My Irish grandmother would approve: they were earthy and hearty. My friend Will joined me for lunch and although we thought the potato pierogi was appetizing, it was a battle for the last bite of the perfectly fried pierogi stuffed with a smooth minced flavorful brisket. The pierogies arrived at the table with sides of apple sauce and sour cream. Those accompaniments added another layer of deliciousness to an already tasty dish.
Despite how incredibly full we were becoming, the thought of having one of PJ's Famous New York Sandwiches kept us going. Each sandwich is served with a half-pound of meat and side of coleslaw and pickles. The slaw is seasoned perfectly with just the right amount of creaminess. The pickles, one New York dill, and one half-sour—what a treat! PJ's half-sours start out as cucumbers and then are immediately refrigerated after being placed in brine. The non-vinegar brine keeps them green and crispy.
The Roast Beef
We tried the roast beef which did not disappoint. The generous meat was served between pieces of soft bread with a light, crisp crust—the makings from the legendary Eli's Bread.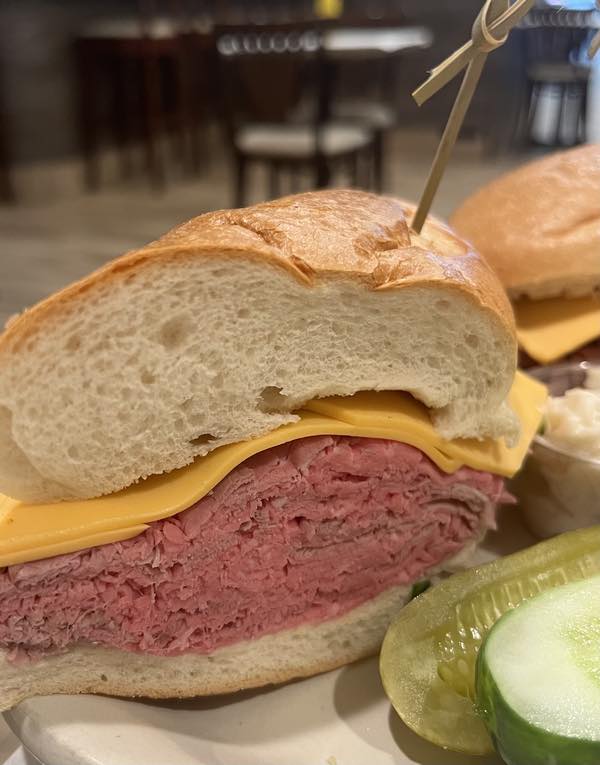 If you're having difficulty deciding which PJ's sandwich is your favorite, why not order a platter? That's right, for your next gathering (come on Jets and Giants fans this is perfect for you!), you can order a sandwich platter that arrives to your door with either 12 jumbo sandwiches and five pounds of a choice of side salad or 20 Jumbo sandwiches and seven pounds of a choice of side salad. How's that for getting a party started? Just download the newly launched PJ Bernstein App from the Apple Store or Google Play.
The Lucky Latke
Next, we tried the Lucky Latke. What a sandwich! Melt-in-your-mouth seasoned pastrami is piled between two hot crispy potato latkes –a perfect way to end our visit.
We said our goodbyes to the friendly staff, especially our waitress, Sara, who was a lovely host.
On the way out, as I was walking past the glass display, I spotted amongst the many delicacies, stuffed cabbage. Not your regular portion size of stuffed cabbage, but giant portions of stuffed cabbage. Stuffed cabbage is one of my favorites so now I have yet another reason to go back to PJ Bernstein. Take a look at their menu. I guarantee you'll find one of your favorites. I'll see you there soon!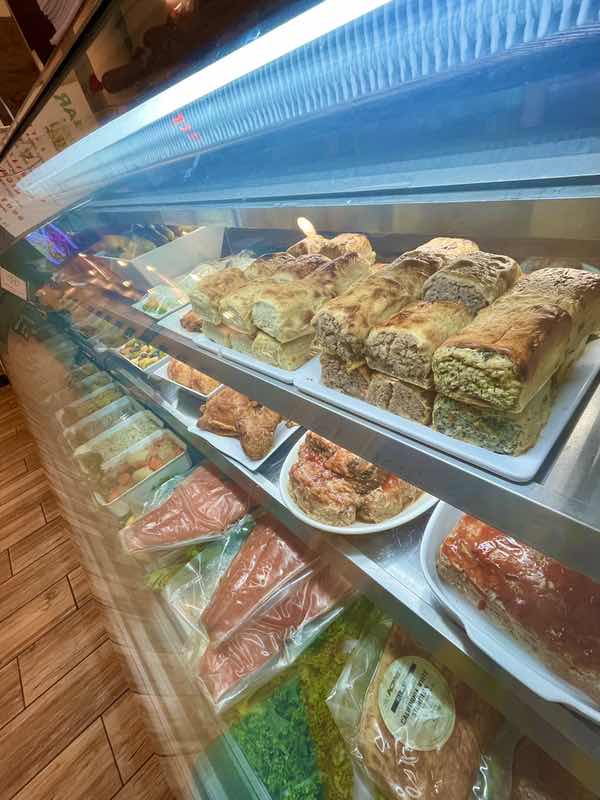 Kate E. O'Hara is a New York based freelance writer and photographer who loves all things food—especially the people who make it and market it. Her writing aims to capture the essence of the food experience; the stories that go well beyond a plate of ingredients. In addition to her love of food, Kate is also known to have a hankering for red wine and craft beer. You can also find Kate on Instagram @foodpeoplepossibilities