Traveling from Astoria to Weehawken has not been on our list of Sunday drives.
Blu on the Hudson is now at the top of that list.
I lived for a short time in Hoboken never thinking I would live in NJ.
Growing up on Long Island Jersey was our neighbor we drove through. It was filled with cows and really good tomatoes. At least that was in my 8 yr. old image.
Of course, there were the movies and stereotypes. Big hair, jersey accents yet not unlike kids growing up on Long Island our dream was to live in Manhattan.
Jersey had the better view
Now I love the NY skyline. There is something special about seeing it from Jersey.
So many great things about New Jersey.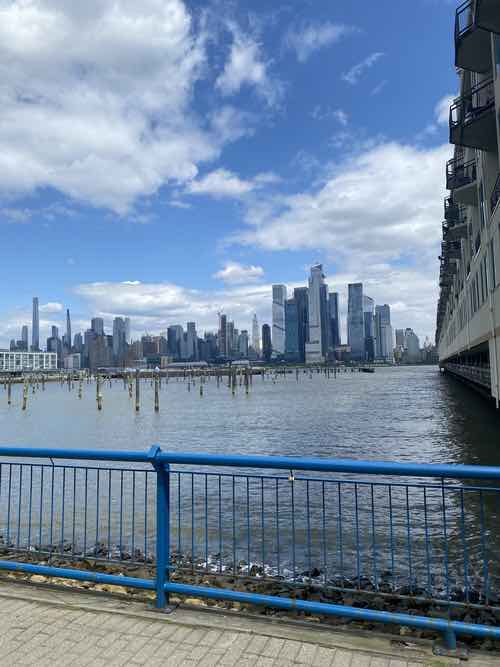 Hoboken is the birthplace of Frank Sinatra.
Weehawken is in Hamilton. My history lessons have been coming from Musicals.
The infamous duel of Hamilton and Burr is commemorated just outside of Blu on the Hudson.
Most of my tastings are in Manhattan, some in Brooklyn, Queens and some on LI.
The idea that NYC has the best restaurants has been expanding and any town in the USA has become the hottest food town.
Thankfully we see some amazing chefs everywhere just with lower rent.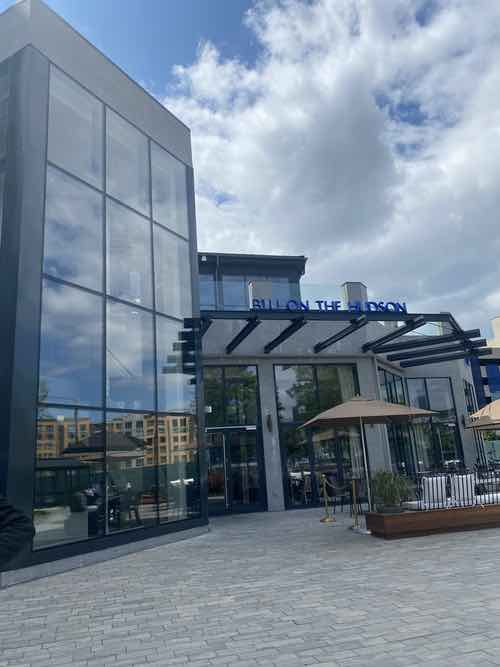 Brunch at Blu on the Hudson
Nestled in Weehawken, New Jersey, Blu on the Hudson captivates with its stunning 30,000-square-foot space, offering a breathtaking backdrop of the Manhattan skyline. This American restaurant is a true beauty to behold. Check out their Instagram page for more pics and reels.
Kosta Gianopoulos, Blu Hospitality group created this extensive seafood-forward restaurant featuring a Raw Bar and Crudo, Appetizers, Homemade Pastas, selections of Land & Sea, and a world-class Steak Program.
Executive Chef Juan Carlos "JC" Ortega (formerly of BR Guest Hospitality's Blue Fin, Blue Water Grill, and most recently Catch Steak) brought his many talents to Weehawken.
So many beautiful options for A PERFECT Brunch.
The Cocktails
Brunch signature cocktails are offered and are difficult to choose.
I had to try Oil on the Skin (Aperol, strawberry, grapefruit, prosecco).
Beautiful and delicious.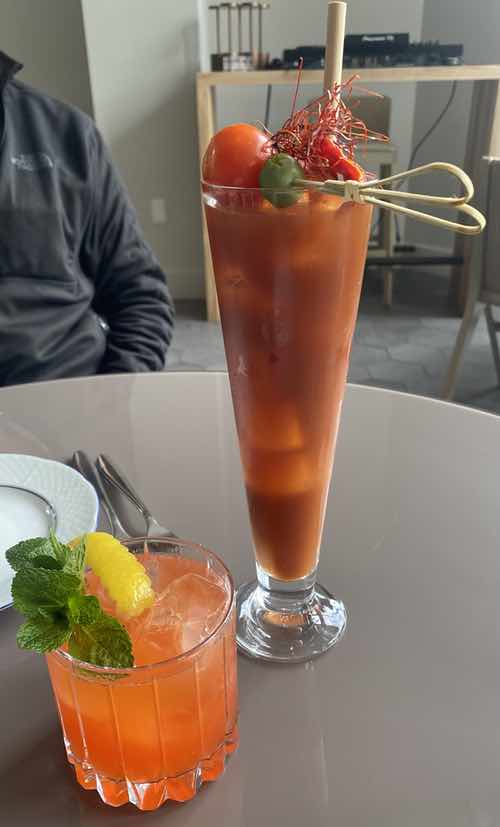 Mike did the Blu on the Hudson Black Truffle Bloody Mary.
Served in a tall, tapered pint glass, stunning as well as light and refreshing. Come on…Black Truffles!!!
I love Brunch. Festive and an ideal way to finish a weekend with friends.
Experiencing many brunches in my life it's a challenge to find more than eggs and French toast.
Blu on the Hudson has a menu offering much more.
The Sushi Rolls
We started with now one of my favorite sushi rolls.
The Blu Roll. Bluefin toro, spicy lobster, and avocado. AMAZING.

Mike ordered the Steak Frites which are one of Blu's featured items. Doing the Blue twist.
Remember that world-class Steak Program.
After one bite we knew this was true.
Truffle Cream Spinach. Yup. More black truffles. Yummmm.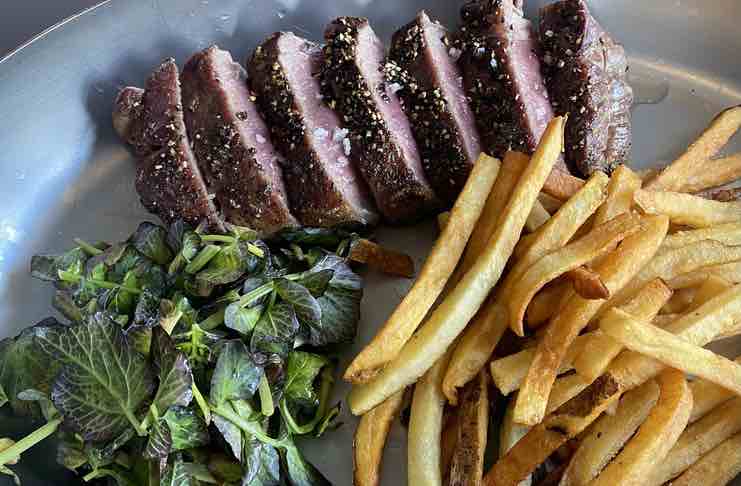 The Mafaldin Cacio E Pepe
I had pasta.
Not just any pasta.
Mafaldin Cacio E Pepe.
Yes, this simple dish came to grand popularity a few years ago and is here to stay.
Blu's twist…
Soft egg, aged Pecorino, black truffles.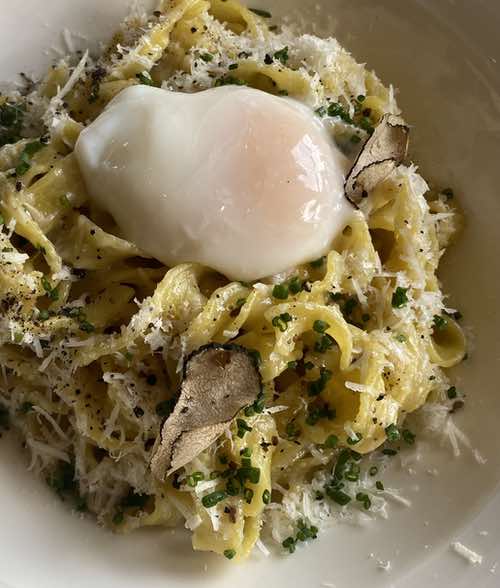 Everything that takes Cacio E Pepe to another level. Yes, to Black Truffles.
I have had many dishes while taking this culinary journey. A handful that I can't stop raving about.
The food memory is where dreams are made. The kind of memory that crosses my mind and stays until my cravings are satisfied.
Blu on the Hudson did it with this dish. I can still taste it now. And the craving is real.
The Space
Not only is the food special but the décor and environment are also outstanding.
A great place to gather for a special occasion or an intimate meal.
A little about space.
HUGE!
Outdoor space overlooking that Manhattan view.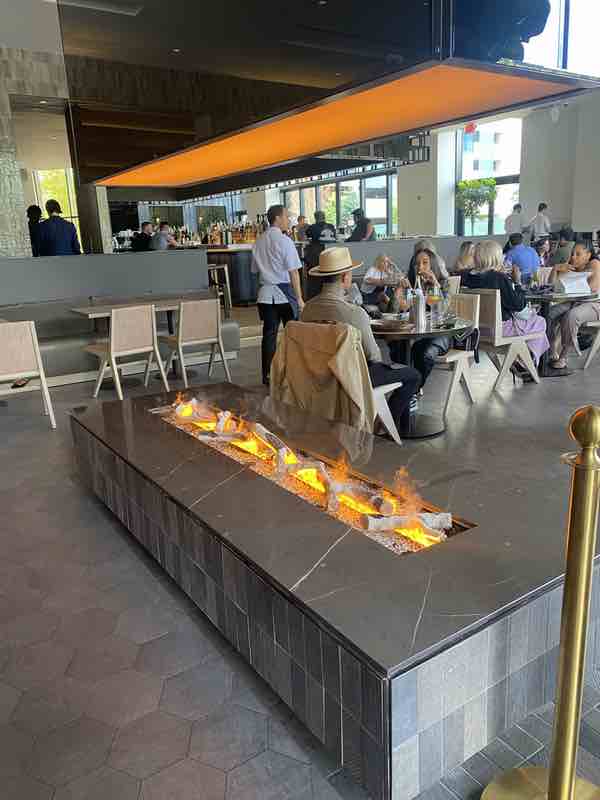 The main dining is great for large parties.
Booths to side for a more intimate dining.
Wrap around bar space for all those specialty cocktails. A mixologist's dream.
Perhaps living in Astoria and dining in Manhattan we have come accustomed to tight surroundings. Making the most of square footage and dropping as many 2 tops in what they call intimate. Which reality says jampacked.
Space is so refreshing and perhaps can only be found in Jersey.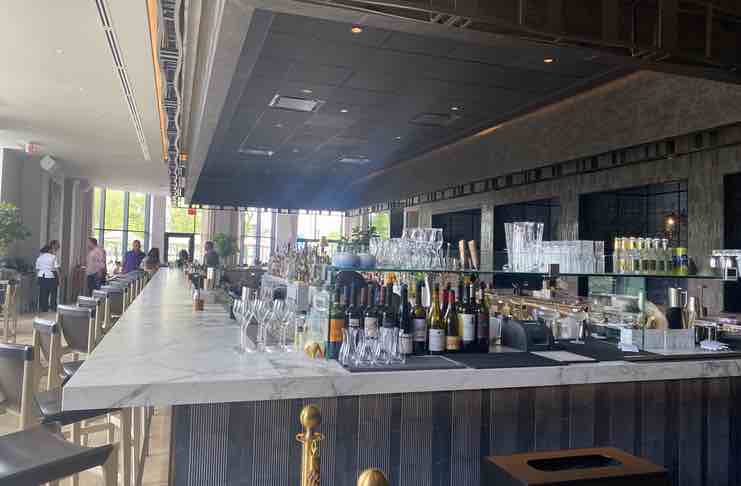 Something special is happening in Weehawken.
It's called Blu on the Hudson.
Make reservations although Blu on the Hudson has only been here for 4 months it seems to be THE place to be. You do not want to miss out.
Taking that drive to Weehawken and Blu on the Hudson is one of the reasons to visit beautiful New Jersey.
I hope to be back soon.
Want to read more of our latest reviews? Check out our boat tour sightseeing cruise in NYC.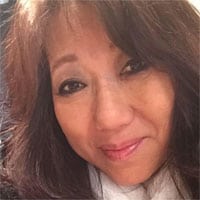 Living and loving in NYC, food has been a passion of hers. East Coast to West, Faith's goal is to explore and learn with the contribution of other like-minded foodies. Faith Rein has written for 2Girlsfromabar@blogspot.com. Youtube channel – faith.rein, love food love faith. You can find her @: Faith.rein/facebook (always looking to add friends) / faith rein@twitter / faith.rein@instagram /