If you're an NYC resident and art is in your blood, then the good news is that you can use your home as a jumping-off point for all sorts of creativity-focused trips to nearby hotspots.
We've put together a few options that fit the bill, whether you're looking for something to do with a spare afternoon or a longer trip to an artsy location that's within a stone's throw of New York.
Explore the Art-Filled Streets of Philadelphia
Philadelphia is only a couple of hours away from New York City, and it's an amazing art getaway for those looking to experience something new, as well as having its fair share of other attractions.
Home to magnificent museums like the Pennsylvania Academy of Fine Arts, The Barnes Foundation, and the Rodin Museum, the city offers incredible opportunities for exploring contemporary as well as classical artworks.
There's also plenty to see outside of a formal museum or gallery context. For example, you can stroll through its streets lined with murals that have become world-famous, or take in one of the many outdoor sculptures scattered throughout parks and plazas around town. With so much creative energy circulating in Philly's cultural district, you'll be sure to come back feeling inspired.
Watch this video to get a glimpse of Philadelphia's beautiful murals:
Get Lost in the Museum Miles of Boston and Cambridge
Ready to explore a new art destination? Why not take a trip up to Boston, where you'll find yourself surrounded by miles of cultural attractions?
Make your way over to Harvard's famous Fogg Art Museum, or visit MIT's List Visual Arts Center for contemporary works from around the world. Or perhaps spend an afternoon at one of Boston's many sculpture parks, such as The Institute of Contemporary Art on the South Boston Waterfront, or Isabella Stewart Gardner Museum near Fenway Park.
Watch this video to get a glimpse of Boston's art scene:
With so much culture packed into this small city, you won't want to leave Massachusetts any time soon. And when you're done with the museums, you can enjoy its wealth of world-class restaurants and bars to round out your city break in style.
Staying Closer to Home? Try These NYC Galleries
If you're looking for an art-filled day trip without having to leave the city, there's no better place than New York City itself. Here you'll find some of the world's most famous galleries and museums right in your own backyard.
Whether it's The Metropolitan Museum of Art or MoMa, Solomon R Guggenheim Museum or Chelsea's High Line Park, you won't be disappointed by these renowned cultural institutions. So grab a subway pass and explore all that Manhattan has to offer when it comes to modern art today!
Indeed there are more art galleries in New York than in almost any other global city, and you could argue that NYC is a work of art in its own right. All it takes is wandering through its neighborhoods with your eyes open for acts of creative expression, and you'll discover some new hidden gem that you might have passed every day without seeing.
Check out this video that shows NYC's art gallery scene:
Escape to the Hamptons for a Weekend of Art and Relaxation
Located on Long Island's South Fork, this chic seaside destination has something special in store for art lovers. From world-class contemporary galleries to boutique exhibitions, there's plenty here to inspire any creative mind.
Spend your days meandering through the many galleries showcasing works from local artists, or saunter along the beachfront boardwalks admiring sculptures and installations dotting its shoreside scenes.
Watch this video of the fine arts fair a few years back:
End your day with dinner at one of East Hampton's iconic restaurants, before retreating back into nature under starry skies. You'll be blown away by all that's within reach when visiting this charming region.
Be Inspired by Diverse Artworks in Beacon, NY
It'll take you around an hour to take the journey to Beacon if Manhattan is your starting point, and this creative hub offers plenty to explore and experience.
You can spend hours soaking up its many galleries, with Dia: Beacon being one of the best-known and most celebrated.
You can also take a trip up Mount Beacon to catch breathtaking views overlooking the Hudson Valley while admiring outdoor sculptures carefully placed around its summit trails. So whether you're seeking inspiration from traditional artwork or more daring installations, there's something here for all artistic tastes.
Watch this to get a glimpse of Beacon:
An Overnight Escape to The Storm King Art Center in New Windsor
Another unique art-related getaway near NYC is available at the Storm King Art Center, which sits just 50 miles north of Manhattan.
This outdoor museum is home to over 100 sculptures and installations, spread out across 500 acres of rolling hills. You can bike or walk around the grounds, enjoying works by renowned artists such as Maya Lin and Alexander Calder. Plus, from April through November, there are also special guided tours available every Saturday.
Watch this video to get a glimpse:
Bear in mind that the museum is not open all year round, and typically closes during the winter so that preparations for the next season can be made. As such you'll need to schedule your trip accordingly, and also take the weather conditions into account when you visit.
Discover the Art Scene of Albany, NY
This vibrant city offers plenty of opportunities to appreciate both modern and traditional works of art, while also getting away from the hustle and bustle of the big city.
The University Art Museum has a wide range of contemporary pieces, while the Schuyler Mansion State Historic Site features fine 18th-century portraits.
You can also visit various public galleries such as Lark Street's Local 518 Arts, or check out graffiti murals in Downtown Albany that showcase street artists' work. So there's a great mixture of modern culture as well as more historical experiences to absorb in the state capital.
Watch this to get a glimpse of the Albany Museum of Art:
Final Thoughts
It goes without saying, but any of the popular museums we've mentioned can get busy in peak periods, so if possible buy tickets or book your places in advance, and have a specific window of time in mind to visit. Once that's all organized, you can really kick back and enjoy your artistic adventures in New York.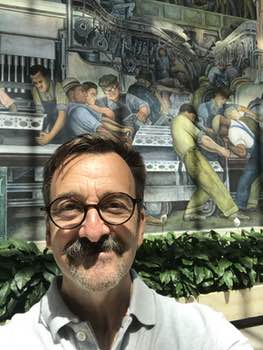 "The Jaded Traveler". Ron Rossi was born and raised in New York. A globalist at heart, Ron is a marketing director by trade, and has lived and worked around the world including Asia, Europe, Africa, and South America. Food is one of the best ways to learn about a country, a people and a culture. So, Ron is always looking for the best in mid-range to budget and street food. He is always on the hunt for a good meal anyone can afford. It is the food of the average citizen that excites him. And with having visited close to 100 countries on 6 continents so far, there have been some pretty good meals.