New York City is indisputably the most popular tourist destination in the state of New York. Located in the northeastern part of the U.S., NYC is a renowned cultural, financial, and media center. It's also melting pot of global culture, being home to diverse neighborhoods as well as the seat of the United Nations. So whether you're a gap yearer, party animal, traveling couple, digital nomad, or a golden oldie, you can't have enough of this beautiful and exciting city!
People come to New York to shop, eat, and see the sites, historic neighborhoods, and many globally known cultural and art museums. Some just like the tall-standing skyscrapers of New York that keep getting taller by day. And yes, they also party, gamble, dine, and socialize.
Most of the best spots to visit in this city are within walking distance or a short ride away–convenient for any backpacker.
Are you planning a tour to New York and want a worthwhile trip? This article covers the five most scenic attractions in New York you can't afford to miss!
Going Around New York
Wait! You can't miss out on the airport goodies if you arrive at the humongous world-standard John F. Kennedy International Airport (JFK). You can begin enjoying the delicacies of NYC by grabbing a bit at some of the fancy places like the JikJi Café or The Local–to introduce you to the vibe of the city.
How Do You Move Around NY?
As a backpacker, public transit and walking are the best ways of getting around New York. However, you can travel the city by pedicab, bike, and ferry, which will make you view the city from an entirely new angle. You can also download apps like Citymapper, Lyft, or Uber to help with navigation.
No matter how luxuriously you do it, it's hard to keep away from the physical aches of prolonged travel. Motion sickness and nights in an unfamiliar place can also be a bit unsettling. So, carrying some medication and supplements with you on your trip makes sense.
CBD supplements can help to ease the pain and physical strain of your holiday adventures. For example, those experiencing stress, chronic pain, or inflammation might want to continue taking CBD on their holiday, too. So you'll have a much more comfortable and enjoyable vacation.
Many medications and supplements might require authorization from the government before your arrival. Checking the cannabis laws and regulations of your destination state is always an excellent idea for all weed buddies using it for medical purposes. Although cannabis rules are becoming more lenient in New York, the substance is still controlled significantly.
5 Spots You Shouldn't Miss:
1. New York Botanical Garden
The New York Botanical Garden is a must-visit place in New York City. The 250 acres of botanical garden boasts greenhouses, fields, hills, and many different gardens.
This garden hosts the amazingly famous Orchid Show, a yearly themed event with thousands of exceptional and blossoming orchids.
Additionally, it hosts a Holiday Train Show throughout the holiday season. During this time, some model trains tour a miniature NYC version occupied by one hundred and fifty iconic landmarks.
Watch this to get a glimpse:
2. Central Park
A vacation in New York City can only be fun by visiting Central Park. It is an open space containing plenty of things to do and sights to enjoy for days. This attraction is a huge manufactured haven with forests, hillsides, gardens, and fifty-eight miles of pathways. It looks beautiful, especially when covered with a layer of snow.
The landscape is dotted with bridges, fountains, sculptures, artworks, monuments, tunnels, playgrounds, and many facilities that offer numerous things to do. Of course, central park is among the top attractions in this fantastic city!
Special concerts, events, as well as other festivals frequently occur at Central Park. So, it's good to check the local events in the city to know if something is going on while you're there. There are chances of something interesting taking place that you can enjoy!
3. Times Square
It's a great and fantastic experience to stand in Times Square and watch the world go around you.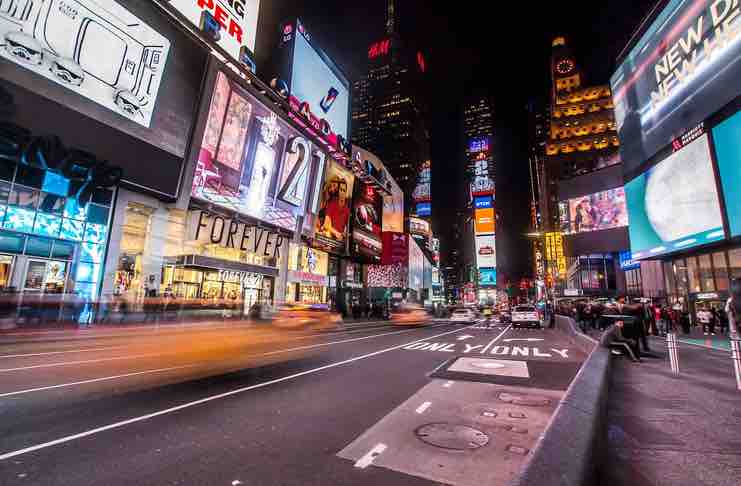 There're many things to do and attractions at Times Square during and around the week. It's worth visiting to experience the excitement found here.
The hub of Times Square is at 7th Ave and Broadway junction, where you will be fascinated by the enormous screens that broadcast everything from unique presentations to the latest shows and films.
The billboards and screens are bright, adding more visual sounds. Performers, artists, and tourists fill the pedestrian areas. Food trucks line the streets with mouth-watering aromas.
Times Square is a good place to be in the evening, but still thrilling at any time during the day.
Specialty M&M's
Times Square also has an astounding number of stores, small and big, and your visit is only complete with a stop at M&M's World. Here, you won't help but smile. Your greatest experience will be at the candy wall filled with lots of milk, peanut, and other specialty combos by M&M's World.
Empire State Building
Another NYC icon is the Empire State Building which is within walking distance from Times Square. Its exact location (for GPS users) is 20 West 34th Street, New York City, New York, 10001. The Empire State Building stays open until 2 am for amazing views of the city below.
4. The Metropolitan Museum Of Art
The Metropolitan Museum of Art, also called The Met, is among the few famous and valued museums across America. The museum is not just renowned in New York City but all over the globe too. It isn't possible to see a substantial permanent art history collection in one day. But, on the other hand, there's a lot to see here, and you can't cover every exciting part.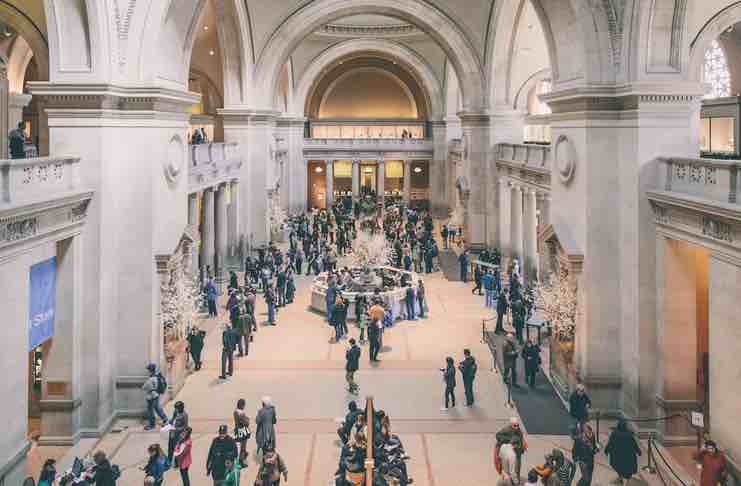 The museum holds fabrics from Asian countries, ancient Greece and Rome carvings, garments made by renowned designers, and many more. You will see an Egyptian temple of 2,000 years, musical instruments, weapons and armor from all over the globe, photographs, and many more. There are also rotating exhibits that guarantee freshness in the Metropolitan Museum of Art.
5. The High Line
The High Line is a previous rail line transformed into a walking path above the city streets. It is a 1.5-mile expanse situated on the West Side of Manhattan and extends across three localities.
Just like its name, it's positioned "high" in the air at thirty feet above the street level. You can view Manhattan's cityscape and the Hudson River from an aerial point. Public art installations shower the park, updating and changing constantly.
The stretch has various trees and plants of native species which bloom in spring. Most of its areas are also lined with glass railings that give it a natural feel while still offering a great view of the city.
Along the walk, food vendors sell some mouthwatering offerings. There's also an attractive spot known as 23rd Street Line that's great for picnicking and sunbathing.
Watch this to get a deeper view of the place:
Summary
New York City boasts many attractions because it is also great in size. Because of its culture, history, art, and entertainment, this city offers plenty to its local people and its touristy guests.
Regardless of what you're interested in, who you go with, and what attracts your eyes, you're here for an exciting holiday chock-full with all kinds of thrilling activities. So, don't be scared. Expand and explore!
Alex is a computer geek, programmer, who loves traveling. Not the usual mix, but Alex is always with his laptop – no matter how high the mountain he's hiking on. On every peak he reaches, he writes a story that captures it all.