How lucky am I to be living in this great city?
As we had been faced with so many changes in the past few years this city is making its come back.
New restaurant openings are popping up everywhere.
I am so lucky to be able to bring you my experiences and encourage you to try them.
(Masseria of Wines) translated Masseria Dei Vini is now on my list of Yes Please!
The superb experience of the La Masseria Group. Restaurateurs Pino Coladonato, Peppe Iuele, and Enzo Ruggiero have collaborated to bring you a modern and updated version of a "Masseria."
Welcome to Masseria Dei Vini in Hell's Kitchen
The Interior design was beautifully created by Libby Langdon.
This new location is a welcome addition to the Hell's Kitchen neighborhood.
Close enough to the theatre district to attract that theatre crowd and draw in the many tourists we have been so happy to see again.
Just a few blocks from Columbus Square and the Park (the Park, Central. The only one that counts in this neighborhood.
As we were greeted this hot sticky summer evening by the friendly staff we were met immediately by the GM, Gianni Onofri.
The décor is beautiful and refreshing as we were seated in front of the amazing glass wine wall the length of the restaurant
Starting off with Drinks, Bread, and Lentils
Gianni did not just welcome he embraced us so graciously with a warm smile and excitement in his hello. Like seeing my favorite Uncle that always treated me with love and generosity I immediately felt like Familia.
Gianni offered a true tasting starting us with a glass of prosecco, A great start always. Then along came TAVOLACCIO DEL SALUMIERE cheese and meat tray with a generous bread basket with a bowl of lentils. A tradition.
Our feast has begun.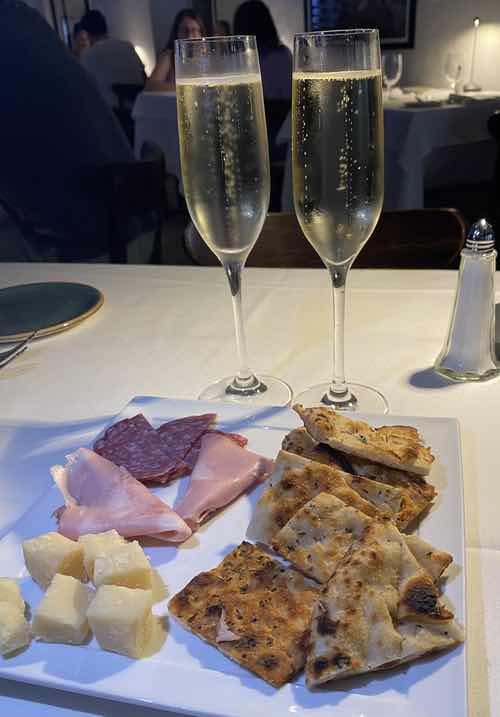 The Salad
INSALATA DI CARCIOFI Artichoke avocado with pistachio salad arrived. A light refreshing salad presented with Grana Padano cheese that could be in every dish and be a grand success.
Next was a lovely dish of Granto a wheat grain with seafood in that amazing tomato sauce. Also, a tradition.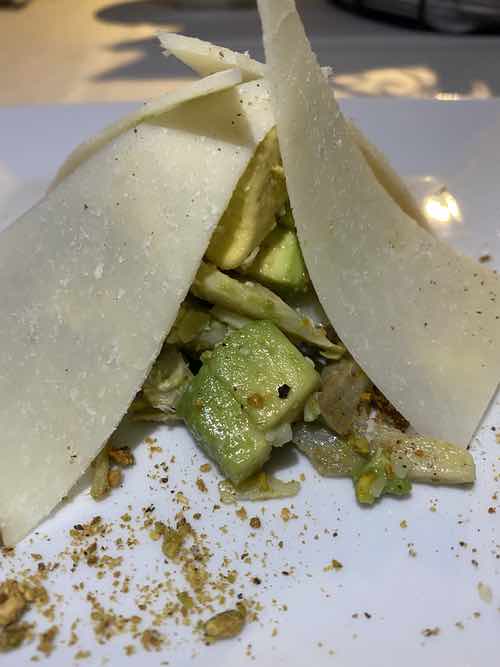 The Homemade Ravioli
RAVIOLI DI ANGELINA. Homemade fresh ricotta cheese ravioli, in a light tomato sauce Capri style. The olive oil tomato sauce was rich, bright, and nondairy may be my new favorite. plate licking worthy.
These dishes were paired with Falanghina del sannio a perfect white wine.
A spectacular presentation of the perfectly cooked branzini was presented to us before plating. Beautiful to the eyes and well as my tummy.
If that wasn't enough, we were treated to a gorgeous serving of lamb chops with spinach and the best potatoes ever. no dairy. No butter no milk or cream, just olive oil, salt and pepper whipped to the creamiest potatoes. Like fluffy pillows of goodness.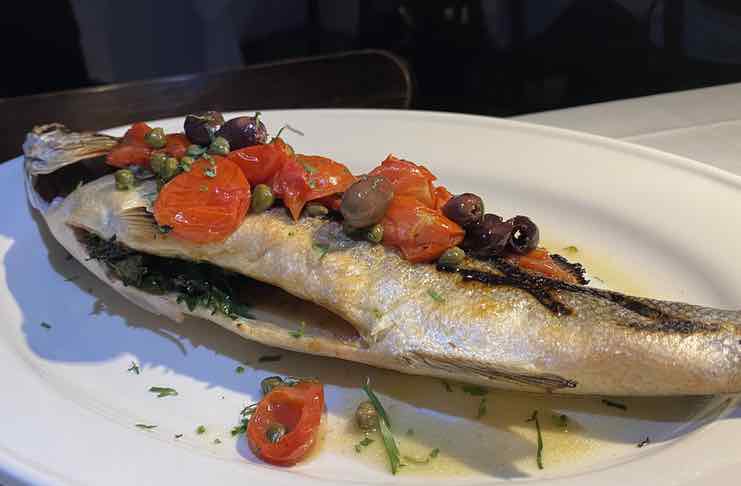 I think I have been doing potatoes wrong all these years. Such a simple process and so rewarding.
The Lamb Chops were Outstanding
The lamb chops were outstanding. I always forget how much I enjoy lamb. These were lovely. Tender and so flavorful.
The wine was Orfeo negromaro. Perfecto
Thinking we could not have another bite we were brought a duo of desserts.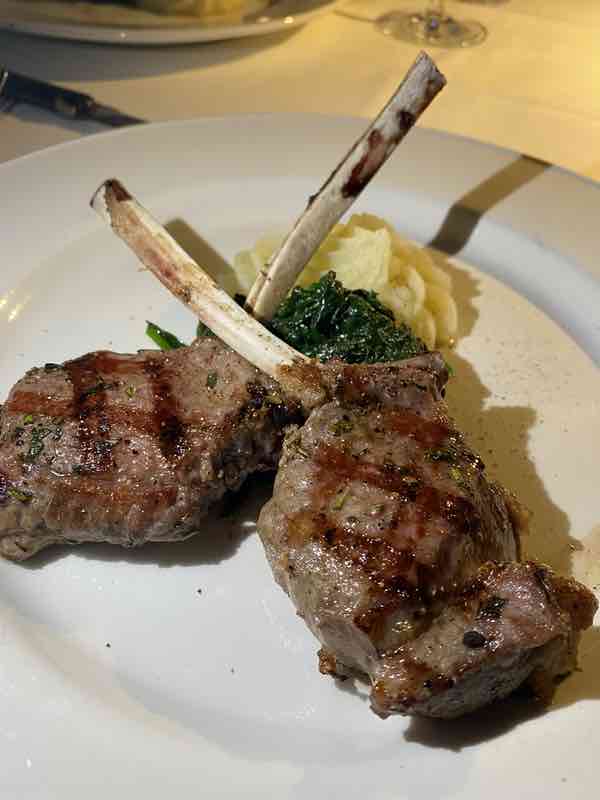 The Lemon Delight
Delizie Al Limone. Lemon delight. I love Lemons anything lemon. The lemons of the Amalfi coast are kissed by the sun and proclaimed as the best in the world. Most recently this resurgence of popularity may be due to Stanley Tucci since he has been searching Italy. Thank you, Stanley Tucci.
I imagined this dessert as nearly perfect.
This amazing pouf of sweet and tart delighted as well as shocked my taste buds. Yes, it is perfect.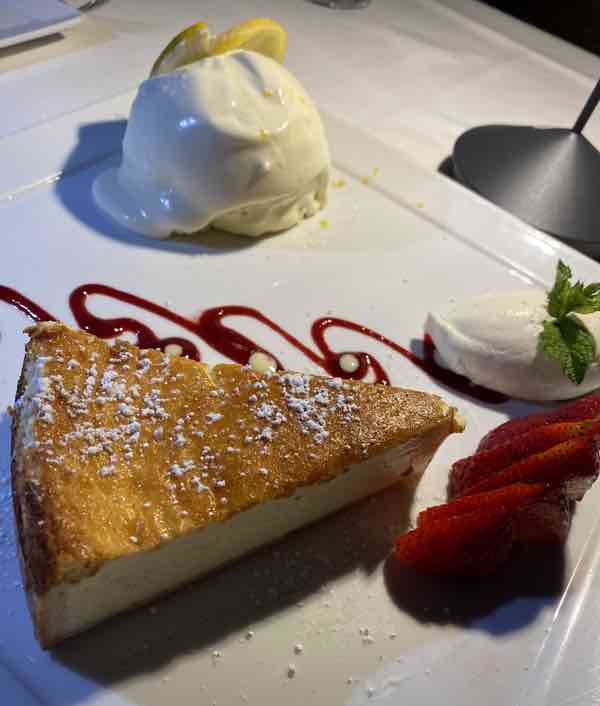 The second part of the duo was the best vanilla ricotta cheesecake in the city.
Yes, I said it. This is the best cheesecake in the city.
Recently my sister came up for a quick visit. As we do we eat and debated the best cheesecake in the city. My Sister's favorite was always ricotta cheesecake. Not gonna lie, there has not been too many cheesecakes I would turn down.
This was what I would consider the perfect cheesecake with the most beautiful consistency.
As my fork slid cut into that first bite, I found a rich and dense top and slowly treated to a creamy center with substance and a thin almost nonexistent crust.
Mouth-watering and now embedded in a new favorite food memory.
The lovely Gianni paired our finale with Brachetto d' Acqui dessert wine.
The food, the service the ambiance was so much more than I could ever imagine.
Stepping out of the bustle of NYC into a truly Squisito experience. Bravissimo!
Where?
Address: 887 9th Ave, New York, NY 10019, United States
On Google Maps.
You can go ahead and follow them on Instagram 🙂
Want to read more reviews by offMetro.com? Check out our shortlist of the most unique restaurants in Brooklyn.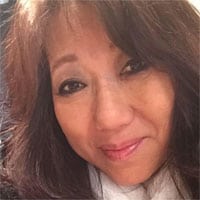 Living and loving in NYC, food has been a passion of hers. East Coast to West, Faith's goal is to explore and learn with the contribution of other like-minded foodies. Faith Rein has written for 2Girlsfromabar@blogspot.com. Youtube channel – faith.rein, love food love faith. You can find her @: Faith.rein/facebook (always looking to add friends) / faith rein@twitter / faith.rein@instagram /