New kid in town. Tribeca has one more thing to be proud of. Welcoming to this high-end neighborhood is a down-home comfort eatery. Filé Gumbo moved in a few weeks ago. With Chef Eric McCree you get to go home. If you have ever been to New Orleans, you know everywhere you go feels like home.
The bright sunny décor' with exposed brick is highlighted only by chef Eric's easy smile.
Arriving at Filé Gumbo Bar here in Tribeca
As we originally were seated at a table of our choice Chef Eric suggested that we may want to sit at the bar for a more interactive experience.
Being bar people, we were happy to saddle up to the comfiest bar stools.
Greeted by a row of steam kettles we were educated on not just the history of Gumbo but this unique concept in preparation in real life.
Each dish is prepared in a steam bowl. The intricate design in a row of steam heating these bowls to the proper temperature to assure not overcooking.
The choreographed creation from adding the roux base stewed for hours and chilled for 2 days. To every step it takes. We had the chicken, andouille, shrimp and crab.
As we enjoyed the "show" the entire process took very little time.
Cleaning stations are accessible to each bowl since the bowls are stationary. Even that was mesmerizing
Genius concept. This steam cooking style makes for that perfect Gumbo. Layers and layers of flavors and proteins, at your choosing.
Creole Classics: The Best Caesar Salad I've Ever Had
As I have always enjoyed having our server or chef make suggestions Chef Eric said he likes to give his customers the full experience of the best he has to offer and would just like to feed us.
The creation of this memorable tasting started with the best Caesar salad I have ever had.
Slightly grilled romaine topped with the dressing that is plate licking good.
They call it Grilled Creole Caesar Salad, I call it the perfect starter.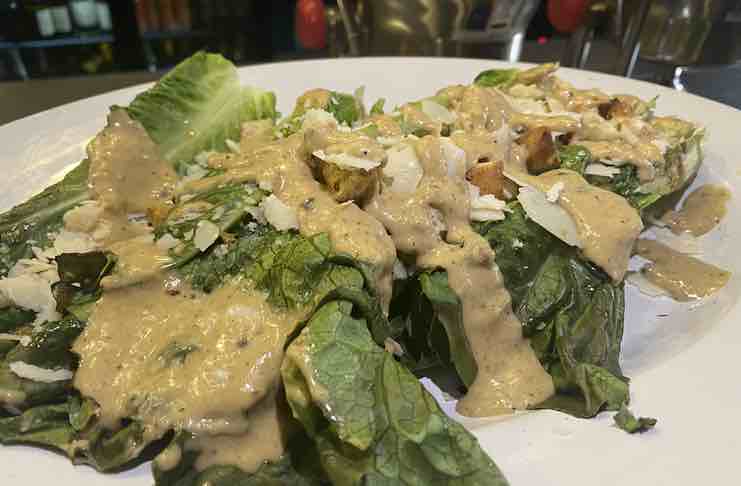 Iconic Jazz Fest Crawfish Bread
The generous plate of crawfish bread with a creamy cheese mixture and sauteed crawfish tail meat and holy trinity on the freshest French Bread.
The best preview of an amazing dinner.
Our cocktails were refreshing and lovely created by award-winning beverage director Kevin Reid.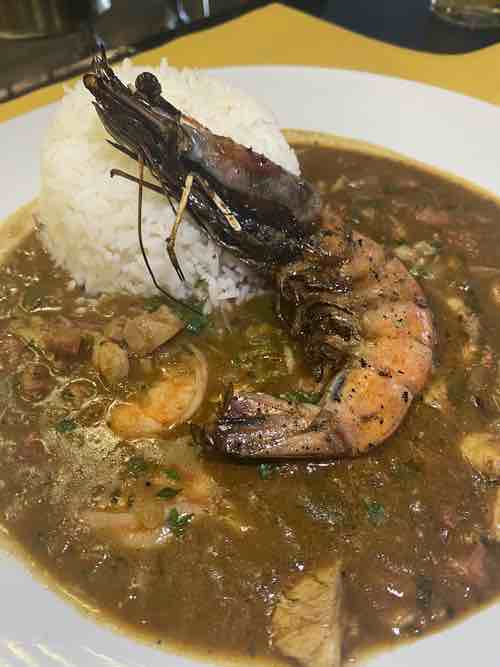 Tiny's Gumbo: The Signature Dish
The "show" began as Chef Eric recreated this Gumbo from his grandfather, Aubrey "Tiny" Gaines inspired by his time living in New Orleans.
Tiny's Gumbo, the signature dish, is flavored with onions, celery, and bell peppers—the holy trinity of aromatics—Cajun spices, fresh herbs, and chicken stock, with a choice of protein cooked in, topped with a dusting of fine powder and gremolata. Proteins offered are Chicken and Andouille Sausage; Seafood, crab, and shrimp; and All-In is seafood, andouille sausage, and popcorn rice are flown in fresh from Louisiana.
Each gumbo is customized to each customer's taste and heat level.
Truly the best gumbo that had elevated elegant flavors unexpected from a home style in Tribeca.
Dessert: Chocolate Cake and the best Darn Coffee…
Concluding this evening was the one dessert they have on the menu. No need to scan your QR code again. Just this Chocolate Praline Cake and the best darn coffee this side of the bayou.
French press made the way I never could duplicate or have ever gotten anywhere in the city.
Really, I am gushing over the coffee.
Filé Gumbo has so many exciting items I need to try. Thinking about bringing my friends from the Big Easy who miss that good old home cooking.
The energy and graciousness that Chef Eric has created at Filé Gumbo is more than enough to return even above the food, which is outstanding.
African American Executive Chef/Owner Eric McCree has brought more than great food to us but an experience that warms your heart and belly.
Where? 275 Church Street, New York, NY 10013
Follow them on Instagram!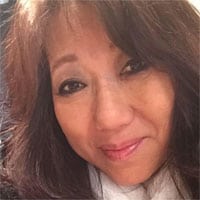 Living and loving in NYC, food has been a passion of hers. East Coast to West, Faith's goal is to explore and learn with the contribution of other like-minded foodies. Faith Rein has written for 2Girlsfromabar@blogspot.com. Youtube channel – faith.rein, love food love faith. You can find her @: Faith.rein/facebook (always looking to add friends) / faith rein@twitter / faith.rein@instagram /