When you select a place to eat in New York you expect something different. You go inside and think it will be new and different. You run in to get a pizza, or maybe something you would expect from another country, another culture, another place. It is not expensive or exclusive. It is what you expect when you step inside. And while that is true, it is not as different as you imagine. It is "typical."
But sometimes you do find something different. It is not a big place. It is not fancy. It might not even have been something you heard of. You might walk by while you are off to another place for a bite to eat. Maybe this time you should stop and take a look. This can be the time to open the door and walk inside. This can be the time to go to another place and try something that is new, different, and amazing.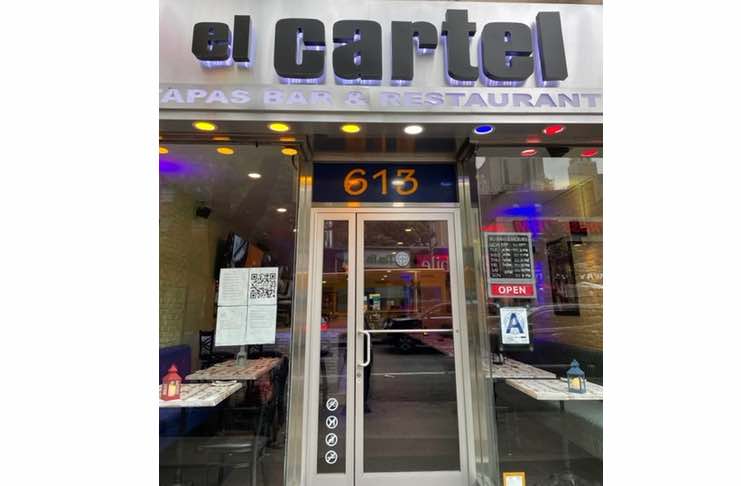 Welcome to EL CARTEL TAPAS BAR and RESTAURANT!
STEP INSIDE EL CARTER TAPAS BAR AND RESTAURANT, AND TRY SOMETHING NEW
When you enter the door you think you are entering a new place. It does look like other small restaurants in the area but listen to the music. You know you are not in a local place or a place of Mexican tacos. This is a place that you would visit if you were in Cali, Colombia. This is the food you would see, and the variety you can taste.
When we sat down we met with the team, including the manager, Billy. They were all great to be with as they offered the menu and began to discuss what was available. They went through the menu and even told us what the specials for the evening would be. It all sounded great to consider.
But to make it simple we asked Billy what he would have if he walked into a similar place like this in Cali. He thought one moment and then told us what he would order. Starting with the appetizer and working through dessert.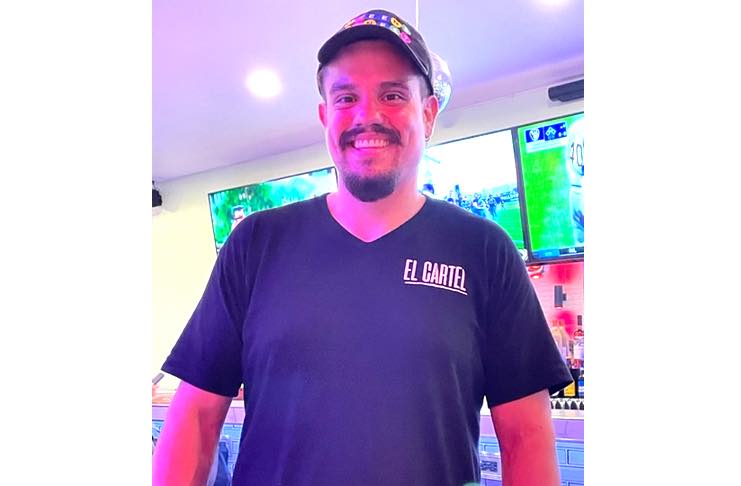 It sounded wonderful the recommendations. As is typical in a tapas bar nothing comes fast. You take your time to enjoy, have a conversation and even something to drink. If you have ever gone to a tapas bar in Spain or in South America then you know what it is like. But here in New York, Billy was glad to explain and even give a few suggestions on how to start.
First up was the beverage. We started with a Frozen Sangria. This is not very common to have, but here at El Cartel, it was perfect. Fresh. Tasty. Some fruit is all mixed with red Sangria. It was ideal, especially on a warm day. It will be perfect with whatever you might eat.
We also received a special recommendation that is not on the menu. It was a beer that had just come from a ship that arrived from Colombia. It is known as Dorada Beer. This is not something you can find in New York.
You cannot find it in a grocery store. You can only find it in Colombia. It is that special. They bring you the can and pour it into your glass. Take a sip and you will see what a fresh beer from Colombia is all about.
It is a light lager beer, typical of what you would have in Germany. But this is lighter and fresher. It was wonderful. I wish I could take a case of this home with me.
Shrimp Ceviche: THE WAY TO BEGIN THE MEAL
Appetizers are the first course to have. Billy and the team had made the recommendations and brought the courses to us. This is the way to begin.
Colombia is known for its Shrimp Ceviche. This is what you have here. But this time it is made the same way it is made in Colombia. It is about 8 pieces of fresh shrimp that were brought in that morning.
It is placed in a homemade pink sauce that is mixed with lime juice, purple/red onions, mango, and cilantro. It is fresh and light. The taste is just right. Not too spicy. It coats the shrimp as if it is in a cool soup. In fact, with a spoon you could drink the sauce as a dinner it was ideal. There were also two large plantain-style crackers that complemented the dish. It was a good way to start with seafood.
The other course we had was the Tostones Rellenos. There are three, homemade fresh plantain cups that have been fried and shaped to hold the meal. For this, we had three courses that included the steak, chicken and octopus.
Each was in its own sauce specially made for each plantain cup. The cup was large enough to be a meal itself. They have the right seasoning. Were not too hot, just room temperature. It was not spicy. It was a dish of tostones that were a meal unto themselves. And served with the ceviche it was a good meal to have and share.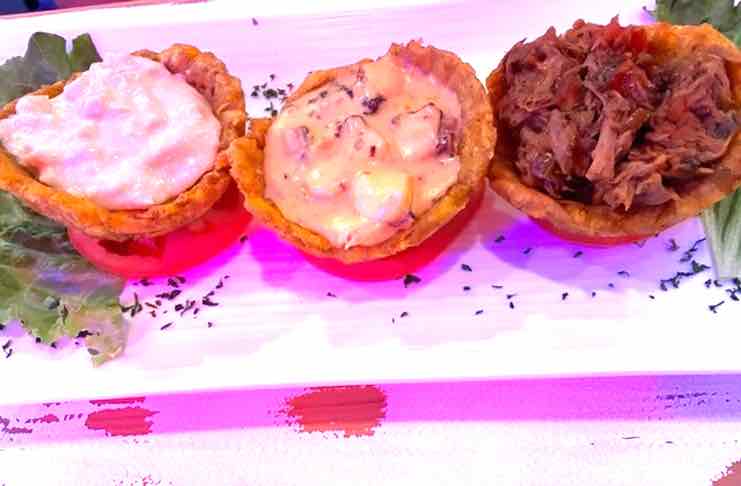 This is the way to eat a typical Tapas in Colombia. It is something to share with friends over a drink and a conversation.
The Red Snapper
Once the first course is finished it is time to start the main course. And being in Colombia these are two different ones to take. Both were recommended by Billy.
One of the specialties at El Cartel is the Red Snapper. But this is not an ordinary pan-fried or baked snapper. This is entirely fried from head to tail. It is still on the bone. It is lightly seasoned and based on the flavor you would expect.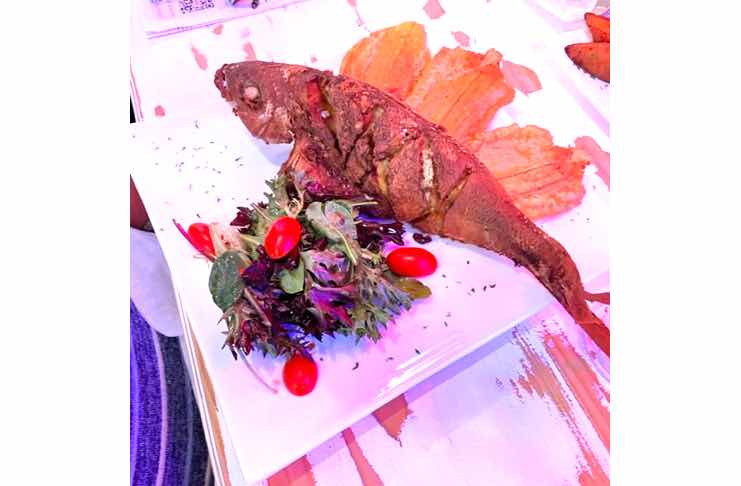 It is served with tostones that complement the taste. The fish is fried. The tostones are cooked in oil and made fresh to balance the flavor you have. This is also served with a green salad that has a passion fruit vinaigrette. That is different from what you might be used to. But when had with the fish you can see how one complements the other.
This is a large piece of fish that can be shared with another. Again, when it comes to tapas it is something you can really share between four people along with other entrees. It can balance an entire dinner.
The Bandeja El Cartel
The other course we had was something very typical of Colombia. It is the Bandeja El Cartel. This is an assorted dish that is filled with different items that complement each other. In tradition, Bandeja is one of Colombia's most popular dishes.
It is a very hearty meal. It most often includes beans, white rice, chicharron, thin steak, Colombia chorizo, fried egg, sweet plantain, avocado and arepa. It is a large dish with a fresh taste variety. The seasoning complements each item you have. Try with the steak, then try the chicharron. Don't forget the red beans and some rice. Or maybe there is the fried egg on top. Of course, you need to have the plantain. That is ideal with what you are eating.
Naturally, you are served a side jalapeno sauce if you need some spice to stand out with what you eat. The portion is large and is ideal for sharing. Or course, once you start you might not stop. There is so much to have and enjoy with each bite you take. Naturally, you can take home some of it since there is so much here for you to enjoy. It is just as good the next day.
TIME FOR DESSERT: Figs in Syrup
When you finish this meal you believe you are finished. But maybe not when it comes to dessert. There are a few new options available for you. Once more these are as they would be made in Colombia. These items are fresh, homemade and not too sweet. It is more of the way you have overseas and not in the US.
First, we decided to try something made with fruit. In this case it was Figs in Syrup. It was a fresh fig that was spliced in half. Each section was topped with part of the pit topped with cheese and arequipe. This was then covered with syrup. The combination is fresh, tasty and something you might not expect. But this is how it is made there. Each bit you take is perfect to refresh you after what you have eaten.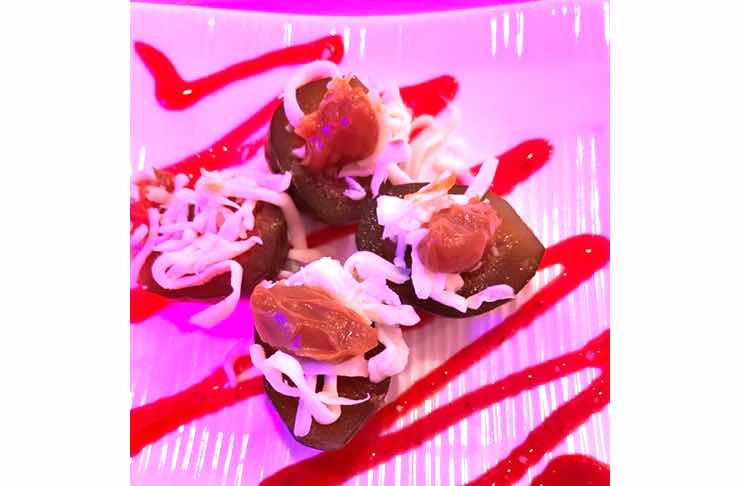 The house specialty is the Oblea (oh-blea-ah). This is very different. In Cali you can find it in a cart on the street. It is ideal with a coffee. Being a street food favorite it is made with wafers that are then stuffed with arequipe and a homemade blackberry sauce.
Once more it complements each other to move ahead. Even with the syrup, it is not too sweet. It is like a cracker that you cut into slices and can even dip into a cup of coffee you might have. Very nice at the end of the meal.
AN EXPERIENCE TO GO BACK TO.
El Cartel Tapas Bar and Restaurant is a place you need to go back to. If you do, it is returning to Colombia where you might have been before. Cali is the place that is also called the "Rumba Capital" by fellow Colombians, and by the rest of the world, it is more commonly known as the "Salsa" capital.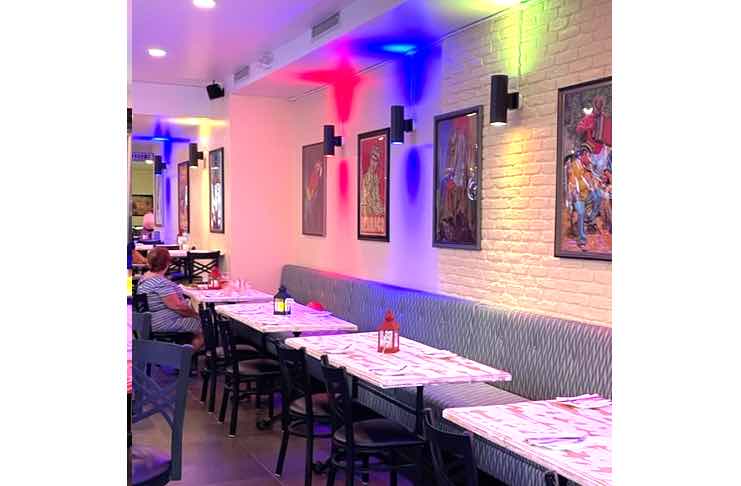 Either way, Cali promises a festive experience that you will not forget easily. The cuisine is an extraordinary fusion of several different influences and cultures, from the indigenous tribes of ancient times to the Spanish and Arabic ingredients brought from the Old World, as well as a strong presence of African elements.
The result is a unique blend that manifests in the form of a number of exquisite dishes that you absolutely must try each time you visit.
El Cartel Tapas is perfect for what is offered. Very delicious Colombian food. Run by a team serving fresh homemade food. Small place but can always be full. It is ideal for friends, family or a couple.
Perfect before or after the theater which is only a few blocks away. The price is right. The taste is right. The team, led by Billy, is a compliment to you when you arrive and want to learn what is best to eat at that time.
Being at El Cartel was a great experience. I did try many new dishes. It is not your typical Spanish or Mexican dish. This is the food and flavors of Colombia as you find it there.
I also learned new things when I asked questions and the team was happy to explain. It was a good way to try something different and consider something new. Not only about the food I had, but also about Colombia and the area of Cali. It was the best way to have a new meal I can come home to. Check out El Cartel on Instagram.
Con mucho gusto!
Check out some more reviews on Yelp.
………………………….
El Cartel Tapas Bar and Restaurant Location
613 9th Ave / New York, NY 10036 / Phone: 212-540-6613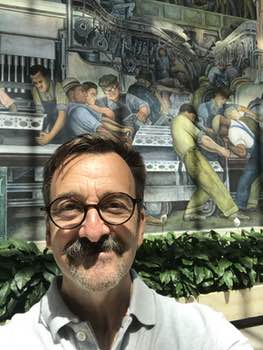 "The Jaded Traveler". Ron Rossi was born and raised in New York. A globalist at heart, Ron is a marketing director by trade, and has lived and worked around the world including Asia, Europe, Africa, and South America. Food is one of the best ways to learn about a country, a people and a culture. So, Ron is always looking for the best in mid-range to budget and street food. He is always on the hunt for a good meal anyone can afford. It is the food of the average citizen that excites him. And with having visited close to 100 countries on 6 continents so far, there have been some pretty good meals.