"After spending a long, long time working as a temp, Julie Powell now writes in her pajamas in Long Island City, Queens, where she shares a 'loft' apartment with her husband, Eric." – Julie & Julia.
Because of Meryl Streep's 70 million dollar-making movie, more people have become aware of this now nourriture-affiliated neighborhood of Queens than ever before. So in homage to the intrepid, knife-to-word wielding Julie Powell—her idol has had plenty of posthumous attention this summer between her book becoming a bestseller again, guides to Julia's Paris, and the National Museum of American History's Julia's Kitchen exhibit—we hopped a Water Taxi to the writer's hometown of Long Island City to see some art, sample a trademark Powell drink, and of course, eat.
Mastering the Art of French Eating in Long Island City
While Julie Powell tried her hand at recreating Boeuf Bourguignon and Foies de Volaille en Aspic (chicken livers with cold jelly), we chose to have our French food served at the restaurant table.
Tournesol French Bistro | 50-12 Vernon Blvd. | tournesolnyc.com Rather than aspic of any kind, we opted for the classic Croque Monsieur with a salad and a $1 additional egg, perfectly poached for a total of $9.50. (Note to cheese lovers: the melted brie arugula with watermelon ($11) is another popular dish.) The mousse au chocolat ($6) for dessert was easy on the mouth.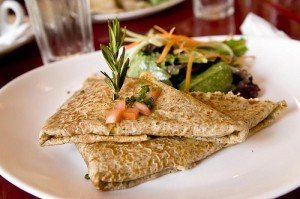 Café Henri | 10-10 50th Ave. For an alternately tasty bistro, visit Café Henri for the BYOB policy, crepes, and all night jazz. Sweetleaf | 10-93 Jackson Ave. | sweetleaflic.com The French aren't exactly known for their espresso, but what better way to cut through all the butter and chocolat than with a shot or two of the strong stuff? The best place for a caffeinated sojourn is Sweetleaf, a quaint, relatively new little corner coffee shop that doesn't water down its java. They serve Stumptown Coffee, which apparently was named "Best Coffee in the World" by NPR. Sweetleaf's chic, fashionista plates add to the European feel of the joint.
Picnic On the Waterfront
The perfect place to stroll on a bright, calm afternoon or to catch the sunset over the city, LIC's Gantry Plaza State Park has some of the best outerborough views of Manhattan. Food Celler & Co. Market | 4-85 47th Road | foodcellarandco.com Put down the MtAoFC and pick-up a grocery basket at Food Cellar & Co. Market. Set up in a similar style to the Whole Foods Market Bowery, Food Cellar & Co. has a wide array of tasty cheeses, a 'health food' section, a friendly team of employees (check out the website), and all kinds of butter for undertakings of Julia's French cooking when you're back in the kitchen. Pick up ready-made snacks to enjoy as you watch the ships cross the river, their bows pink from the sky. Communitea | 47-02 Vernon Blvd. | teamap.com To either take away or to stay, Communitea is another can't-miss Long Island City eatery. We went in for some green tea (while pricy at $3.00 for a really small 'regular' it was steeped to near flawlessness) and came out with homemade pound cake, the cilantro-portobello panini on ciabatta, and a menu to come back for more. Apparently, Communitea is Long Island City's first teahouse; its savory sandwiches, tofu hot dogs (Julia Child might roll over in her grave at the thought of those) loose-leaf teas, and free Wi-Fi seem to have caught on—at 5:00pm on a Friday afternoon, we counted 13 people in the teahouse, six of them on their MacBook's.
In Between Eating, Ingest Some Art
Long Island City might not stand up to Manhattan's cultural scene, but it does have some exquisite pockets of art. (Socrates Sculpture Garden farther north of where you'll be most of the day is a unique spot with a crazy creative energy; its rotating exhibits are a must-see on another visit to LIC.) P.S. 1 Contemporary Art Center | 22-25 Jackson Ave. | ps1.org This Queens branch of the MoMa sits at the corner of Jackson Ave. and 46th Ave., just a few blocks from the New York Water Taxi drop-off and is steps away from the 7 train, one stop from Grand Central Station. One of the oldest and largest non-profit contemporary art institutions in the United States, the exhibition space (old classrooms, hallways lined with lockers, and somewhat menacing stairwells) claims to display "the most experimental art in the world." After entering through a courtyard of what appears to be furry, thatched tarp structures shielding you from the elements, take a look at artist Leonardo Erlich's Swimming Pool, then visit Jonathan Horowitz's And/Or, and finally wander into a dark, red-glowing room of intense videos with Kenneth Anger's "radical critique of Hollywood in the midst of violence and eroticism."
A Toast to Julia's Legacy; Drink Julie's Favorite Cocktail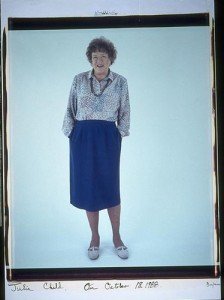 Julie could not have tackled her project with as much gusto if it wasn't for those dry Stoli gimlets. Discover some of LIC's favorite local watering holes. L.I.C. Bar | 45-58 Vernon Blvd. | licbar.com L.I.C. Bar offers up draft beers, mixed drinks, even single-malt scotch, and is the kind of perfectly unpretentious place you might find Julie Powell sipping one of her trademark gimlets. We can't be certain if L.I.C. Bar makes them as good as Eric, but with cozy lighting, exposed brick walls, and communal antique-feeling tables, it's a happening night scene and a great way to experience an authentic LIC meal. Domaine Wine Bar | 50-04 Vernon Blvd. | domainewinebar.com Two doors from Tournesol, Domaine is the place for winding down at the end of the day in a dark, classically decorated corner, with a bottle of obscure vintage wine and an artisanal cheese platter. Bob your head slowly to the live jazz on Thursdays (when chefs and sommeliers from Daniel and Le Bernadin may join you) and enjoy a little slice of Paris in Long Island City. How to get there: Long Island is easily accessible via the 7 train from Grand Central's 42nd St. Station heading towards Queens/Flushing. Get off at Vernon Blvd–Jackson Ave. and you're dropped into the heart of LIC. Or, take to the river and the NY Water Taxi for service between 34th St. and the East River directly across to Hunter's Point, Long Island City/Borden Ave.

View Julie Powell's Long Island City in a larger map