Staying up late in NYC is harder than you might think. Curiously, most establishments in the City that Never Sleeps close their doors around 2:00am. But if you're looking to rise and retire with the moon, the East Village is a great place to do it. The area is thick with crowds deep into the evening, fueled by open-until-4:00am bars and restaurants and a vibrant local clientele. Ready for a long night?

6:00pm: Dinner in the East Village
The East Village is home to a number of eateries; no matter what you're in the mood for, you'll find it here. Italian-influenced Hearth (403 E. 12th St) serves up cozy food in the restaurant's low-lit, blonde wood and brick interior. The house-made potato gnocchi is excellent, particularly when accompanied by one of the menu's locally-sourced vegetable plates. For something a little different, order chef Marco Canora's famous bone broth (brodo), the Hearth Broth. It'll warm you from the inside out.
Graffiti (224 E. 10th St) succinctly summarizes its offerings as "Asian Ingredients + French/American Cuisine = Small Plates." You'll rub elbows with fellow patrons in this intimate, self-described "shoebox." The menu, organized by price, is eclectic: pork buns with apricot chutney share space with zucchini hummus pizza and braised lentil ribs. We recommend the Indian Street Burger, and of course, dessert: try the Hazelnut Chocolate Caviar Cupcake.
You don't have to choose between vegan and upscale at Avant Garden (130 E. 7th St). Decide from hot, cold, and toast categories; no matter your choice, your food arrives fresh and elegantly plated. We recommend the sunchoke served with olive, pistachio, and quince, as well as the selection of seasonal juices: champagne optional.

8:30pm: See a show
At 8:30pm or 9:00pm, make your way over to one of the Village's entertainment offerings. Indie and dance acts alike frequent the Mercury Lounge (217 E. Houston St), which also hosts EP release parties and DJs late into the night. Credited with launching the career of The Strokes, chances are high you'll see the next big thing while they're still starting out.
Into experimental theatre? La MaMa E.T.C. (66 E. 4th St) functions first and foremost as a center for artists to create. The spartan space harkens back an era in which the East Village was filled with actors, authors, and playwrights. Anything you see here is unfindable elsewhere.

9:30pm: Grab a drink
The night is still young; refuel with a quick pit stop at a Village institution. The Spotted Owl Tavern (211 Avenue A) serves a loyal circle craft cocktails such as the spicy Jalapeño Margarita, while spendthrifts will enjoy the $6 PBR and shot special. Hungry? Spotted Owl's decadent Three Cheese Grilled Cheese is everything bar food should be — warm, cheesy, and large enough to share.
Get a martini and manicure for just $10 (really) at Beauty Bar (231 E. 14th St) until 11:00pm every night of the week. Fridays feature comedy and Saturdays the upbeat, long-running Re-Make/Re-Model DJ series, where you can dance the night away alongside still-intact hair dryers and other salon decor.
Dodge Prohibition at Angel's Share (8 Stuyvesant St), a speakeasy hidden inside a Japanese restaurant. Voted New York City's second best bar by GQ, the cocktails at Angel's Share will wow even the stiffest-lipped drink snob. Be aware: the space is small, and groups larger than 4 will be turned away.

11:00pm: Dance
Get things shaking with a visit to a nightclub. Harkening back to the 80s, gay bar and veritable institution Pyramid Club (101 Avenue A) plays synth and pop music in a retro setting. Ever-rotating specials (extending far beyond Happy Hour), Friday and Saturday event nights and cheap drinks cement Pyramid's high energy reputation.

Though multi-level Pianos (158 Ludlow St) is not technically on the Lower East Side, stop by anyway. Neon-tinged and packed with people, Pianos is the clubbiest club experience you'll find in this part of town. Two different DJs on different floors and a $5-entry concert hall hidden in the back make Pianos a lively choice.

1:30am: Grab a bite to eat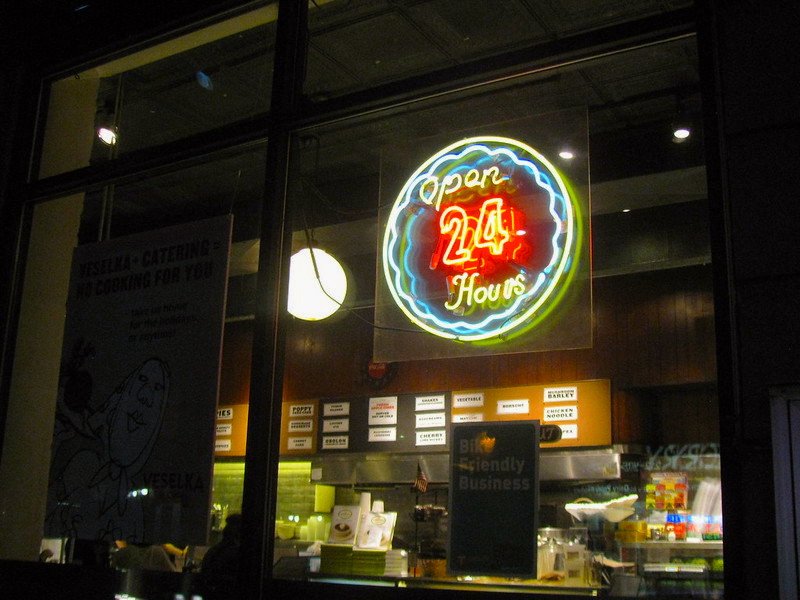 Keep your energy up with a snack from one of the Village's early hours eateries. San Loco Tacos (124 2nd Ave) has a roster of tacos, quesadillas and nachos, perfect for a greasy late-night snack. Depending on your level of hunger, opt for the Taco Loco, which comes double-layered with hard and soft-shell tortillas, or the massive Gringo-Mex Enchiladas, arriving "smothered" in chili. Frozen margaritas are also available.
Though perhaps best known for its connecting entrance to Please Don't Tell, Crif Dogs (113 St. Marks Pl) deserves your independent attention. Hot dogs in the city are typically ordered from a cart or Papaya outpost; however, Crif Dogs refines the art of the gourmet hot dog with cheese, sauerkraut, teriyaki, pineapple, cream cheese, pepperoni, and of course, high-quality weiners.
Pick up a bowl of ramen or pork tonkatsu at sit-down Ichibantei (401 E. 13th St). One of the city's only open-late Japanese restaurants, Ichibantei is full past midnight with those craving a meal or a plate of dumplings.
Veselka (144 2nd Ave) serves pierogies, borscht, and other traditional Ukrainian food at all hours of the day. The restaurant itself is quite spacious, easily accommodating a large group inside or on the terrace. For maximum portability, order pierogis with your choice of filling and a potato pancake to go.

2:30am: Play a game
Stay awake by engaging in something physical. Sing Sing Karaoke (81 Ave A) features party rooms for small, medium, and large (20+) groups until 4:00 am. Order a pitcher of beer for $20 and snack down on Hi-Chew, ramen or popcorn while belting out a song from the extensive song catalogue.
Intimidatingly-cavernous Amsterdam Billiards (110 E. 11th St) is relatively relaxed by this time. Amsterdam's pool tables are complemented by ping pong, beer pong, darts, and foosball setups. Don't worry: there's a full zinc-topped bar should you get thirsty.
Mona's (224 Ave B) in Alphabet City also boasts a pool table and friendly locals playing arcade games and Skee Ball. The jukebox is a crowd hit.

4:00am: Pizza and a walk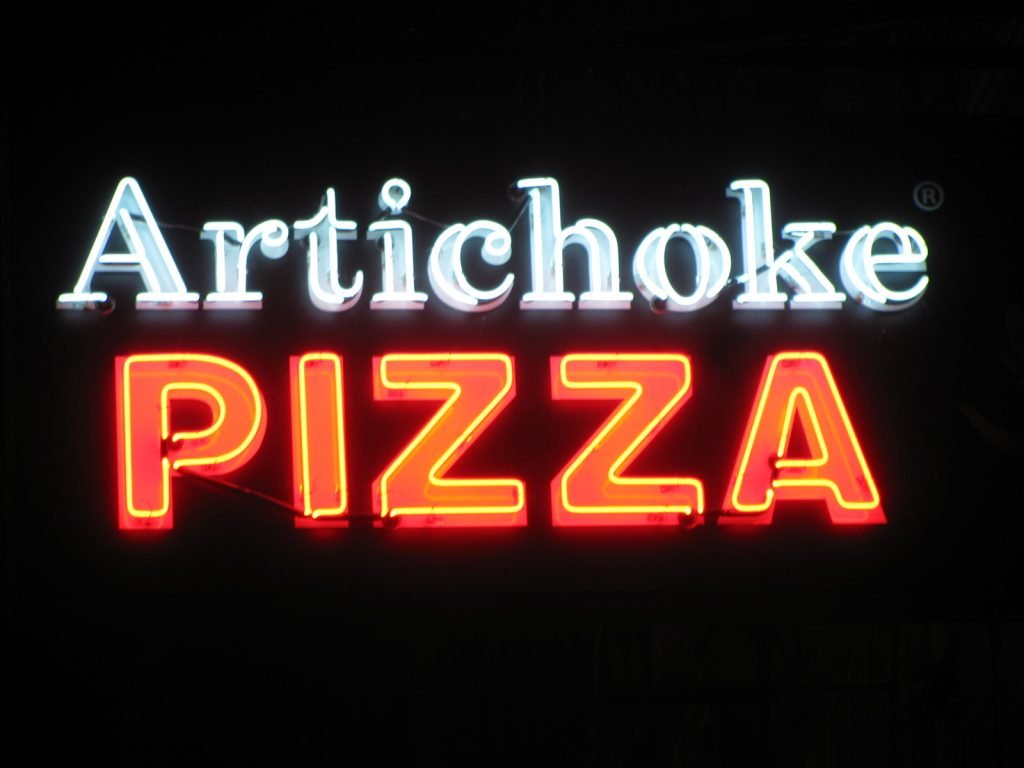 By this point, the Village begins emptying out. However, a host of dollar slice joints and the famous Artichoke Pizza (328 E. 14th St) feed hungry patrons until 5 00am. We recommend taking a slice and walking downtown, along the East River or down 1st Ave towards Houston. There, you'll find Remedy Diner (245 E. Houston St), where you can swill a cup of coffee and wait until the subway is running regular hours. Congrats, you made it!

Charlotte Leszinske is a writer newly arrived in NYC after a short stint in Paris (but is still a Californian at heart). When not searching for half-priced plane tickets she likes to explore bookshops and breweries in the outer boroughs.