It's tough to choose when you're spoiled for choice, which may explain why Washingtonians would rather list their favorites than pick just one. With an itinerary thick with recommendations, we bolted to the capital city to eat, sleep, and discover its myriad distractions for ourselves.
We wandered from Pennsylvania to Connecticut Avenue and memorial to zoo, pausing for chewy chocolate oat cookies sprinkled with sea salt at Teaism before dinnertime at America's first certified organic restaurant. After 36 hours in the capital, we ultimately found exactly where to spend and some excellent ways to save for your next DC getaway.
Rest for the Weary
SAVE: Home is where the heart is and you'll wish your mail arrived here: Woodley Park Guest House and its owners Courtney and Joe Lodico indulge visitors with the conveniences and comforts of a pied-à-terre right off the Adams Morgan Metro and a 10-minute walk to the free-to-visit National Zoo. Original artwork from prior guests covets the walls of this darling inn, which offers amenities like free wifi and a delicious organic breakfast of fruit salad, farm-fresh organic, smoked salmon with cream cheese and capers, and coffee cakes made by an in-house baker.
SPEND: Overlooking Thomas Circle, the year-young Donovan House makes up for a midway location with sleek, sharply appointed rooms and a rooftop swimming pool. Plus—star chef Susur Lee (NYC's Shang) just introduced an Asian bar-restaurant called Zentan on the premises so guests can have their sushi poolside.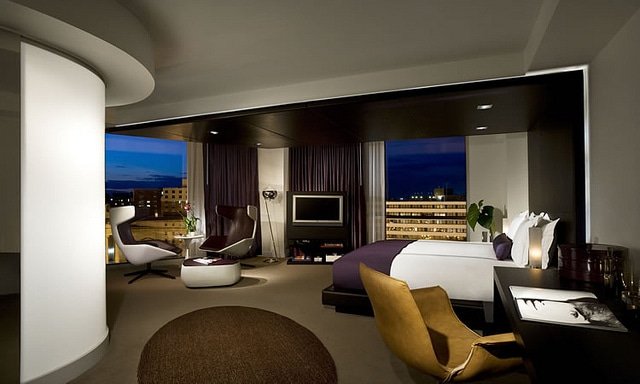 Further northwest, Dupont Hotel (formerly Jurys Washington Hotel) balances its bustling, central location with a chic, understated interior. In the rooms, ivory leather headboards offset slate gray walls and frosted glass partitions mark where the bedroom ends and the bathroom begins. While the translucent divide opens up a smaller space for the solo traveler, it means semi-privacy for two at best.
Still, the Dupont's prime address and close proximity to the Metro make it a no-brainer for those who favor expediency. And with local favorite Kramerbooks & Afterwords Cafe opposite the hotel's back entrance, free live music (Wednesday-Saturday nights) and satisfying al fresco brunching is only steps away.
One If By Land, Two If By Sea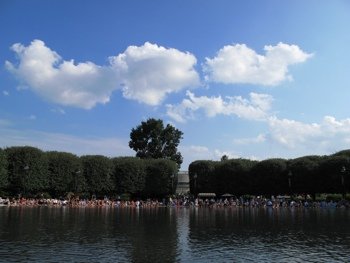 SAVE: Like New York City, the capital is a compulsively walkable metropolis. You'll find it's even more so with DC By Foot, a free, twice daily walking tour known for its knowledgeable guides and engaging intro to the city. Tours last about 1.5 hours and moves at a comfortable pace. Tipping your guide is recommended and, not to mention, brings good karma.
For your transportation needs, speed across town on the Metro, DC's squeaky-clean train and bus system that runs from city center to most attractions.
SPEND: While DC's cherry blossoms leave tourists in awe each springtime, autumn's vivid foliage is equally unmissable—especially from water. Chase ducks and coast by the Jefferson Memorial in a Tidal Basin paddle boat. Ten dollars buys an hour away from shore and calf muscles if you peddle hard enough.
Museums for the Masses
SAVE: While New York museums offer an endless rotation of "Must See" exhibits, admission costs deter frequent visits. In DC, however, entrance is free into most museums so one can hop from Dorothy's sparkly red shoes to dinosaur bones without ticket buyer's remorse. Don't miss the Smithsonian collections, especially the perennially packed National Air and Space Museum where wide-eyed school kids join the young at heart to gape at spy planes, space stations, and the Wright Brothers' 1903 Flyer—the world's first successful airplane.
Soak up the sun with free outdoor concerts hosted by the National Gallery of Art. Beginning May 28, the gallery will host Jazz in the Sculpture Garden where locals and out-of-towners gather to start the weekend with a glass of sangria next to Louise Bourgeois' massive bronze arachnid. Unwind indoors in the west garden court with classical music performances every Sunday evening.
SPEND: In winter, head indoors to watch news break at the Newseum where seven levels of cutting edge displays look back on five centuries of famous headlines and free speech. The awesome 90-foot-high atrium will take your breath away as will the gallery of Pulitzer Prize-winning photos. Don't miss the Berlin Wall exhibit or the chance to play Anderson Cooper in the interactive newsroom.
Bon Appétit
SAVE: They won't believe you've been to DC until you've had Bill Cosby's Original Chili Half-Smoke at Ben's Chili Bowl, a 100% wind-powered operation. The signature chili dog boasts a half pork-half beef smoked sausage on a warm steamed bun topped with mustard, onions, and spicy homemade chili sauce. It's served in crinkly aluminum foil just thick enough to contain the hot mess, well worth the $5.25.
Want more eatable deals? DC's Ethiopian community and their culinary groupies prefer eating with their hands over utensils, and convene over spicy stews and spongy injera bread. Along the U Street Corridor, Dukem ($6-$20) reigns among the affordable, authentic eateries.
SPEND: Dig into the exquisite all-you-can-eat buffet at the Garden Café for an immersing experience at the National Gallery of Art that puts every pricey museum lunch you've ever had to shame. Created by DC-based star chef José Andrés', the platters are literally combining food with art as the inspired lunch selection likes to coincide with current exhibits. Reservations are recommended for Andrés' menu. For $20.25, we'd go every week.
North of Dupont Circle, Nora serves loyal clientele who return time after time for her gorgeously executed dinners and organic New American cooking. The handsome carriage house setting ably marks the occasion whether it's the birthday dinner on your left or the anniversary celebration on the right. With an ever-evolving menu driven by natural, seasonal ingredients, there's always something new to try—though you'll still be thinking of the savory artichoke and tomato tart you had last time.
In Penn Quarter, wine bar-restaurant Proof thrills oenophiles and social drinkers alike with a bible-length list and friendly staffers who share stories about Condoleeza Rice's last visit. While the wines impress, accompanying bites live up to the beverages' good rep. Cheese and charcuterie are naturally popular but try Chef Karoum's creative pâtés, like the chicken soup pâté, or the spicy tuna tartare sandwiched between crispy nori for a taste of DC you can't readily get at home. Given the eatery's mass appeal, it's no surprise that the latest cast of The Biggest Loser visited to film an episode. With its many temptations, Proof is probably not for the faint of will. But, hey, you're on vacation. Even in a city that seems all business all the time, it's a nice change coming from one that never sleeps.
How to get to DC from NYC
Visit megabus.com for cheap seats and a direct route. Or take Tripper Bus. You can also consult oM's Washington, DC Transportation Guide for multiple routes to reaching these travel deals in DC. For more on the capital, visit Destination DC or call 800.422.8644.

Photos: Courtesy of dherman1145, Amy Cao, the National Gallery of Art, Washington, and Newseum


View Washington D.C. Getaway in a larger map