Long Island's East End has a sustainable soul. Generations before it became a summer hotbed for city folk, the region was populated with farmers and fishermen who made their living off the land and sea. Today, many locals are passionate about maintaining the area's agricultural roots. Here are seven ways to support their efforts to keep the East End green.
The Peconic Land Trust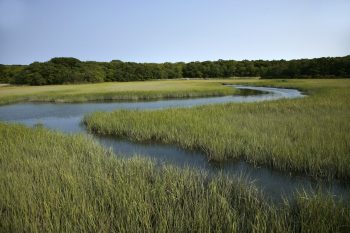 The Peconic Land Trust's mission is to conserve Long Island's working farms for future generations.
They offer numerous educational activities and events on the East End.
This summer, consider trying your hand at painting at Bridge Gardens, learn about edible flowers during a workshop at the North Fork Flower Farm or hear what's buzzing about beekeeping with local beekeeper Mary Woltz at Quail Hill Farm.
Farm-to-Taco
Farm-to-table eateries are popping up everywhere, but few relish sustainable ingredients as much as Justin Schwartz, owner of the new Mattitaco in Mattiituck on the North Fork, does.
The farm-to-taco specialties are made with items sourced from local farms. Savor a delicate fried quail egg from Feisty Acres and zesty cilantro from Treiber Farms.
The grilled corn off the cob is served with tangy queso fresco, velvety crema and a dash of cayenne to heat things up.
Eat Local Seafood
Eating underutilized species of fish is good for the environment, delicious on the palate and easy on the wallet.
The Long Island Sound is thick with bluefish through autumn. This meaty fish is loaded with heart-healthy omega-3 fatty acids. The next time you're craving fish, skip overfished swordfish and tuna and go straight for the blue.
Lovers of bivalves know that aquaculture on the East End is on the upswing. Oysters dramatically improve water quality because they filter as they feed, removing substances that promote toxic algae blooms.
Locals swear by the Amagansett Seafood Store, where hands-on owner Mike is always ready with a fresh, local seafood suggestion. Next time you order your favorite briny gift from the sea, make sure it's local
To Market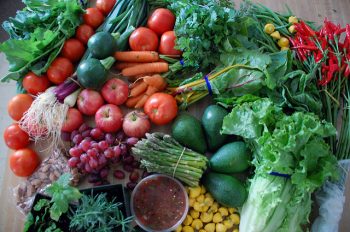 Most East End communities have a weekly farmers market in season. The Saturday market in Sag Harbor, the Sunday market in Southampton and the Friday market in East Hampton are loaded with farm fresh local goods.
Drink Locally-made Spirits
You already know the East End's viticulture scene is booming but how about sipping vodka made with potatoes grown in seaside Sagaponack? The Foster family have farmed this land for generations and have recently added vodka to their repertoire at the Sagaponack Farm Distillery.
They are currently self-distributing their potent Sagaponacka Vodka to select local liquor stores and a tasting room is in the works. Keep an eye out for rhubarb liqueur and whiskey too.
Ride the North Fork Link
The new North Fork Link is a free shuttle that lets riders hop on and off at various locations between Riverhead and Greenport. The hassle-free service will run from 11 a.m. – 7 p.m. every Saturday through August 25th, 2018. Each luxury vans seats up to 27 passengers with leather seats, Wi-Fi and power outlets.
With arrivals every 30 – 45 minutes and an app to check schedules in real time, the North Fork Link is a fantastic way to explore the area without a personal vehicle.
The North Fork Link makes a 23-mile loop stopping at area vineyards including Bedell Cellars, Castello do Borghese and Martha Clara Vineyards.  For those whose taste buds run towards beer, hop off at Long Ireland Brewery or Jamesport Farm Brewery.
If you're craving a meal prepared with fresh Long Island ingredients, get off at the Downtown Southold stop and you'll be steps away from a delectable repast at the highly acclaimed North Fork Table & Inn.
Ride The Jitney
Like riding the subway in NYC, the Hampton Jitney is a great equalizer. You never know who you may see on this comfy motor coach heading to both the North and South Forks.The Jitney has been going strong for over 40 years. Everyone from nannies to movie stars ride in comfort. There are dozens of daily buses 365 days per year, departing from multiple Manhattan and Brooklyn stops.
For more information, visit www.discoverlongisland.com.
Photo credits: Peyri Herrera, Christine Kraft, North Fork Link.
Allison is a native New Yorker, who has lived in Rome, Tuscany, Melbourne, Toronto and Los Angeles. She frequently contributes travel pieces to Family Travel Forum, using her own children as guinea pigs as they travel the globe. She is fluent in Italian and Spanish and laughably adequate in French. Her background as an Early Childhood Educator gives her an added understanding of what it takes to travel with kids in tow. She firmly believes that the most important part of education takes place outside of the classroom, on the road, around the world. She never misses a chance to sample local delicacies, as her love for travel goes hand-in-hand with her love for food and wine. Follow Allison at @gourmetrav.