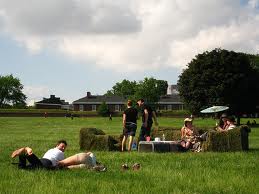 What: Couch Crash/Music Bash/Picnic Party
Where: Locations vary by event
When: Sunday, August 23—Sunday, August 30
Why: New York is a potpourri of people and culture and it's about to get even more diverse, artistic, and well, comfortable. Couch Crash has risen from the phenomena Couchsurfing—the incredible social-network-cum-free-place-to-stay-co-op—and will converge on NYC for a week-long music festival that promises gaiety with couch surfers from all over the world.

Take your pick from the long list of superb events—choose from picnics, museum visits, guided tours, dinners, drinks and, oh yeah, a whole lotta music. Free hugs are also promised, laughter is inevitable, and a little booty shakin' is certainly called for.
Oh, and if you happen to find yourself homeless or unable to get back to your own bed, rest assured, there's a very good possibility that someone in the crowd just might have a couch for you.
Cost: Free Love
How to get to offManhattan's Couch Crash Picks: Visit couchcrashnyc.com for more details on these specific events.

To Coney Island Beach Day and Astroland Park (Monday, August 24): Take the B express (last stop) or Q local to the Brighton Beach stop.
To the Super Hero Supply Store Tour to test-ride a cape and check your inner levels of "evilness." (Monday, August 24): Take the F, M or R Metro to 9th Street/4th Ave and walk east on 9th, North on 5th, superherosupplies.com.
To the Bronx Zoo for free! (Wednesday, August 26): Take the 2 or 5 train to East Tremont Ave/West Farms Square. At street level, walk straight ahead (follow train uptown) on Boston Road 2 and a half block to the Zoo's Asia gate entrance (Gate A). Or take the BxM11 express to the Zoo's Bronx River entrance (Gate B); bronxzoo.com.
To the four concerts at Southpaw (Friday, August 28 and Saturday, August 29): Take the 2 or 3 train to Bergen St and walk one block with traffic and make a left on 5th. Or take any train to Atlantic Ave / Pacific St and look for the 4th ave exit. Walk down 4th Ave away from the shopping center and make a left on Baltic then a right on 5th Ave, spsounds.com.
To Zeppelin Hall Beer Garden (Saturday, August 29): Take the PATH to Grove St. Walk south on Grove. Turn right on Grand St. Turn left on Liberty View Terrace; zeppelinhall.com.
To the Bollywood House Party in Jersey City (Saturday, August 29): Take the PATH train to Grove St. Then walk about 5 blocks north on Grove St. and turn left on 4th St. Find house number 214.
To the Picnic on Governors Island (Sunday, August 30): Take the Governors Island Ferry; govisland.com
Photo: Courtesy of SuperK8