Best known for the famous 1969 counterculture music festival of the same name — an event that actually took place 50 miles away in a town called Bethel — Woodstock, New York is an easy getaway from NYC. With its unique culture, mountaintop Buddhist monastery, great food, and general relaxed vibe, the hippie town is the perfect place to cure your stress and screen addiction (at least for the weekend). Not to mention, it's just a two-hour Trailways bus ride from Midtown Manhattan.
There's great local food and beer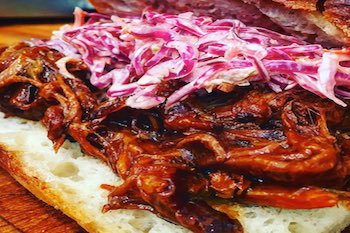 Almost anywhere you eat in Woodstock, you'll find locally sourced, pasture-raised, and made-from-scratch food — including Provisions, a tiny deli devoted to the waste-nothing philosophy of whole-animal butchery (it also collects donations in order to provide free sandwiches to locals in need). For lunch, get the Hedonist sandwich, made with hoisin barbecue sauce-covered pork belly and pickled veggies on fresh focaccia, and take it to go for a picnic at nearby 77-acre Comeau Property, which is home to big open meadows, hiking trails along the Sawkill Creek, and a tree swing.
There are plenty of great choices for dinner in town, including Red Onion, Cucina, Joshua's and The Bear Café, but Woodstock is also home to one of the best burger spots in the Catskills: Shindig — a local favorite serving no-frills comfort food sourced almost entirely from New York State. Order the Farmhouse Burger — a perfect combo of Hereford beef, cheddar, bacon, sriracha aioli, and a sunny-side-up egg on a Bread Alone brioche bun — and pair it with a side of sweet potato fries and a local glass of whatever's on tap from Catskill Brewing.
You can zen out among the trees
Only in Woodstock can you find one of the most incredible hikes in upstate New York located across the road from a Tibetan Buddhist monastery (should you need that extra dose of om before Monday morning). After exploring hotel ruins along Overlook Mountain's 4.6-mile out-and-back trail, take your boots off to meditate in the main gilded shrine at the Karma Triyana Dharmachakra monastery, which is free and open to the public.
You can support local mom-and-pop business — and take home cool things
Woodstock is a mom-and-pop shopper's paradise. On Tinker Street, you're bound to spot something interesting, whether it's a one-of-a-kind, locally designed cutting board at Shop Little House, a Grayers flannel at Changes, or unique, arts-driven games at Tinker Toys. The street is also home to plenty of patchouli-scented hippie shops that keep Woodstock's flower-child vibe alive — hello, life-sized statues of the Blues Brothers at Woodstock Legends — as well as small-batch craft confectioner Fruition Chocolate, which offers free samples of brown butter bourbon caramels infused with whiskey from Tuthilltown Spirits.
There are tons of free, eccentric activities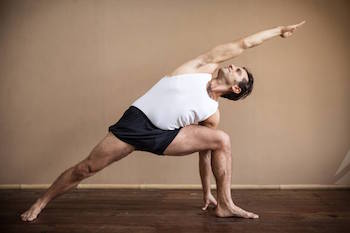 The "world's most famous small town," as it began to be called in the '80s, knows how to make an out-of-towner feel welcome. Woodstock offers countless eccentric freebies, like a reggae vinyasa class on Thursday nights at Woodstock Yoga Center and community drum circles in the town square from 4-6pm every Sunday. On Saturday mornings, Overlook Mountain Bikes leads free guided bike rides along some of the most scenic and challenging roads in upstate New York. Byrdcliffe Kleinert/James Center for the Arts offers free exhibits, opening receptions, and gallery talks. In the warmer months, you can go for a dip in the secluded swimming hole known as the Big Deep.
You can still hear great live music

Though it's been 50 years since the town's namesake festival, the live-music spirit of Woodstock is still one of the main reasons to visit. The Station Bar & Curio opened just last summer, but has already earned a reputation for its dependably great lineup, outdoor garden, and local beers (six craft beers are served on draft through an antique radiator). There, you can catch no-cover concerts of The Dub Mob's psychedelic songs, or The Deadbeats Duo playing some old Grateful Dead and Janis Joplin classics. The town is also home to the iconic Levon Helm Studios, affectionately known as "The Barn," and the former home recording studio of the late Levon Helm, drummer from legendary group The Band. Today, the intimate venue is hallowed ground for music lovers looking to step inside a piece of history. Past performers have included Emmylou Harris, Elvis Costello, and Norah Jones.
The hotels are just as offbeat as the town
Woodstock may be doable as a day trip from NYC, but it's worth staying overnight to experience one of the town's quirky hotels. Hotel Dylan (from $199) lies at the base of Overlook Mountain with rooms named The Hippie Chick and The Band Suite filled with record players and great selections of vintage vinyl. Outside, you'll find a pool, fire pits, and hammocks.
In the heart of town, The White Dove Rockotel (from $165) channels a '70s vibe with flamboyant decor inspired by the Queen of Psychedelic Soul. Guest perks include free bikes, local concert tickets, vintage lawn games, hot breakfast sandwiches delivered from Provisions, and a meditation porch (of course).
Photo credits: Mitchell Joyce, Fruition Chocolate, Woodstock Yoga Center, Hotel Dylan
The co-founder and editor-at-large at offMetro, Lauren is a sustainable travel specialist and freelance journalist with frequent bylines in National Geographic, Bicycling Magazine and Shape. Follow Lauren's adventures at @laurenmati.