Unless you're into blacksmithing, Moravian history, or went to Lehigh University, chances are Bethlehem, PA has not made it onto your bucket list… yet. Turns out, it's ridiculously close to the city – just a 2-hour bus ride away – and its rich history is surprisingly relevant to our present-day city life. Much of our NYC skyline is thanks to Bethlehem Steel, once the country's second-largest producer of steel (Pittsburgh being the first). Since the steel mill's closing in 1995, the area has made a comeback, re-energized with music, food, and holiday festivals. Tour the beautifully rusted steel mill, hike the historic Ironton Rail Trail, or shop your way through the holiday Christkindlmarkt – whatever you get up to, you'll see that Bethlehem does the holidays like nobody else.
History in Bethlehem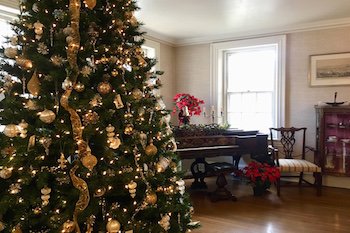 The town was founded by Moravian missionaries on Christmas Eve of 1741, Bethlehem a nod to the Biblical birthplace of Jesus. In 1937 (even in the midst of the Great Depression), the town went all out on a grand Christmas event and was thereafter nicknamed "Christmas City, USA," a status it has taken seriously ever since. Learn more on a walking tour with Historic Bethlehem Tours by day, then stroll the Christmas light-lined streets by night (you'll likely run into a caroler on the way). For a closer look, the annual Holiday Putz Tour is a winner. Pop into the oldest continuously running bookstore in America – the Moravian Book Shop –  founded in 1745.
Where to Stay in Bethlehem
For an authentic feel for the area stay at Historic Hotel Bethlehem, on the site of the "First House of Bethlehem" (built in 1741) and nestled conveniently right on Main Street. With over 40,000 lights in the lobby over the holidays, it enjoys a festive feel.  At the very least, stop in for their Sunday Musical Brunch, complete with chocolate fountain and voted top 100 brunches in the country by Open Table. On the other side of the Lehigh River from town, The Sayre Mansion has some sleek accommodations. If you don't mind waking up with the sun, the Conservatory room offers an glass ceiling and a 180-degree bird's-eye view of Bethlehem. 
What To Do in Christmas City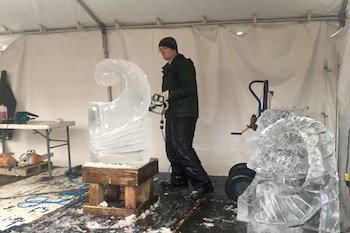 Even during the winter, expect to spend a lot of time outdoors. The must-see in town is the old Bethlehem Steel mill. The same designers of the NYC High Line have transformed the above ground Hoover Mason Trestle into a sleek walkway that allows visitors an up close view of the industrial era and various stages of rust. Sign up for a walking tour to learn about the mill's boom and bust, then make your way to the Christkindlmarkt, a tented event located right next to the steel stacks. Watch ice sculptors and glass blowers, sip mulled wine and munch kettle corn, and visit the 165 vendors to tackle your holiday shopping list. The $9 entry fee supports Arts Quest, which offers free concerts throughout the year. Get some exercise and walk part of the 165-mile long Delaware & Lehigh National Heritage Corridor. A quick taxi ride will bring you to the Ironton Rail Trail – take in the historic sites as you walk the 5-mile paved loop. If you prefer to stay by the fire, try a glassblowing class at the Banana Factory or a Blacksmithing 101 class.
Eat + Drink in Bethlehem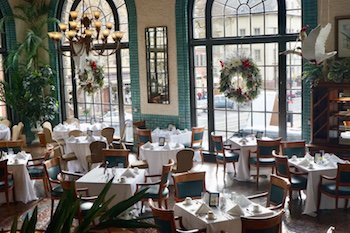 The Sun Inn has welcomed out-of-town guests since 1758, with visitors the likes of George Washington, Alexander Hamilton, and Ben Franklin. Enjoy a good meal or drinks at the bar before touring the museum – keep an eye out for the guests who never left. If you can figure out how to get in, enjoy comfort food, craft cocktails, and live jazz at The Bookstore Speakeasy. Taste your way through a distillery tour at The Social Still, housed in a prohibition-era bank building. For uber casual burgers, wings, and beers right in town head to Fegley's Bethlehem Brew Works or just outside town you'll find The Mint Gastropub, a trendy spot serving up classic comforts with a twist. It's worth the quick ride out of town for a rustically chic date night. Bolete is a farm-to-table restaurant, based in a renovated stage coach building.
Insider Tip
Here are some local events worth keeping an eye out for: Bacon Fest, Peeps Fest (featuring a 200 pound peep!) Martin Guitar factory tour, and Velodrome.
There is definitely more history, nature, and unexpected entertainment than you can pack into one weekend, so you'll have to plan a second trip. We are especially looking forward to taking on the 165-mile bike path in the spring.
Get to Bethlehem Pennsylvania by Public Transit
Take the Bieber Bus from Port Authority toward Allentown and hop off in Bethlehem (about 2 hours and $68 roundtrip).
For additional trip planning information, go to www.Discoverlehighvalley.com
Photo credits: Annelise McBride, Meredith McBride-Kipp
Annie is a travel writer, environmentalist, and surfer based in Venice, CA. She heads up our West Coast team, keeps our grammatical errors in check, and makes sure our California writers always have a plan for their next adventure. Follow Annie's travels @annelisemcb.