If you're ready to get out of the city and soak in the lush landscapes of the Hudson Valley while sipping on the best local wines, eating fresh farm-to-table foods, and listening to bands, we have the perfect event for you.
Billed as "a very locally sourced food, wine & music festival", the inaugural three-day Summertide festival (July 7-9, 2017) by Cascade Mountain Winery will feature a wood-fired pizza station, fireworks, a Hudson Valley BBQ, small plate tasting, fresh desserts, and a lobster bake by heavy hitting chefs such as Maria Laura Quintero of MuchaChula. Nosh on 'farm to forest' cuisine, kick back, and listen to some of the best bluegrass music around from artists like Cole Quest and The City Pickers, Jonathan Edwards, Jesse Colin Young.
To find out more about the upcoming Summertide 2017, we sat down to interview Charlie Wetmore, the creator of the festival and owner of Cascade Mountain Winery and Restaurant, the gorgeous backdrop to the festival. He gave us the inside scoop on the array of food, beverages, and music we can expect throughout the three-day weekend.
What inspired you to create this event?
I love music and have always loved having bands here at the Cascade Mountain Winery and Restaurant over the years. I attended a few festivals in the area last summer and got inspired. Why not combine my passion for music and great local food with my family's winery to create something new for the summer? Combining food and music is an important part of what we're doing here, it's about engaging multiple senses.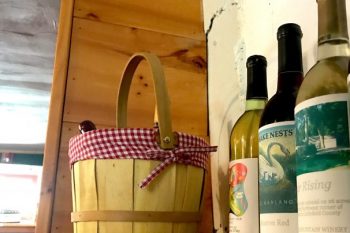 What kind of food and wine can people expect to taste at the festival?
We've invited the best wineries and distilleries in Hudson Valley. One of my favorites is the often awarded Hillrock, a very complex bourbon from our neighbors at Hillrock Estate Distillery. From our own store, we'll be introducing two new wines at Summertide, which our festival goers will be able to have an exclusive first taste of.
For food, we're lucky to be in the Hudson Valley where every ingredient is fresh and local. From Hudson Valley Cheese, to Full Circle Farm, it truly will be farm-to-table! It's not just about eating fresh food but the experience of interacting with it: the pulled pork will be pulled right in front of you (as bluegrass is playing around you, I might add), the sauce will be added on in front of you, and you'll wonder why you don't come up to the Hudson Valley every weekend for a meal!
How did you decide on the music?
It started with my love of jazz and then snowballed when I found out Jesse Colin Young was going to be in town. From there, we curated a list of bluegrass aficionados whose tunes would match the scenery and provide the perfect pairing with our bourbons, wines and pulled pork offerings. (Editor's note: Check out the full lineup of musical acts here.)
And of course… how do you get there without a car?
The festival is located near the last stop on the Metro-North Harlem Line: Wassaic Station. This is about five minutes from us and we will provide a shuttle from the train to the winery.
Tickets are $80 for a day pass and $150 for a 3-day pass. The festival is free for children under 12 and $40 for those ages 12-21. Not only will the oM team be at the festival, Charlie even set up a discount code for us.  Purchase tickets here and use code "offMetro".
Katie Machia is a freelance writer who recently moved to New York City. She writes about everything from the outdoors to fashion. In her free time, she enjoys exploring the Adirondacks and searching through racks of clothes at thrift stores around the city.