While some of us see vintage stores as glamorous recycle bins holding our next great find, others view them as smelly rubbish centers full of organized junk. We set out to distinguish the smelly from the spiffy, and on our way discovered a trio of stores (without offensive prices or SoHo pretension) on Brooklyn's 5th avenue that neither the casual browser nor hardcore thrift shopper can miss.
Beacon's Closet | 92 Fifth Avenue | 718.230.1630 | beaconscloset.com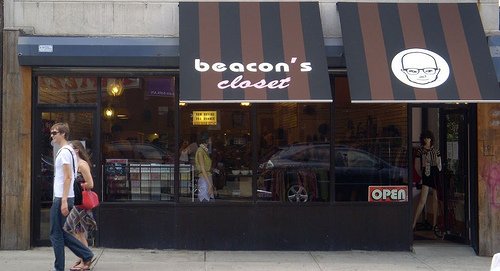 After exiting the train at the Atlantic Center in Downtown Brooklyn, the hunt for quality clothes on the cheap started with Beacon's Closet, whose original outlet is located in Williamsburg.
Pickings: 70s shirts, pencil skirts, cocktail dresses, cardigans, hole-punched jeans, funky boots, men's blazers, plaid shirts, jeans.

Pluses: Five well-lit dressing rooms, guaranteed to leave happy-handed.
Odd Twin Trading Company | 164 Fifth Avenue | 718.633.8946 | oddtwin.com
As you exit Beacon's, ease on down the road about two blocks past live joint Southpaw and Cuban restaurant Bogota to this newest vintage kid on the block. Here at the corner of Lincoln and Fifth, you'll find a collective team headed by local owners Francesca and Adam, who are hosting a grand re-opening party tonight from 6:00 to 10:00 p.m.
Pickings: Nifty accessories counter, leather coin purses, clutches, a crazy collection of affordable belts, denim cutoffs, back-bearing summer frocks, blouses, swimsuits, Doc Martens, jumpers, men's jackets and pants.
Pluses: Friendly service, themed-tributes like Dreamgirls glam or Amy Winehouse, and Georgi, the bubbly Cuban assistant who lends honest opinions and helpful suggestions.
"I took my ex-boyfriend's wig, borrowed a basket from Key Foods, got a truckload of liquor bottles from a nearby bar, and repainted the mannequins in flesh tone colors," said Adam Lopez, Odd Twin's window designer. "And for tonight's event, expect a window display that will totally surprise you. Nearly all of the items are ready-to-wear and if they're not, Francesca offers her tailoring and seamstress services for a small fee to make necessary adjustments.
Guvnor's Thrift Shop | 176 Fifth Avenue | guvnorsnyc.com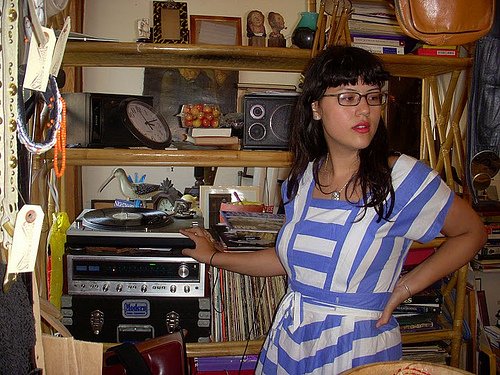 From the folks who created the Monkey Whistles and Motor Bikes store, Guvnor's is a new kind of vintage rummaging experience. This laid-back spot peddles bags, belts, boots, booze and beats during weekly events that feature acts like burlesque troops and rock concerts. (There's even a summertime rooftop for post-shopping revelry.)
Pickings: Stellar ceiling-hung selection of bags, ruffled polka-dot pieces, silk cocktail dresses, walls of well-kept shoes like cowboy boots, cut-off jean shorts, men's vests.
Pluses: Live music for a shopping soundtrack, travel accessories, monographs, magazines, quirky furniture, affordable prices.
When you're next in need of a little retail therapy, explore a different side of the city while supporting the movement to recycle and reuse. V for Vintage.

How to get there: Each place is as easily accessible as A-B-C-1-2-3. Use the Hopstop link below for specific directions.
Photos: Courtesy of Chermelle Edwards