Imagine hitting the slopes within two hours of leaving New York City. It's easier than you think. Just hop a bus to Mountain Creek, located 47 miles outside of NYC in Vernon, NJ. It's so close to home you can enjoy a day of skiing or riding and be home by dinner.
Get Outdoors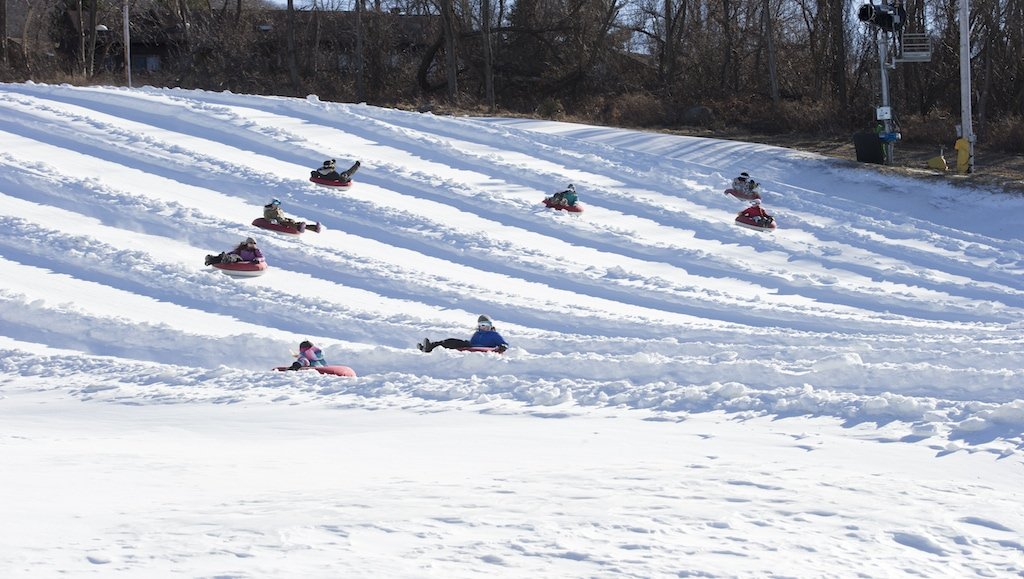 Whether you are bound for the bunny hill or looking to shred, Mountain Creek delivers. After all, the 167 acres of slopes produced two home-grown Olympic medalists; mogul skier Donna Weinbrecht and snowboarder Danny Kass. The four peaks together have 46 trails serviced by eight lifts, ranging from magic carpets to high-speed quads.
Terrain is key for this compact resort. Mountain Creek's Evan Kovach says, "Mountain Creek has one of the largest terrain parks on the East Coast, which allows us to host a variety of events featuring freestyle athletes." Seasoned park rats can soar off the 50-foot jumps and hop the rails in the advanced area. Beginners can test out the smaller rails and jumps. Twisted Kids is an hour of free, fun, coached learning for all ages, every Sunday at 11:00 a.m.
If you are just getting started, have no fear…"We have a large ski school, and the Discovery Package is a great deal for first-timers" says spokeswoman Eva Bonner. For $399.99, new skiers get three lift tickets, rentals and group lessons. After the third lesson, you get new skis or a new snowboard at no extra cost. You'll be hooked.
If skiing and boarding aren't your thing, you can still have sliding fun on a snow tube. In fact, Sourced Adventures offers a NYC Snow Tubing & Brewery Bus that leaves Manhattan on Saturday evening. The round-trip excursion includes two hours of snow tubing followed by dinner at a local brewery. Arrive back in NYC around 11:00 p.m.
Those wanting to defy gravity can go airborne for a two-hour zipline tour. Harness up, snap in, and go!
Eats + Drinks
Grab a quick bite at the Market (found in the Red Tail Lodge), or enjoy a gourmet lunch in the well-appointed Hawk's Nest, featuring locally sourced organic food. For more flair, Schuss (Red Tail Lodge) and Kink (South Lodge) serve specialty foods such as pizza and bar-b-q pork, which go great with any one of the 20 beers to ponder. Gather friends for a "Shot Ski" of group shots lined up on a ski, or warm up with a Bushmill's hot toddy. Or stay toasty by the fire pit and enjoy lunch with a cold brew at the Biergarten.
It's worth asking if your bus company accommodates patrons who want to stay overnight at the mountain. The slope-side Appalachian Hotel offers ski & stay packages. Guests can play laser tag, go bowling and swim and soak in the outdoor pool and hot tub. "There's nothing like waking up, grabbing breakfast and then being steps away from the lift," says Kovach.
Annual Events
If you and your sweetheart plan to hit the slopes for Valentine's Day, check out Mountain Creek's annual deals. A couplet of lift tickets is usually discounted $60 on Feb 14th. Or, you can plan a romantic overnight stay on February 13th or 14th starting at $199. You'll get champagne, chocolates and roses in the room, plus the hot tub is open until midnight. Sign up for tango lessons, and swoon to harp music while you dine at the Hawk's Nest.
Looking for love on the slopes? Try speed dating during the seven-minute ride on the Cabriolet lift. With any luck, it'll be like seven minutes in heaven! To register, email the matchmaker at julianne@newjerseysmatchmaker.com with "Love on the Mountain" as the subject line.
President's Day weekend will rock with live music, plus the women's K2 Pretty in Pink Rail Jam. Follow that with a Brazilian Carnival dance party. Then, study up for scoring (pun intended) free lift tickets on February 19th if you can recite the Gettysburg Address correctly and in its entirety.
Getting There
Sourced Adventures has departures in Manhattan and Brooklyn starting at 6:30am. The NYCSnowBus leaves Brooklyn and Manhattan on weekdays around 9:00 a.m. and weekends starting at 7:30 a.m. Rally buses leave the Bronx, Brooklyn and Manhattan at 7:00 a.m. Buses typically leave the mountain between 4:00 and 5:00 p.m., but some companies may have après ski options. Renting a Zipcar also gives you a mountain discount of 20 percent on weekdays and 15 percent on weekends.
Karen de Seve writes about the outdoors, science and nature for all sorts of media, from National Geographic to kids TV to natural history museums. Check out her snow sports blog www.famsnowtime.blogspot.com and follow @kdeseve on twitter.