Jump-start your plans for a healthier new year with a Kripalu retreat, a yoga experience in the Berkshire Mountains. If you've made a wellness resolution, you've come to the right place. The low-pressure daily schedule of yoga, workshops, outdoor activities and time for reflection offers guests the chance to do as much or as little as they choose. The emphasis here is on inner beauty, so all sizes and shapes are welcome. Many visitors venture to this stress-busting sanctuary alone, so solo travelers should be in their comfort zone. Whether you spend a weekend or a week, you're guaranteed to return home feeling renewed.
The Kripalu Activities
Kripalu's Zen-like atmosphere is conducive to spending quiet time practicing yoga, hiking the lakeside trails and heating up in the sauna, all while nourishing yourself with three all-natural meals daily. For the ultimate in flexibility, book the R&R Retreat (starting at $376 for a 2-night stay, including all meals and classes). Practice as much or as little yoga as you desire and participate in as many workshops as you please.
There are a variety of yoga classes and styles on the schedule so everyone from novices to yoga teachers, from the lithe and limber to those who suffer from chronic pain, should be satisfied. The vibe is non-intimidating and inclusive; as long as you can roll out your mat you'll fit right in. Aside from the invigorating benefits of improved body conditioning, focusing on your breathing may have a centering effect.
A typical day at a Kripalu retreat might include a sunrise yoga class, a morning workshop on mindfulness and an afternoon stroll followed by a pre-dinner Vinyasa class. Evening options include meditation or rest and unwind yoga. If you crave communing with nature, join a guided hike or kayak on the sparkling lake.
The Digs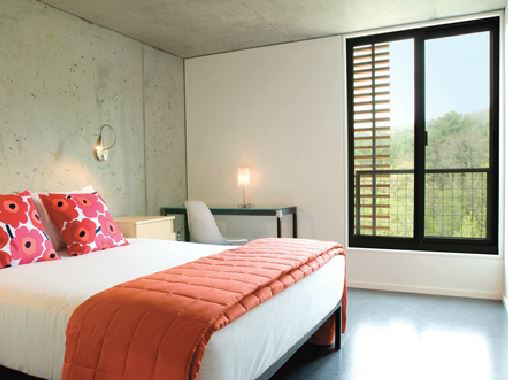 The accommodations are the essence of simplicity, with the minimalist style designed to support your Kripalu experience. You won't find a television or phone in this uncluttered space purposefully planned to maximize regeneration. The newest rooms are in the Annex building, a model of environmental sustainability and energy efficiency. The linoleum flooring is made from linseed oil and is both hypoallergenic and non-toxic. The regionally sourced mattress contains no petrochemicals and the room furnishings are made from natural New England materials. Rooms in the Annex have Wi-Fi.
Budget travelers may opt for a bunk in the clean and cozy dormitory, sharing space with visitors from around the globe.
The Eats
Exercise, contemplation and fresh air will awaken your appetite. The three daily buffet meals are made with produce and dairy products sourced from local farms with an eye towards sustainable practices. The kitchen staff cares deeply about the transformative power of food and they work hard to use the least processed foods possible.
You'll find lots of choices at each meal, including a bountiful salad bar, hot homemade breads, savory soups, all-natural poultry, fresh fish, vegetarian hot entrees and desserts. Additionally, the Buddha Bar offers a range of vegan and gluten-free dishes such as quinoa, beans and steamed veggies. Breakfast is a silent meal, so you'll have plenty of time to reflect on how thankful you are that there is coffee served in the a.m.
Getting to Kripalu from NYC
Take the Peter Pan/Bonanza Bus Lines from Port Authority to Lenox. MA. Pre-book the shuttle for the short ride to Kripalu for $7 each way. A more expensive alternative is to ride Metro-North to Wassaic in New York State and book Kripalu's shuttle service for $70. You must pre-book at least 48 hours in advance.
Photo credits: Kripalu Retreat
Allison is a native New Yorker, who has lived in Rome, Tuscany, Melbourne, Toronto and Los Angeles. She frequently contributes travel pieces to Family Travel Forum, using her own children as guinea pigs as they travel the globe. She is fluent in Italian and Spanish and laughably adequate in French. Her background as an Early Childhood Educator gives her an added understanding of what it takes to travel with kids in tow. She firmly believes that the most important part of education takes place outside of the classroom, on the road, around the world. She never misses a chance to sample local delicacies, as her love for travel goes hand-in-hand with her love for food and wine. Follow Allison at @gourmetrav.