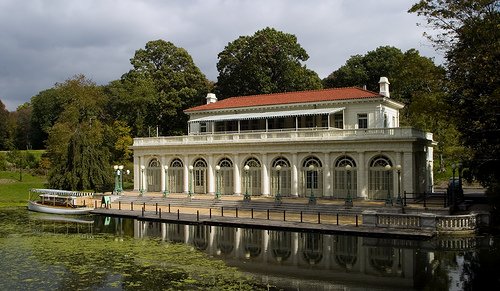 Last Thursday night brought drizzle, fireflies, and Manhattanites to Prospect Park's annual Summer Soirée. To raise money for Brooklyn's biggest green space, the Prospect Park Alliance partnered with Vogue to produce a Hot Diggity Dance Hall-themed affair in the park's Audubon Center. Even though the invitation promised electric boat rides across the lake, the rain didn't deter over 400 high-spirited guests from showing up ready to party and in dapper vintage attire.
Under white bird mobiles, the three-hour benefit plied people with mashed potato bar fixings, a silent auction, West Side Story remixes, and mojitos, all the while reminding Brooklyn locals and others why the 585-acre Prospect Park is such a unique destination within the five boroughs. "I love the boat excursions here," said Sally Singer, Vogue's fashion news and features director. "You feel like you know Central Park, but Prospect Park feels much more wild and natural."
Should they decide to branch out across the Bridge this summer, Manhattan folks will discover a few new things in Prospect Park. In addition to Celebrate Brooklyn concerts at the Bandshell, beginning this coming Saturday, children under 12 can ride around the 1912 carousel for free every Thursday, and the Movable Feast Café is now open at the Picnic House, offering cookies, smoothies, quiche, and weekly salad specials. On August 1, avid bicyclists and people who've been rapt by the Tour de France can register for Round 6 of the 2009 Cadence Cup Prospect Park Series.
"We have the biggest meadow in any United States park, a waterfall, and the last urban forest in Brooklyn," said Eugene Patron, press director for Prospect Park Alliance. "Tonight, I hope people feel like they had a great time in this borough while helping to support the preservation of the landscape, arboretum, and education program."
So if you're looking to explore a different side of the city, go ahead, get lost in this neck of the woods.
It's about time.
How to get there: Take the Q, S, or B to Prospect Park Station. Or the B-16, B-41, B-43 and B-48 will bring you close to the Park's Willink entrance. (Audubon Center, 718.287.3400, prospectpark.org)
The co-founder and editor-at-large at offMetro, Lauren is a sustainable travel specialist and freelance journalist with frequent bylines in National Geographic, Bicycling Magazine and Shape. Follow Lauren's adventures at @laurenmati.