Summer in Rockaway Beach is nothing short of epic. But then October rolls in with a chill breeze and sunbathers scatter like autumn leaves. With a deep exhale, Rockaway settles back into itself, a mellow town with an unparalleled view of the ocean. The popular boardwalk concessions may close down for winter, but other dining options are quick to pop up inland.
For city folks craving good food and fresh air, it's worth the offseason trek out to Rockaway. The thoughtfully-prepared local ingredients, mixed with the ultra down-to-earth setting of a renovated warehouse, historic building, or even an old junkyard by the beach, will make for a memorable meal. Remember, it's all just a train, bus, and ferry ride away from the city.
1. Oasis Ramen House
Oasis Ramen House is what's hot on the Rockaway strip this winter. Serving up piping bowls of (various types) of ramen, it'll be your go-to for warming up after your chilly beach adventure. We recommend a side of Takoyaki, a ball-shaped and baked Japanese snack, great for sharing and easy to pop in your mouth. You can't go wrong finishing off the meal with a fried ice cream for the table.
Open: 12pm-10:30pm daily.
Get here: Located at 92-08 Rockaway Beach Boulevard, Rockaway Beach, NY. Take the A train towards Far Rockaway, switch to the S shuttle at Broad Channel, and hop off at 91st Street. It's a quick walk from there.
2. The Dropout at Riis Park Beach Bazaar
Getting out to Jacob Riis Park may feel like a daunting journey, especially mid-winter, but you will be glad you came – the food is delicious and the view of the Atlantic is breathtaking to say the least. Riis Park Beach Bazaar has breathed new life into the old Bay 9 structure – the latest culinary addition is The Dropout, run by Rockaway native Chef Julia Steinberg. The menu changes on a weekly basis. Here you might find homemade potato gnocchi with fresh basil, spicy fried chicken sandwich (a local favorite), sautéed pork fat edamame, and other comforts. For brunch, try the PB&J french toast or the classic egg and sausage combo. Plus, there's a bar, a couch and flatscreen for the games, and often live music, so kick back and stay awhile. Check Instagram for menu updates (and current hours).
Open: Thursday – Sunday
Get here: Located at 16702 Rockaway Beach Blvd. Queens, NY 11694. Take the Q53 to the Marine Parkway/Rockaway Point stop, or the Q22 to the 169th Street stop. Or take NYC Ferry to Rockaway and the free shuttle to Jacob Riis Park Road/Bath House. Head to the boardwalk from there.
3. Whit's End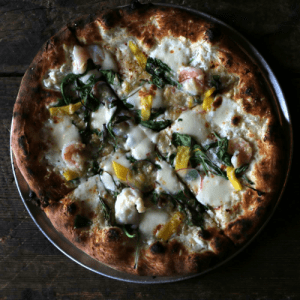 Known for mouthwatering wood-fired pizza, fresh seafood, and a boisterous head chef, Whit's End is the go-to location for pizza year-round. So good, that fans will follow Whitney (Whit) Aycock, wherever he chooses to migrate along the peninsula. His latest kitchen, complete with wood-fired oven, was literally on wheels, but has since found a home (at least for now) at Rustwoods. With a newly renovated indoor space, you can hang for the evening and catch up with friends over the best pizza on the peninsula. Order off the menu, usually scrawled in chalk on the side of the oven, and don't ask for slices. Check Instagram for menu and location updates.
Open: Daily(ish) 5pm-10pm.
Get here: Located at Rustwoods (97-02 Rockaway Beach Boulevard, Rockaway Beach, NY). Take the A train towards Far Rockaway, switch to the S shuttle at Broad Channel, and hop off at 98th Street. It's a quick walk from there.
4. Rockaway Beach BBQ and Market

 
Thankfully since Playland Motel closed, a new business has set up shop, so we can start hanging out there again and reliving our glorious beach days. Though the seafoam green paint is now dark wood and brick, and the row of tequila has been replaced with (lots of) beers on tap, the space is cozier than ever. The menu at RBQ is hearty, delicious, and barely requires utensils: Wings, Pulled Pork Sandwich, BBQ Bahn Mi, and Mac & Cheese are some of the menu staples. Vegetarians, you'll be happy to see the Impossible Burger on the menu, and don't pass on the Pickle Chips!
Open: 12pm-10pm daily.
Get here: Located at 97-20 Rockaway Beach Boulevard, Rockaway Beach, NY. Take the A train towards Far Rockaway, switch to the S shuttle at Broad Channel, and hop off at 98th Street. It's a quick walk from there.
5. Rockaway Beach Bakery
Envision a hot coffee in one hand and a warm slice of cinnamon-sugar croissant loaf in the other as you take a walk on the beach. The menu changes daily (check Instagram), depending on Chef Tracy's experimental whims and what customers are salivating for. You might find pecan-topped sticky buns, cider donuts fried to order, or salted caramel croissants. Through the Croissant Project, Tracy collaborates with other businesses to make dreams come true – the latest partnership with Rockaway Brewing Company revealed a Chocolate-Malt croissant stuffed with homemade Chocolate-Black Stout ice cream. Or, if you're craving something hearty, try the bacon, egg, and cheese on a buttermilk biscuit with roasted scallion mayo. Definitely, take a few sweets for the ride back.
Open: Tues-Sun 8am-4pm.
Get here:
Take the A train towards Far Rockaway, switch to the S shuttle at Broad Channel, then hop off at Beach 90th Street. Walk a block to 87-10 Rockaway Beach Boulevard, Far Rockaway, NY.
And these are just a few! We could go on and on… Rockaway is a dining destination, regardless of the weather or swell, year-round. So bundle up, choose your method of public transportation, and make your way out to the edge of the ocean.
Photo credits: Jordan Wolff and Annie McBride. Editor's Note: This post was originally published in October 2016 and has been edited to reflect changes for the 2018 fall season. 
Annie is a travel writer, environmentalist, and surfer based in Venice, CA. She heads up our West Coast team, keeps our grammatical errors in check, and makes sure our California writers always have a plan for their next adventure. Follow Annie's travels @annelisemcb.