Block Island sits out in the ocean between Montauk and Rhode Island, edged by soft sand beaches, sharp bluffs, and pebbled coves. Weathered shingle-style homes are tucked around the island and house the year-round population of 1,000. The refreshingly salt-of-the-earth atmosphere entices visitors with beaches, bike rides and epic sunsets.
Once you step off the ferry, it'll be easy to turn off your phone, kick off your shoes, and focus your weekend on finding the coolest rock. If you prefer an active vacation, take it up a notch and explore by bike, paddleboard, or just see where your feet take you.
Get Outdoors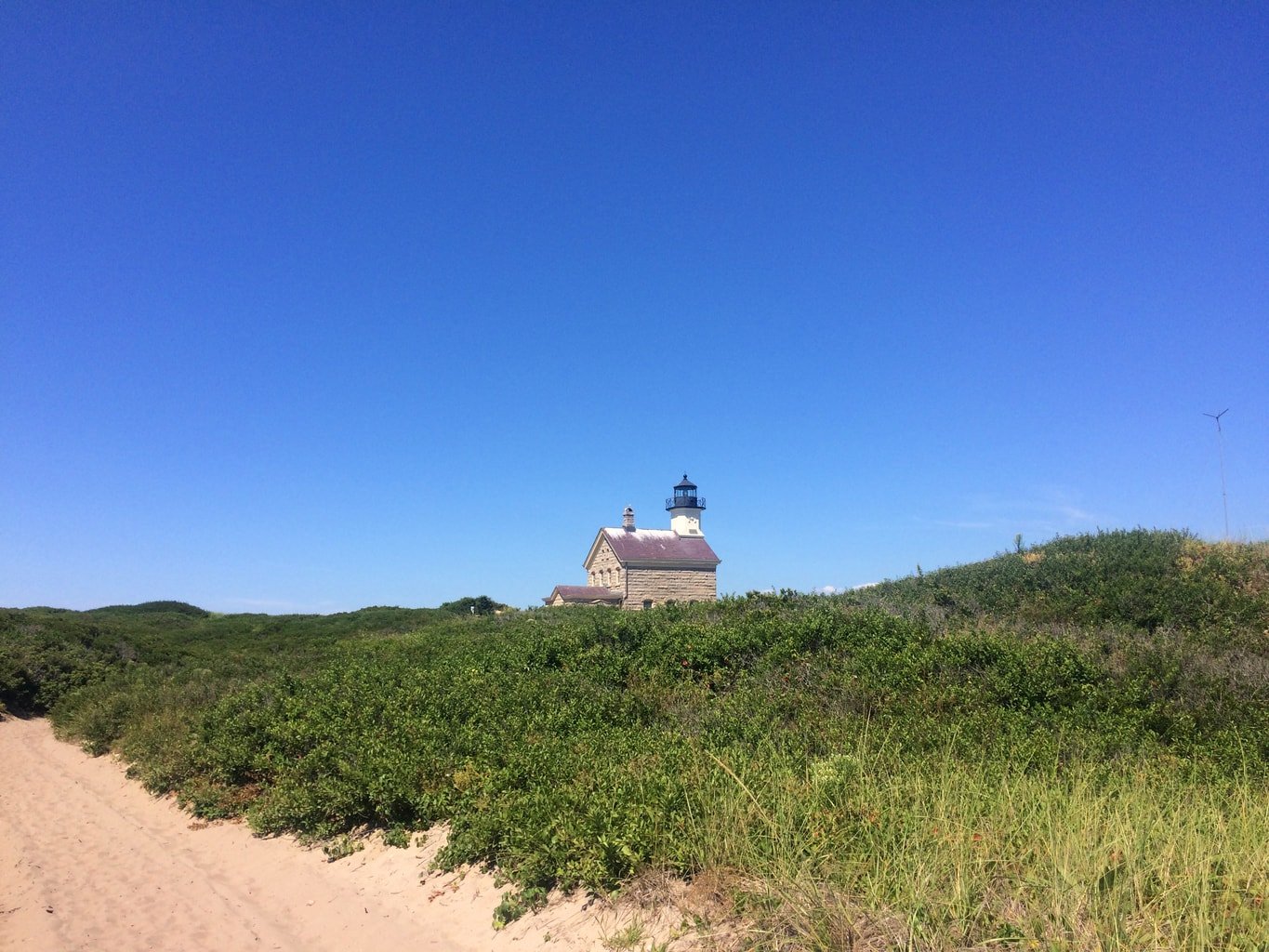 The best way to get around Block Island is on two wheels and there are plenty of outfitters to rent from. The best deal we found was at Seacrest Bikes for $25/day (next to Seacrest Inn).
Recommended beaches are Mohegan Bluffs, Dorie's Cove, Gracie's Cove, and Mansion Beach. The North and Southeast Light Houses are also worth a visit.
Give yourself a few hours one morning to wander the trails of Rodman's Hollow, a 230-acre conservation area on the south side of the island. The trail meanders through forests, shrubs, and wildflowers, leading you to a panoramic vista of the ocean and bluffs.
Block Island is made for exploring in a kayak or on stand up paddleboard. Pond and Beyond offers kayak rentals and highly regarded nature tours of the Great Salt Pond. Get a good morning sweat in with an Ocean Adventures SUP Paddle Fit class or try a Full Moon Paddle class and finish off the night with a bonfire.
Eats + Drinks
You'll want to start each morning with a coffee at Persephone's (also good for chocolate chip cookies and light lunch). Order sandwiches at Three Sisters then settle at a picnic table or in the hammock out back. To beat the heat, try Rhode Island's famed Del's Frozen Lemonade, available all over town (you'll see the signs). Keep hydrating with a casual sunset drink (you're on vacation!) on the Surf Hotel deck overlooking the beach, or dust the sand off and head to the chic Spring House for a cocktail with a view. Grab a fresh seafood dinner in town at Eli's or Beachhead. Before you head to bed savor some homemade ice cream at Aldo's.
Insider Tip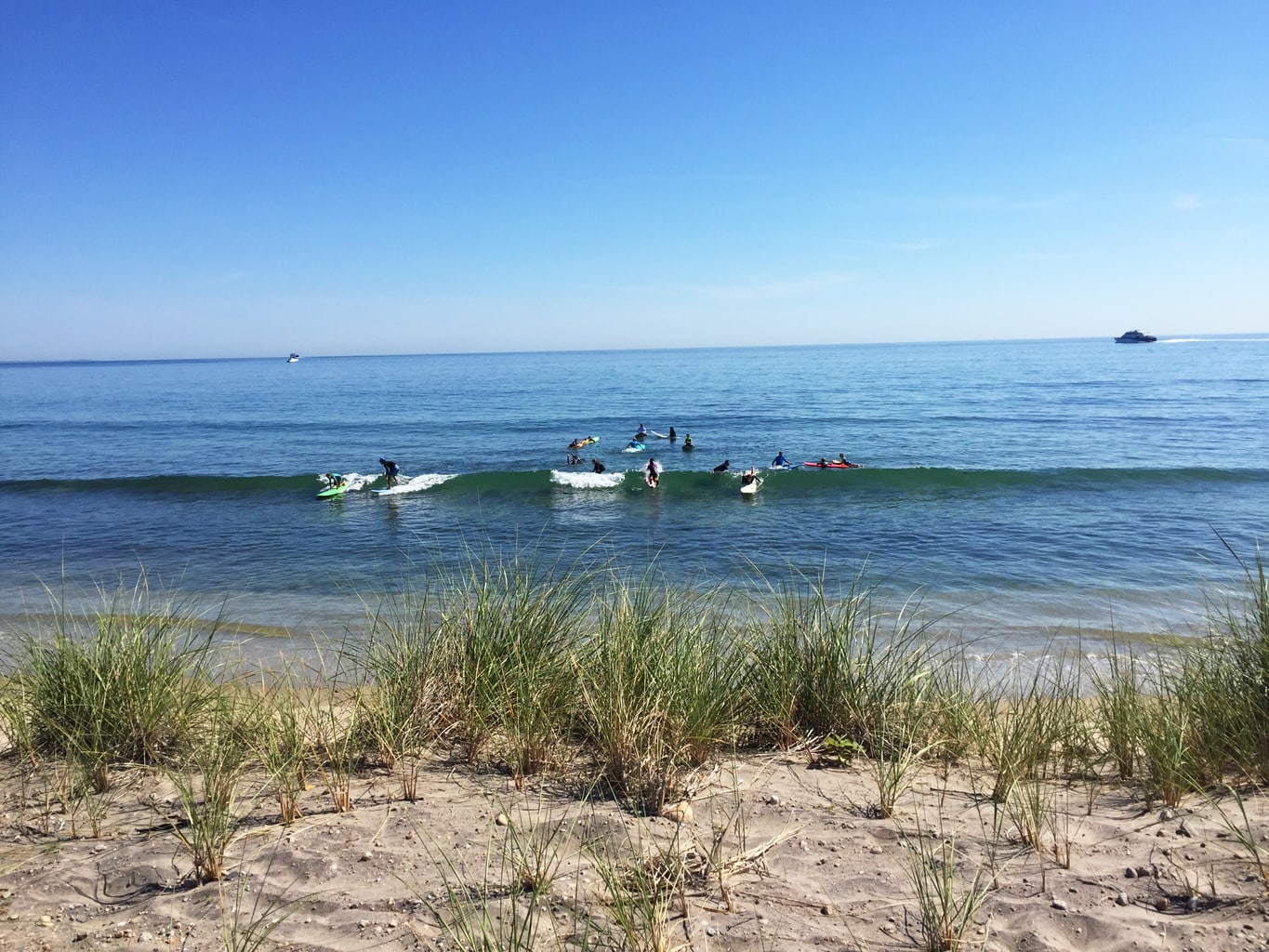 Waves are best in the fall, so now is the time to give surfing a try. Rent surfboards at Diamondblue Surf Shop ($25/half day, $45/full day, $35/day for 4+ days).
Stay Here
The Darius Inn, located right in town, is the hippest accommodation we've seen. The cheapest option is Seacrest Inn, just off the main street – simple rooms with old-fashioned fans and nostalgic charm.
How to Get There
You'll have to go by land then by sea, but it's worth the effort. From New York City take Amtrak to New London, CT and walk over to Block Island Express ferry ($50 adult round-trip, $20 bike, $10 surfboard, 1 hour and 15 minutes one way).
For more information, check out the Block Island Chamber of Commerce website.
Photo credits: Annie McBride and Frankieleon
Annie is a travel writer, environmentalist, and surfer based in Venice, CA. She heads up our West Coast team, keeps our grammatical errors in check, and makes sure our California writers always have a plan for their next adventure. Follow Annie's travels @annelisemcb.