Tucked away in Rockland County is an under-the-radar village with an artistic downtown (hello, Edward Hopper House!), idyllic perch on the Hudson River and wait-worthy eats. Home to artists, bohemians and NYC transplants, Nyack pulses with a small town feel with big city culture. Whether you are looking for outdoor adventure or a relaxing rooftop retreat, Nyack offers a little bit of something for everyone.
Stay Here: A mile from the edge of the Hudson River sits The Time Nyack, the town's newest and only luxury hotel—that's startlingly affordable, with rates from $112/night. "We took a forgotten factory warehouse and transformed it into a cutting-edge luxury destination for Nyack and all who pass through," said Michael Yanko, principal and co-founder of firm WYINC, which developed the property. The Hoerle-Guggenheim Gallery decked the halls and room with pieces by emerging and established artists, creating a modern whimsical glow about each space. Highlights of the 133-room hotel include a rooftop bar, speakeasy, pool deck, bike fleet, free shuttle service, and a Tesla charging station.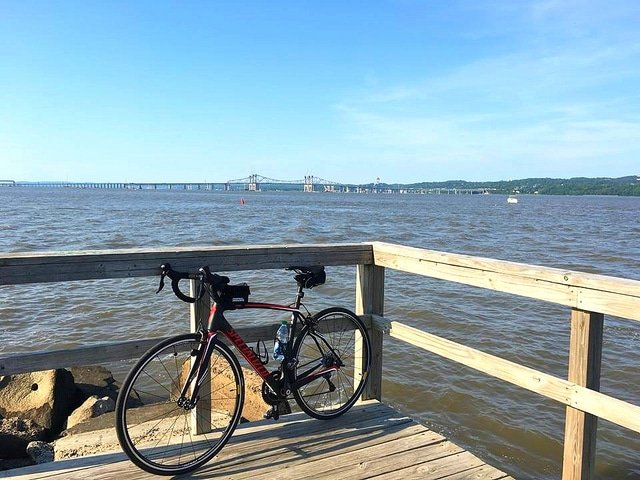 Insider tip: Go off the main strip for the most authentic papusas and tamales at Salvadorian restaurant El Rey de Pollo, just a five-minute bike ride or 15 minute walk from the hotel.
Get Outdoors: While Harriman State Park is 30 minutes up the road, if you'd rather not rent a car, take out a hotel cruiser or hop a five-minute cab ride to 9W Bike Shop to pick up a road bike and explore the area on two wheels. There's nearby 83-acre Mountainview Nature Park and Nyack Beach State Park where you can take an easy level path that offers panoramic views of the Hudson.
Looking for something more low key? Downtown is dotted with antique stores and quirky spots like Pickwick Book Shop, which is filled to the brim with new and old prints.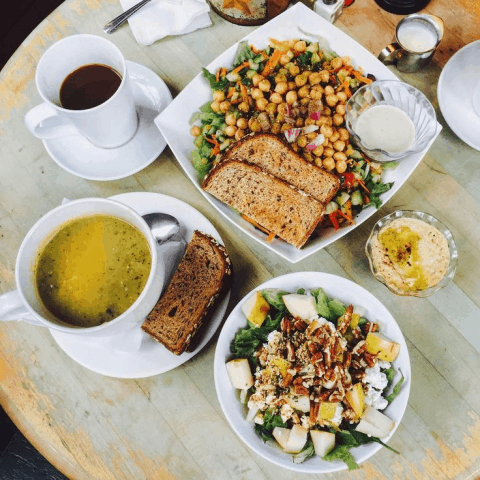 Eats + Drinks: Head to The Art Cafe located only a ten minute walk from The Time. With a calendar packed of arty events, the converted house space, caters to anyone's inner dreamer. Perfect place for kids open to food choices such as an Israeli flat bagel serving as a pizza tostini or a classic PB&J. Head over on Fridays and Saturdays from 9pm-12pm for 'After Dark', a speakeasy atmosphere that encourages people to bring over instruments for impromptu performances.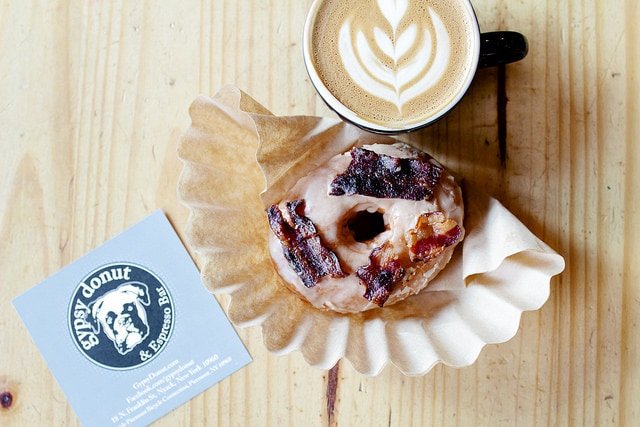 Like bacon? Bacon Donuts? Head to Gypsy Donut and Expresso Bar, named one of New York's 10 most unique coffee shops by OnlyInYourState. If you don't like a donut that you see, suggest one on their website. Try out their Gypsy Breakfast Porter, combining the love of Defiant Brewery and Gypy's coffee, it is the perfect beer to sit with. With the goal of bringing incredible donuts and coffee to our beloved village of Nyack, NY and to help improve the lives of our customers, employees and those in our village, what isn't to love about this place?
How to get there: From Grand Central Station, zip up to Tarrytown on the Metro North. Then take the local TZx bus for a 15-minute ride to Nyack Franklin and Artopee Way. You can also grab a $25 cab ride from the station. All in all, the trip can be done within two hours.