Despite its modest size, Providence's culinary stage is displaying big city talent. You won't find many chain restaurants here; Chef-owned eateries are the rule. This down-to-earth town's restaurant etiquette welcomes the hungry with an unpretentious spirit. The sea is tethered to the unconscious of Rhode Island residents, making Providence a must for seafood lovers.
Admirers of la cucina italiana award Providence a gold medal for its genuine Little Italy. Add bakeries, beverages and a popular restaurant week to the mix and you've got a scrumptious gourmet getaway just a three-hour train ride from NYC.
Ocean State Oyster Festival
Geographically-blessed Providence is experiencing an oyster Renaissance. Once murky bodies of water are now home to a bona fide bounty of bivalves. This elegant mollusk is a filter-feeding organism, so not only are they delectable, they help to naturally clean the marine environment. Providence will proudly showcase its aquaculture with the tasty Ocean State Oyster Festival on September 19th, 2015 from 12-5 pm. Purchase a $25 ticket and you'll have the opportunity to sample scores of oysters from in and around the Narragansett Bay. If you're a novice, no need to be shy; you'll be given lessons on the proper shucking technique.
Circe
Circe's owner Carlo Carlozzi was born to host. From the moment you enter this bright and airy space, you'll feel like a member of his extended family. Comfort food is the golden rule. The easygoing lunch menu offers filling sandwiches served with pitch-perfect sides like house cut fries and baby greens. If your appetite is up for the challenge, you'll find solidly substantial plates like hearty meatloaf made with Angus beef. Dinner presents options from the farm, garden and sea, often with a Mediterranean twist. The emphasis is on seasonal ingredients, with service so friendly you'll wish Carlo would open a place like Circe in your own neighborhood.
Ellie's Bakery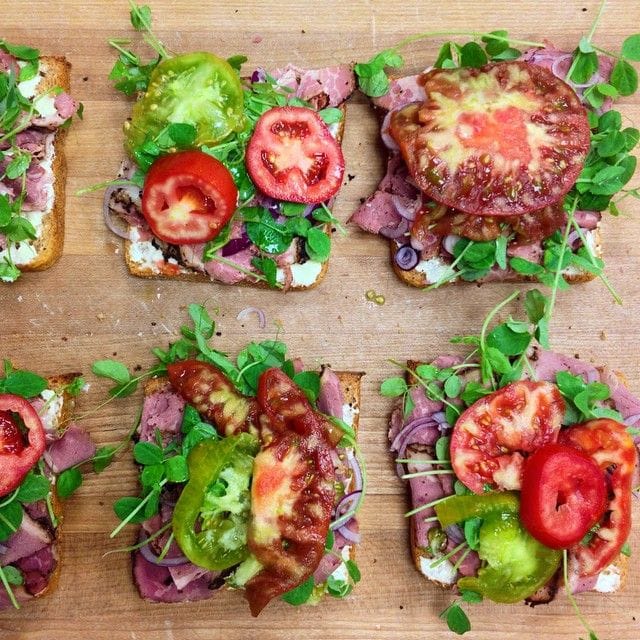 This intimate bakery is a sugar-spun wonderland with the air of an authentic French café. Breads, cakes, pastries and cookies are freshly baked with wholesome ingredients responsibly sourced from Rhode Island and neighboring states. Ellie's menu changes seasonally, but you can always nibble on Ellie O's, a handmade version of the nostalgic Oreo. One bite of this carefree confection and you'll never go back to that store-bought chocolate sandwich cookie. Dainty delights, like macarons in whispery flavors such as lemon lavender, are as beautiful as they are delish.
Da Vinci
No visit to Providence is complete without a meal at one of Federal Hill's old-school Italian restaurants. It's one of New England's most authentic Little Italy's, complete with bocce courts crowded with guys who look like extras from a Martin Scorsese film. Newcomer Da Vinci is giving the neighborhood's established eateries a run for the money. Start your feast with plump meatballs drizzled with zesty tomato sauce and a dollop of whipped ricotta. The classic main courses include pasta like Mama used to make, delicate chicken in a sauce liberally laced with citrusy limoncello and Ocean State fried calamari. Buon appetito.
Rebel

If you prefer your nourishment in liquid form, upscale Rebel is a new addition to Providence's nightlife panorama. The specialty cocktails are named after pop culture icons infamous for their rebellious nature. Sip the Charlie Sheen (gentleman jack, ginger beer and fresh lime) or the Dennis Rodman (tequila, triple sec, house-made sour mix, blood orange juice, lime and salt) to the sound of DJ-curated music. The bar menu provides wonderfully absorbent finger food, from a fig and prosciutto pizza to a bag of just-fried donuts.
Providence Restaurant Weeks
2015 marks the 10th anniversary of this budget-friendly way to sample the best of Providence's vibrant dining scene. Held each January and July, over 80 eateries are set to participate in the upcoming edition, running July 12-25, 2015. A three-course prix-fixe lunch costs a mere $14.95, while dinner is reasonable $29.95 or $34.95. For more information, visit goprovidence.com.
Where to stay

The Dean Hotel is the definition of urban chic. The 52 rooms feature vintage furniture, fixtures and textiles made in New England, so lovers of local will be supremely satisfied.
How to get there
Amtrak from Penn Station to Providence takes three hours. Megabus or Peter Pan bus lines from Port Authority are budget alternatives.
Allison is a native New Yorker, who has lived in Rome, Tuscany, Melbourne, Toronto and Los Angeles. She frequently contributes travel pieces to Family Travel Forum, using her own children as guinea pigs as they travel the globe. She is fluent in Italian and Spanish and laughably adequate in French. Her background as an Early Childhood Educator gives her an added understanding of what it takes to travel with kids in tow. She firmly believes that the most important part of education takes place outside of the classroom, on the road, around the world. She never misses a chance to sample local delicacies, as her love for travel goes hand-in-hand with her love for food and wine. Follow Allison at @gourmetrav.