Summer has unofficially begun, and with it our thirst for cool, refreshing drinks. On your next lunch break or weekend about town, celebrate the season by sipping something sublime out of a coconut.
If a trip to the Caribbean isn't on your calendar any time soon, these five places around NYC are sure to deliver a taste of the tropics and a delicious escape from the hustle-bustle of the city.
Bedford Avenue Fruit and Vegetables
A fitting place to start your trail, Bedford Avenue Fruit and Vegetable is just off the Bedford Ave. stop in Williamsburg and offers the simple pleasure of a no-frills coconut, served with a straw. Take your coconut ($3.49) to go or enjoy it right on the street—after several swipes of a machete. Like most coconuts you'll find in the city, these come freshly imported from Thailand.
How to get there: By subway, take the L to Bedford Av. Walk to 167 Bedford Ave.
Leave the busy hipster highway of Bedford Ave. behind as you walk through Surf Bar's cool island-inspired interior, replete with real beach sand that you'll instinctively want to bury your feet into. Treat yourself to the Coconut Kiss cocktail ($11). Although the drink is served in a coconut of the plastic variety, like the rest of Surf Bar, a little imagination goes a long way.
How to get there: By subway, take the L to Bedford Av, walk north and turn right onto N 6th St.
With 12 locations around Manhattan, Juice Generation is perhaps the most accessible urban vendor of coconut. Founded in 1999, the juicing pioneers offer Young Thai coconuts, imported from South-East Asia, that line a shelf, waiting to be drunk in a variety of ways. Best recommended is the Kale Kolada ($8.95), equal parts delicious and healthy, comprising kale, spinach, banana and, of course, coconut. Though not served in a coconut, the Coco Açai smoothie will transport you to a beach after one sip. How to get there: Select your closest one here.
This Jamaican-themed bar in the heart of the East Village is equipped with dusty wartime relics and paraphernalia typically reserved for the set of a 60s-era James Bond film. At Kingston Hall, you'll want to order the Drunken Coconut ($14) which, you'll be happy to know, lives up to its name.
How to get there: By subway, take the 4,6 to Astor Place or L to 3rd Av.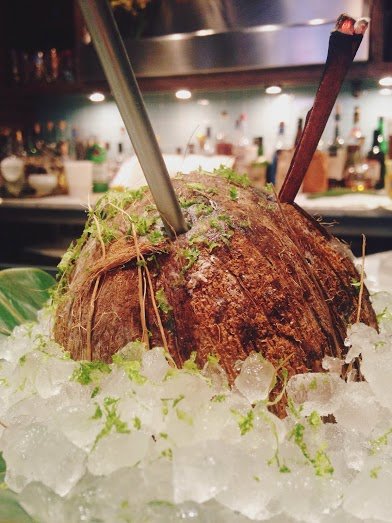 "Basically, it's a riff on a bees kiss—a classic cocktail of aged rum, cream and honey," explains Thomas Waugh, concocter of cocktails for ZZs Clam Bar, a beautifully ornate upmarket bar in Greenwich Village. Beginning with a gold clam-shaped dish, Waugh lays down banana leaves, followed by ice and a whole coconut with two drilled holes on the top. "I substitute ordinary cream for coconut cream and add a dash of Angostura bitters to dry it out," he continues, funneling the mixture through one of the holes. Into the other, he places a burning cinnamon stick, an appropriate flourish to the full sensory experience that is Waugh's simply titled, Coconut ($20) cocktail.
How to get there: By subway, take the 1,2 to Houston or A,C,E to Spring St, walk along Houston, turn north on Thomson, first block.
Photos: Juice Generation, Robin Scher