It's easy to see why artists have been drawn to Saugerties for generations. This former mill town's enviable geographic position, nestled in the Catskill Mountains and perched on the Hudson River, is inspirational. The eclectic mix of shops and restaurants combine quaint with a soupçon of chic. Stroll the bluestone slab sidewalks and you'll quickly understand why Budget Travel named it one of America's coolest small towns. Urban dwellers in need of an infusion of fresh air have come to the right place. Cycle, hike or enjoy the river on a kayak or sailboat.
The area's deep-rooted agricultural heritage has meshed with kitchen savvy to make Saugerties a stomping ground for culinary geeks. If that's not enough to entice you, Jimmy Fallon was raised here and locals couldn't be prouder or more pleased to chat about their hometown boy. It's all just two hours from NYC, close enough for a day trip, but with so much to do and fabulous hotel options, you'll want to stay the night.
The In-Town Experience
Getting a feel for Saugerties means exploring Main and Partition streets. Its mix of highbrow/lowbrow shops and eateries are the big draw. Marky Marks Tattoo is respected for its innovative ink and precise piercings. The Modern Dream sells crafts and fiber arts, all handmade by local artisans. Green presents an array of recycled or sustainable furniture and housewares, a design and eco-conscious apartment dweller's dream. Inquiring Minds Bookstore has a varied collection, including many Hudson Valley art and history books. Antique shops, thrift stores and art studios further cram the shopping palette. Time your visit right and you'll be treated to Saugerties' First Fridays. Stores, galleries and eateries stay open late, with special bargains and yummy refreshments.
The Active Experience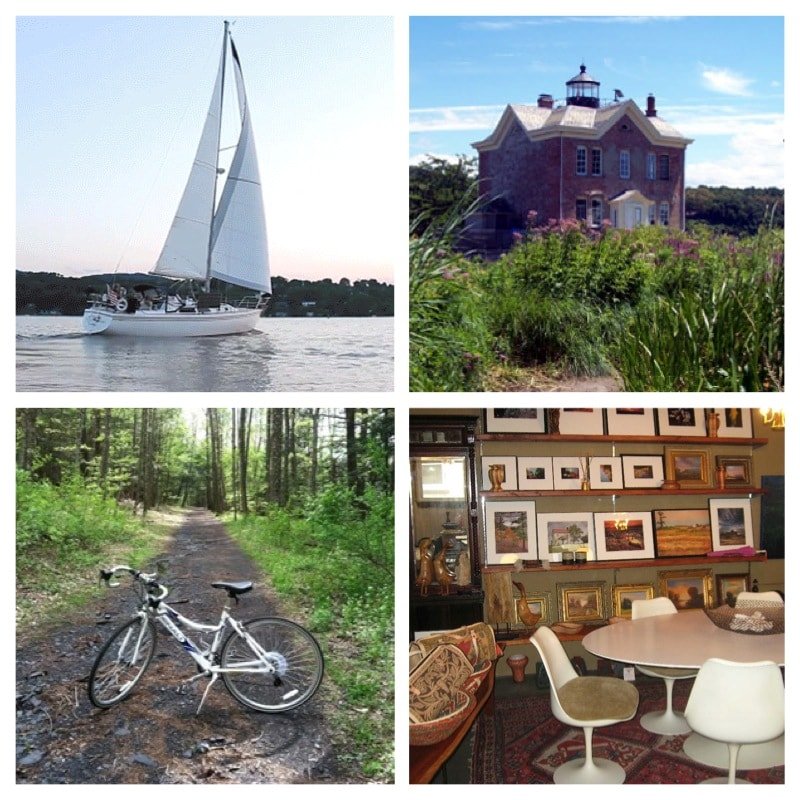 The local cycling community has created several scenic bike routes, marked with distinctive green-on-white signage that makes them easy to find and follow. The Historic Village Bike Route is an easy six-mile pedal and a fabulous introduction to the town.
There is a strong movement to preserve Saugerties' natural legacy, so you will have your choice of paths and trails where the area's rural characteristics are fully intact. Take the half-mile trail out to the Saugerties Lighthouse. You'll find a working lighthouse-hotel that can also be toured in season and a dreamy deck that's the perfect place for a picnic. Time your expedition carefully, as this driftwood-laden stroll along the tidal wetlands is covered with water during high tide.
If the weather is fine, get out on the Hudson in a seaworthy vessel. The Saugerties Marina rents kayaks and Black Swan Sailings charters a 36' Catalina Sailboat.
The Jimmy Fallon Experience
Make a pilgrimage to see where Jimmy Fallon grew up. Jimmy, who brought "The Tonight Show" back where it belongs, is revered in Saugerties. Jimmy spent his formative years strolling the Historic District and chowing down at the Village Diner after a tough day of classes at Saugerties High School. Locals each have their own Jimmy story and all end with "He's so down-to-earth, a really nice guy." Many shops have creative odes to Jimmy in their windows.
The Digs
Diamond Mills Hotel is located in the heart of the village. Housed on the site of a former mill, it keeps traces of its blue-collar industrial legacy intact, despite a sophisticated level of service that caters to discerning bluebloods. Each of the thirty rooms offer private balcony with majestic views of the Esopus Falls, Saugerties answer to Niagara. If that's not enough, heated bathroom floors, just-cut flowers at turndown and morning coffee service with fresh cream brought to your room, will satiate the most demanding guest. The Tavern at Diamond Mills serves delicious Hudson Valley cuisine in an inviting space, or dine al fresco on the panoramic terrace. The CIA-trained chef merits a Michelin Star.
If staying at a functioning lighthouse is on your bucket list, reserve well ahead at the Saugerties Lighthouse. This Hudson River landmark is currently a popular bed and breakfast, with two private bedrooms and a shared bath. A bountiful morning meal is included with your stay.
The Eats
The Saugerties food scene eschews big-scale agriculture in favor of small farms. This ethos is reflected on many local menus.
Miss Lucy's Kitchen is as loved for its relaxed atmosphere, anchored by a collection of homespun aprons, as it is for its down-home cooking. The menu changes daily to reflect the market's freshest provisions. Lunch and brunch treats may include sandwiches made with house-smoked pastrami and eggs Benedict made with locally sourced eggs generously drizzled with a knockout Hollandaise sauce.
In a region where farmers markets are a wonderland of edible delights, the Saugerties seasonal Saturday market stands tall. Foodies who crisscross the Hudson Valley on a zealous mission for the hyper-fresh give the market high accolades.
The Sweets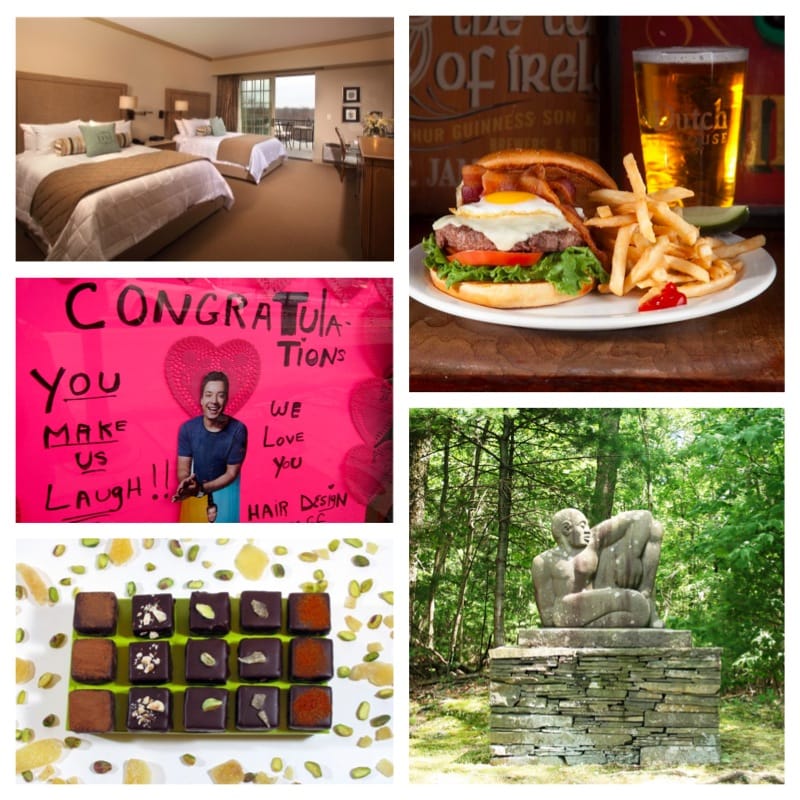 Saugerties was doubly blessed by the sugar fairy with not one but two award winning chocolate shops. Purists head to Krause's Chocolates, owned and operated by the same family of confectioners for three generations. All-American, hand-dipped classics include sea salt caramels, peanut butter cream and almond bark.
Lucky Chocolates uses Fair Trade ingredients to make dark, milk and white treats. They have a tantalizing selection of vegan chocolates sweetened with maple and agave syrups. The omnipresent owner is deeply committed to using the best organic, fresh and local ingredients. The truffles are showstoppers, especially when flavored with concentrated purees of pomegranate and mint.
The Drinks
The Dutch Ale House serves their own micro-brewed beer on tap, along with a curated selection of fifteen craft beers. Breweries like Ommegang and Newburgh are popular New York State stalwarts. The vibe is pure local, but they relish the infusion of friendly, beer loving strangers. Bring your non-liquid appetite, because the burgers here are some of the best in the Northeast. The bacon, egg and cheese variety enjoys a cult-like following, thanks to its base of Angus beef and a Feather Ridge Farm fried egg sitting squarely on top.
The Secret Local Tip
Sculptor Harvey Fite's Opus 40 is an abandoned bluestone quarry transformed into a mind-blowing work of environmental art. The six-acre visionary sculpture park blends artistry and landscape in a totally unique manner. Millions of pieces of indigenous bluestone, laid by hand, craft a labyrinthine world of finely fitted stone, swirling with ramps and terraces constructed around pools, trees and fountains. It is located just outside of town, an easy bike ride from Main Street. Consider spending the night or just visiting for an afternoon between Memorial Day-Columbus Day, Thursday-Sunday, weather permitting.
Getting to Saugerties from NYC
Adirondack Trailways goes directly from Port Authority to Saugerties. If you're staying at the Diamond Mills, they offer complimentary pick-up from the Amtrak station in Rhinecliff.
For more information on planning your visit, go to Discover Saugerties and Ulster County Alive.
Photos: Opus 40 by Ken, Lighthouse by Emma Maria, Allison Tibaldi, stanlupo, liyu01, Insignifica
Allison is a native New Yorker, who has lived in Rome, Tuscany, Melbourne, Toronto and Los Angeles. She frequently contributes travel pieces to Family Travel Forum, using her own children as guinea pigs as they travel the globe. She is fluent in Italian and Spanish and laughably adequate in French. Her background as an Early Childhood Educator gives her an added understanding of what it takes to travel with kids in tow. She firmly believes that the most important part of education takes place outside of the classroom, on the road, around the world. She never misses a chance to sample local delicacies, as her love for travel goes hand-in-hand with her love for food and wine. Follow Allison at @gourmetrav.