Want to escape NYC for an enchanting seaside village, but also want to sleep in your own bed? Good news: It can be done. An idyllic harbor town on Long Island's north shore, Port Jefferson is yours for the meandering. Just hop on (and off and on) the Long Island Railroad and breeze on over.
Take the day to learn about this seaside village's shipbuilding past, or simply soak up the marina's beauty at the park, on the rink, or between delightful shops and delicious meals.
Feast on fresh seafood at the PJ Lobster House. Warm up with homemade clam chowder and lobster bisque, and take advantage of daily specials like the Sunday three course pre-fixe (yes, that includes lobster. $26.99 all day). Enjoy upscale farm- and sea-to-table dining, head to Fifth Season. Their nightly three-course pre-fixe ($29.95, 5-6pm only on Saturdays) features local dishes like Point Judith calamari and homemade potato gnocchi with LI duck Bolognese. For something…cheesier, C'est Cheese offers cheese-centric salads and sandwiches ($7.95-8.95), plus cheese plates to pair with craft beer and wine (3 cheese and drink pairing: $15). Find your favorite and take it home from their marketplace. (PJ Lobster House: 1 North Country Road, pjlobsterhouse.com; Fifth Season: 34 East Broadway, thefifth-season.com; C'est Cheese: 216B Main Street, cestcheesepj.com)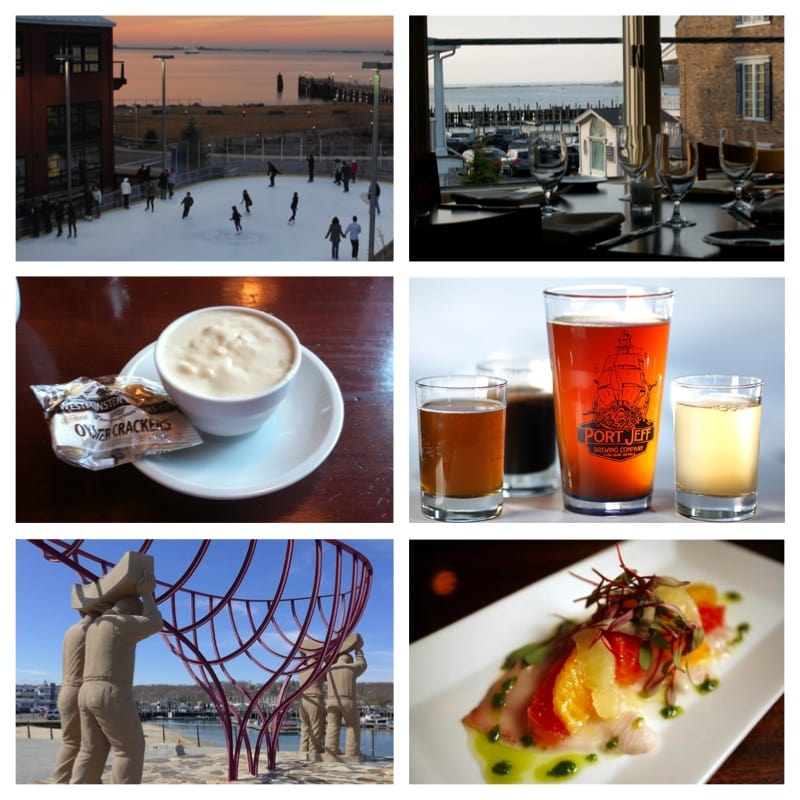 Grab a beer at local dive Tara Inn or sample small batch brews on a boat bar at Port Jeff Brewing Company's tasting room (Tara Inn: 1519 Main Street; Port Jeff Brewing Co.: 22 Mill Creek Road, portjeffbrewing.com).
Play at Harborfront Park. The center of Port Jeff's cultural life, this former shipyard is now home to a seasonal ice skating rink (November-March), summertime concerts and movies, the annual Dickens Festival, a seasonal Sunday Farmer's Market, plus a waterfront playground and picnic spots. (portjeff.com, 101-A East Broadway)
Shop your way through the town's many boutiques, galleries, and gift shops. Pop into the petite Harbor Square Mall, and the nearby Greentique, a sweet shop stocked with crafty, recycled goods. From bike chain tea lights to soda can animals, every gift is eco-friendly and fair trade. Choose from a myriad scents for bath and body products, and find the perfect the perfect rubber ducky or soap—from a luxurious bar made with olive oil and volcanic minerals, to ones decorated with ice cream cones and sprinkles—for just about anyone at the Soap Box. (Harbor Square Mall: facebook.com/HarborSquareMall, 134 Main Street; Soap Box: soapboxny.com, 18 Chandler Square)
In the 19th-century, the Chandlery was a store for nautical gear, ropes, and other necessities for ships embarking on long voyages. Today, it houses the Maritime Explorium, a center for hands-on, interactive learning. Weekly, kid-centric "investigations" and permanent exhibits explore chandleries old and new, coastline wildlife, ship construction, lighthouse electricity, and other science, tech, engineering, and math-driven maritime themes. (Maritime Explorium, $5 admission (free for members and children under 1, Sat-Sun 1-5pm, 101 East Broadway).
History buffs will have the most fun in Port Jeff during July and August, when the Mather House Museum, home of 19th-century shipbuilding family the Mathers, and its surrounding structures are open for tours (suggested $5 donation). The complex includes an the Marine Barn & Sail Loft, The Spinney Clock Museum, and a Country Store with old barber shop, butcher shop, and general store relics. The Historical Society's website also features self-guided walks through town (115 Prospect Street, portjeffhistorical.org).
How to get there: Take the LIRR from Penn Station to Port Jefferson (includes one transfer, usually at Huntington). From there, bike or walk to the Harborfront Park and town center just under 2 miles away, straight down Main Street. The MTA does offer a train and taxi package (adults/$29.50; kids (5-11)/$12; seniors/$26.25). Travelers coming from the Bridgeport, CT area can take the ferry to town.
Visit portjeff.com for more activity ideas.
Photos: JoshArdle, portjeff.com, leagueathletics.com