I didn't expect Providence to be more than a quaint New England city with white steeples, pristine streets, and clean cut couples sipping on lattes. But this city is not only steeped in history and classic New England style; it's also got an eclectic music scene, a booming local food movement, and an inspiring community spirit.
On a recent weekend getaway to the Ocean State, I hopped off the bus downtown at 40 Fountain St. and joined up with The Providence Warwick Convention & Visitors Bureau's Kerri Furtado and Andy Cutler, local expert and founder of Smaller Cities Unite!. They showed me a few of their favorite things beyond Waterfire before I broke off from the guided tour in search of the Rhode less traveled.
Artful Lodger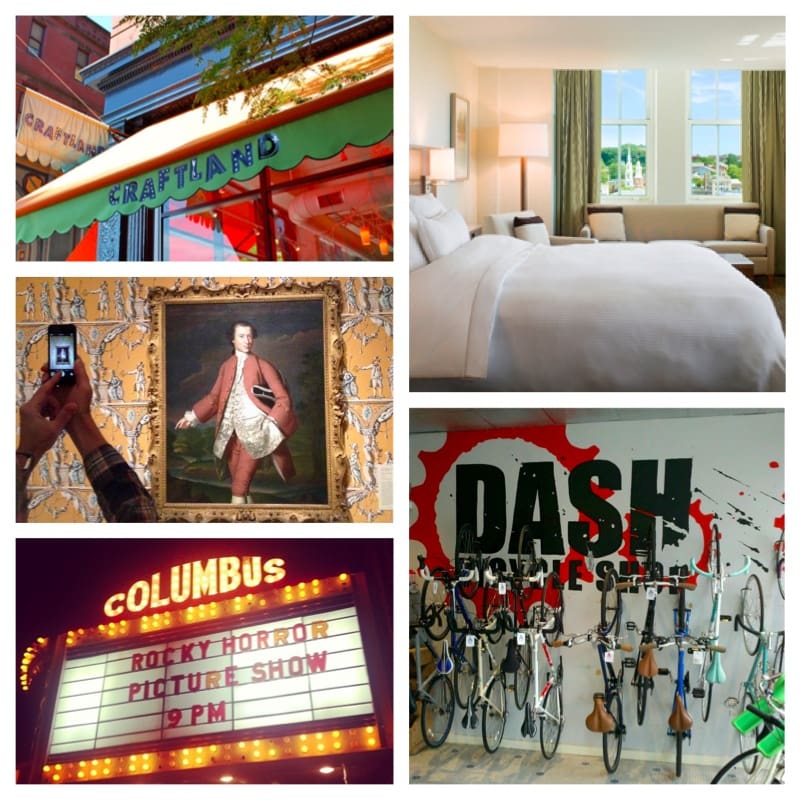 1. The RISD Museum (224 Benefit St.) is not to be missed. Affiliated with the Rhode Island School of Design, the Museum houses over 80,000 works. From student artwork to Picasso to men's fashion exhibits called "Dandy," there's something for every taste. You can spend hours checking out the floor to ceiling paintings in the Blue Room or pondering special exhibits like "Cocktail Culture." Make time for the gift shop, which is stocked with everything from eco-friendly clothing to eclectic kitchenware. Admission is free every Sunday (10am–5 pm) and on the third Thursday evening of each month (5–9 pm).
Book the RISD Museum and Arts Package at the Omni Providence (One West Exchange St.) now through December 31 and receive deluxe accommodations, two RISD tickets, and a 10% discount at the gift shop, from $149/night.
Get Crafty
2. If you leave the museum feeling inspired to start a project of your own, look no farther than the Steel Yard (27 Sims Ave.), an organization committed to cultivating community and creativity. Located in the historic Providence Steel and Iron Site, the Steel Yard offers courses in blacksmithing, welding, jewelry making, or ceramics.
3. Once an annual holiday arts and crafts fair, Craftland has grown to a full scale, year-round shop that sells quirky items made by local artists. From jewelry to prints to knitted items, Craftland is one of those places that makes you wonder why you ever thought that infinity scarf from Target was cute. And the prices are reasonable (and tax-free!), making it a great place to stock up on gifts and get a few original items for yourself.
Book It
4. The quiet stacks at Symposium Books (240 Westminster Street) is a perfect spot to hide away on a wintry afternoon. With an eclectic mix of books, from graphic novels to photography books to new fiction, there's something for everyone, and it's hard to leave empty handed.
5. Want to avoid the temptation? Check out the Providence Athenaeum (251 Benefit St.), one of the most beautiful, historic libraries in America and a favorite of the great writers. (Edgar Allen Poe once wooed his future wife Sarah Helen Whitman through the stacks.)
Roll Out
6. If you want to see the most of the city, hop on a bike. Dash Bicycle Shop (65 Weybosset St.) rents bikes by the hour or by the day (ask about the two days for the price of one offer). Visit the spots listed here or have the Dash cycling staff point you toward scenic routes around Providence and beyond.
The City's Roots
7. If you're going on a bike ride, you have to bring some snacks—and Fertile Underground is the place to stock up. The grocery store began as a communal garden and has grown to a worker-cooperative grocery store and a leader in the city's local food movement. Stop in for locally-sourced vegetables, Three Sisters ice cream, and Barden Family Orchard cider. You could also pick up some farm fresh cheese and a loaf of bread, and head across the street for a picnic on Dexter Field.
The Paris of Providence

8. When the late afternoon slump sets in, don't turn back to the hotel for a nap. Get your caffeine fix at Ellie's (61 Washington St.), a French inspired bakery—and the younger sister of Gracie's, the city's only AAA four-diamond restaurant—serving up seasonal dishes and committed to sourcing ingredients from local farms. Try the duck rillettes, honey glazed beer bread, and dark chocolate cream puffs, which are crusty and fluffy, and perfect to pair with a spicy mocha.
9. For a casual bite, Figidini's Wood Fire Eatery (67 Washington St.) is one of Providence's newest restaurants. Figidini's puts a spin on the plain Jane pizza with toppings like sweet potatoes, figs, and over easy eggs. If you're not feeling pizza, there are plenty of salad, seafood, and pasta dishes.
Travel Through Time
10. After dinner, head to The Dorrance (60 Dorrance St.), an upscale restaurant and cocktail bar. With ornate ceilings, hand-crafted cocktails, and an elegant atmosphere, the Dorrance is the kind of place Mad Men's Don Draper would love. Stop in for dinner or stay for a drink and feel as though you've been transported in time.
11. For a more intimate vibe, try Eddy (95 Eddy St). Knowledgeable bartenders, excellent drinks like The Aviation, and a buzzing atmosphere make this a great place to start the night and mingle with locals.
On With the Show
12. The Columbus Theatre (270 Broadway) is kind of like high school fashion: it's been through a lot of phases and not all of them were pretty. Designed by architect Oreste DiSaia in 1926, the Theatre was once the premier spot to see a show. Over the decades, it changed hands, and even went through an eyebrow-raising phase in the 70s and 80s when it was the spot to see an X-rated show. But in 2012, a group of young Providence residents formed the Columbus Cooperative with the mission to revive the Theatre to its original beauty. The Cooperative has blended the old with the new, refurbishing the classic frescoed ceilings and majestic balcony, while bringing in some of the best music, theatre, and arts. The theatre is home to the indie folk band the Low Anthem, and musicians big and small, from Bill Callahan to Brown Bird, perform here.
For more accommodation options, explore Hampton Inn's wonderful variety of package offerings, like Monkeying around the Zoo and A Taste of Italy. (Room rates from $135.)

How to get there: Consult oM's public transportation guide to Providence