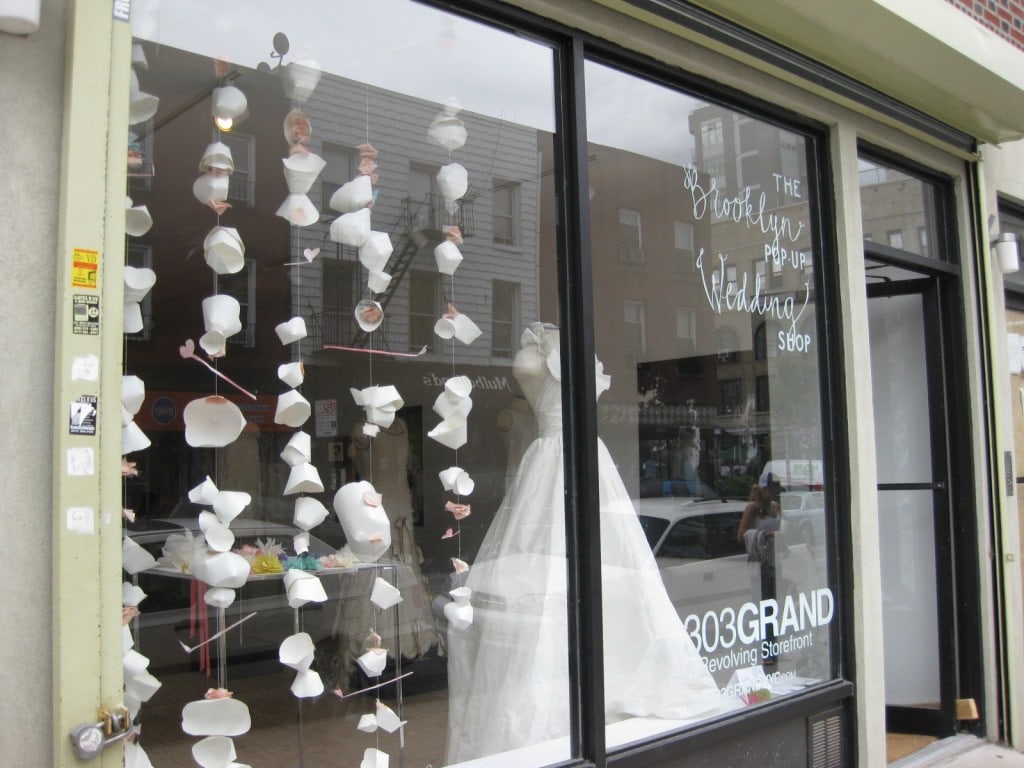 What: Brooklyn Pop-up Wedding Series
Where: 303 Grand, Williamsburg
When: The month of June
Why: Something just didn't seem right when Ruth Heronemus made a visit to the courthouse and saw a number of couples in line waiting to get married. There just had to be a better way for penny-pinched people to tie the knot. The Street Attack marketer had a light bulb moment for the next revolving storefront at 303 Grand. Four months of planning by the Boston-based alternative marketing agency culminated in the debut of this month's pop-up wedding series, courtesy of The Wedding Library and Martha Stewart Weddings.
Each week, The Wedding Library and local Brooklyn artisans cater to a different experience of wedding planning. The four-week itinerary culminates with weddings for up to ten couples at a small planning price of $500 including ceremony, champagne and cake! One lucky couple will win a free wedding package that includes all the necessary services and a Sandals Resort vacation worth over $20,000. The pop-up peddles merchandise from Etsy, while The Wedding Library has brought in off Manhattan event branders Ice Cream Social, stationer Dabney Lee, eco-custom calligraphy alternatives by Paperfinger, and a variety of custom goods by Bestow.
Since there's nothing more stressful than arranging every little detail of one of the most important days of your life—and probably without the groom's help—this weekend's event is a great start for inspiring brides-to-be on the art and style of weddings. Courtesy of The Wedding Library, today through Sunday, a wedding photography exhibit will be on display from 1-8 p.m. Feel free to linger a little later on Saturday for a party with Brooklyn Bride featuring Flashdance. And Brooklyn bride blogger, Vané Broussard, will guest blog about events on Martha Stewart Weddings blog The Brides Guides, throughout the series.
After you've partied and released some initial tension it's time to get serious and think about the dress. Week three is all about the look of the bride and her coveted maids. From June 18th to the 21st, a showcase and retail shop featuring dresses —custom and unconventional—will be on hand. Because a look isn't complete with accessories, vendors selling jewels, lingerie, and hair and makeup products will be available too. Be sure and block your calendar from 1-4p.m. on the 21st for free manicures by Dashing Diva.
Finally, week four will be the event ten chosen couples have waited for as Martha Stewart Weddings transforms the 303 Grand into a pop-up wedding chapel just for them. Goodbye courthouse, hello sweet memories.
How to get there: Take the L train to Lorimer. Exit on Union & Metropolitan end. Walk four blocks West on Metropolitan to Havermeyer. Left on Havermeyer and down two blocks to Grand. Right on Grand and its just off the corner. For more details on upcoming events, visit 303 Grand.
(Brooklyn Pop-Up Wedding Series, 303 Grand Street, Williamsburg. For store hours, visit brooklynchapel.com and for more photos of the pop-up, check out Street Attack's flickr album)