Before the best bike tours increase in price or sell out, cyclists looking for an epic autumn adventure should sign up for one of these nine organized bike rides. Even if you're not an avid cyclist, this guide offers plenty of easy, intermediate and advanced routes that take you through some of the most beautiful country in the Northeast.
When: BeginsOctober 18th
Cost: $85/adult, $15/17 and under
Why: In its 26th year, the Shenandoah Fall Foliage Bike Festival is the quintessential autumn ride. The leaves will have turned all colors of the fall rainbow, there are 13 routes from 10 to 100 miles to choose from, the roads feel car-free, and the Blue Ridge and Allegheny Mountains are a sight to behold. With your bike festival admission, enjoy discounts to local attractions like the Black Friars Theater, Grand Caverns, and much more. Explore Downtown Staunton's "Red Brick District" for arts and eats and a good night's sleep at the Howard Johnson, which is offering a special rate to festival cyclists.
How to get there: Take Amtrak to Staunton Station, a 4-minute bike ride to the hotel. The train ride is 8 hours and a one-way ticket is $86.
Bike the River Valley | Hudson Valley, NY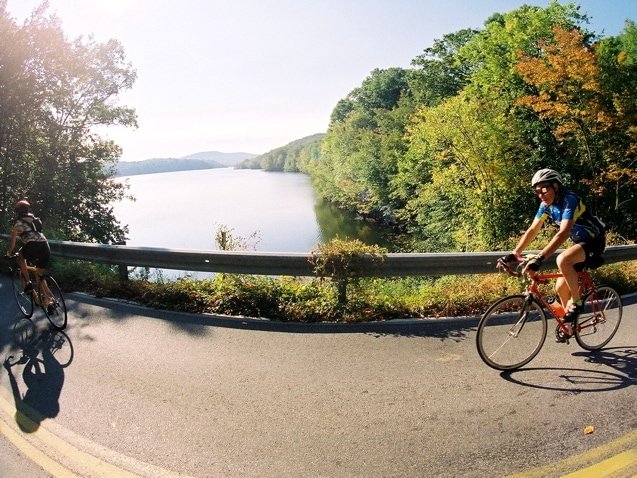 When: April 20th
Cost: $125
Why: The Hudson Valley is a cyclist's paradise, if you know which roads to follow. Leave the route—choose from 35, 70, and 100 miles—to bike tour god Glen Goldstein and just enjoy the ride. Bike the River Valley begins and finishes at Bard College in Annandale-on-Hudson, where a massage and all-you-can-eat meal awaits your return. A few pedal strokes into the ride, you'll feel like you're in big sky country as you roll by vast fields of gold and green, and shout, "horse up!" on the occasion your head isn't turned to marvel at the wide open views.
How to get there: Transportation provided for riders from Manhattan.
When: Sept. 21st
Cost: $60 until midnight 8/25
Why: The only transportation you'll need are your two wheels. Meet on the Upper West Side, have a muffin, and embark on a fun 25, 50, 65, 0r 100-mile ride with the New York Cycle Club and fellow bike enthusiasts. Zip through familiar territory along the Hudson River, up to Piermont and into Bergen and Rockland Counties. Expect fully-loaded refueling stations on each route and a pedal party back in Manhattan with sandwiches and ice cream. Just for registering, you could win things like an international Bike Tour and a new road bike.
How to get there: Meet at Sakura Park at West 122 St. & Riverside Drive, across from Grant's Tomb.
When: Sept. 25th
Cost: $80/adult, $60/kids under 14 until Sept. 20
Why: You'll ferry away from Manhattan towards a 30, 55, 75, or a 100-mile course through off the beaten path spots like the Turkey Swamp Wildlife Area and the coastal towns of Spring Lake, Sea Girt and Brielle. After biking by beaches, funky homes, wild animals, and pumpkin-speckled signs of fall, you'll want to take a photo with your bike at the 150-year-old Twin Lights Lighthouse atop the Navesink Highlands. Then unclip your helmet at Huddy Park, grab your free t-shirt, and chow down on some fresh local seafood and pie at the post-ride festival.
How to get there: Bike New York has chartered two ferries to take riders from NYC (Pier 11 in Manhattan) to Highlands, NJ on the morning of the ride. Ferries depart Pier 11 at 6:30AM and 8:30AM. Roundtrip tickets ($55) are available when registering.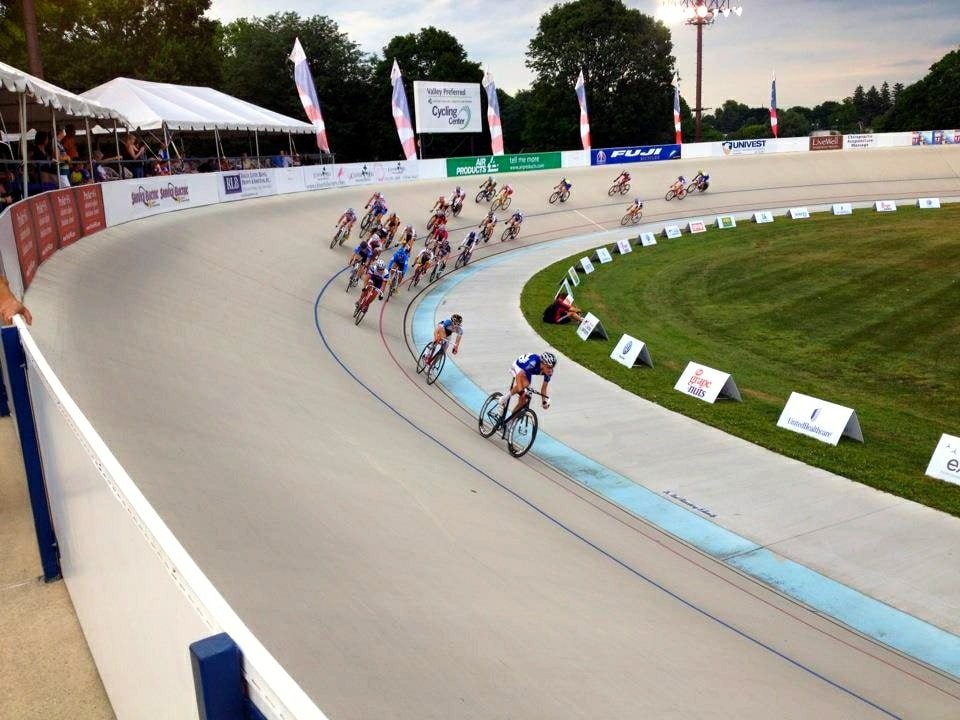 When: TBA
Cost: From $30/10 miles up to $100/90 miles
Why: If it's not enough incentive that you'll be shifting gears next to the editors of Bicycling and retired pro cyclist George Hincapie, consider this: travel-worthy terrain with farms, forests and rolling hills, a Roubaix-style victory lap around the "T-Town" velodrome track, and a post-ride celebration with lunch, free beer, live music, massages, and prizes. Choose from 10, 25, 50 or 90 mile routes on Bicycling's favorite roads in Eastern Pennsylvania.
How to get there: Consult oM's guide to renting Hybrids. Consider arriving on Saturday for Velofest, the country's largest outdoor cycling flea market, at The Valley Preferred Cycling Center (pictured), where the ride starts and ends on Sunday. To get to the center from New York City, take I-78 West to Exit 49A (Route 100 South). Follow Route 100 South past the 3rd traffic light and turn right onto Route 222 South/Route 100 South. Get into the left lane and make a left turn at the next traffic light onto Cetronia Road.  Take the second right turn onto Mosser Road and follow .4 miles to the Velodrome, located on the left side of the road.
When: October 5th
Cost: $85
Why: Benefiting the Autism Science Foundation, this is an all around feel good ride, from the cause to the scenic course through Saxon Woods Park and around White Plains. Bikers of all levels will love the variety of routes available (ranging from 4-62 miles), and will be well-rewarded with lunch at the finish festival and Gatorade and snacks along the way. Every participant pledges to raise $500 for the foundation, but don't worry if that sounds daunting: upon signup, you're assigned a riding and fundraising coach to help out.
How to get there: Take Metro North from Grand Central to the Scarsdale stop (about 45 minutes). From there, take the 63 line to the edge of Saxon Woods Park, or simply bike there (3.2 miles, approximately 20 minutes).
When: October 9th
Cost: $40; $65/day of tickets available
Why: Independent riders will be inspired to do more group rides and experienced group riders will want to join the Westchester Cycle Club, which originally started the Golden Apple ride 32 years ago. Choose from 25, 50, 75 or 100 mile-routes, plus a Hill Climb Time Trail and a Dirty Apple Metric Century for the off-roaders. The Golden Apple is a well-organized ride that delivers a lot of bang for your bike buck, from the superb SAG support and refuel stations to the backdrop of horse farms and spectacular estates to the post-ride gourmet lunch, homemade gelato and free massage.
How to get there: Take Metro North to Golden's Bridge Station. The ride starts at Best Plumbing, Tile and Stone in Somers NY, an 8-minute bike ride from the station.
When: September 14th
Cost: $65/adult and $25/kids under 16 
Why: Wine not? This annual tour benefits several local charities and features all kinds of rides, from a vineyard-hopping Corkscrew Century to the Mountaineer with 9,000 feet of climbing over 105 miles to much shorter distances. If you've never been to the Finger Lakes, and even if you have, you'll appreciate this stunning region from a whole new vantage point. Register before September 1 and receive some sweet schwag along with a post-ride feast. 
How to get there: Though there are several options (Greyhound, Amtrak) for getting to nearby towns like Buffalo, Geneva, Rochester and Syracuse, you'd do best to consult oM's guide to renting a hybrid in NYC to get to the startling line at Bristol Mountain Ski Resort.
When: TBA
Cost: $40/adult, $20/kids under 16
Why: Bring a friend and an appetite on this two-wheeled culinary cruise through farm country. The 37-mile ride has eight farm stops along with restaurants offering samples of everything from grass-fed BBQ beef chili to organic pulled pork and South African-inspired vegetarian "Bunny Chow." You'll end the ride at the Bristol Harvest Festival.
How to get there:  Take Amtrak's Adirondack line to Ticonderoga, NY. The ticket costs $72 one way. To get to Shoreham, hop the Fort Ticonderoga Ferry $2/one way with your bike.
If you can't make any of these rides, visit Gotham Bicycle Tours to book a fun fall day trip in the Hudson Valley, or Discovery Bicycle Tours to book an autumn getaway in Maine, Cape Cod, Quebec, or Vermont.
Photos: Chris Howell, DBT, WCC, Bonnie Gustin, The Valley Preferred Cycling Center
The co-founder and editor-at-large at offMetro, Lauren is a sustainable travel specialist and freelance journalist with frequent bylines in National Geographic, Bicycling Magazine and Shape. Follow Lauren's adventures at @laurenmati.