"The whole farm was under two and a half feet of water," said Ian Marvey, co-founder and executive director at Added Value Farms, a non-profit organization whose mission is to promote the sustainable development of Red Hook through projects like Red Hook Community Farm. Due to flooding of the Erie Basin and Gowanus Canal during Sandy, RHCF "suffered significant damage, loss of equipment, all of our crops."
In better times, the farm was a thriving center of community action, environmental stewardship, and a source of food and jobs for nearby disadvantaged residents. Offering farm-based learning programs and food-based initiatives, this is not your typical urban farm.
One of Added Value's most successful programs has been providing farm and life skills training in a safe environment to more than 150 neighborhood teens between the ages of 14 and 19. A 17-year old Youth Leader Volunteer Coordinator named Justin was just one of almost 100 volunteers who visited the farm the Saturday after Sandy to help clean up and begin the painstaking process of restoration.
"This farm has changed my life," said Justin, who now lives in Crown Heights with siblings and his single mother. "I get to tell people I work at a farm and they look at me all crazy, like, 'a farm in Brooklyn?' I've worked here for two years and get to teach kids about nutrition and it keeps them off the street. I'm a role model for my best friend; today I got to try to be a role model for all these great volunteers here so we can fix the farm."
Youth Leaders, CSA (Community Supported Agriculture) members and volunteers have spent the past two weekends helping to harvest radishes, rhubarb, lettuce, zucchini, brussel sprouts, strawberry patches and turn the sewage-water ruined crops into compost, sorting the vegetables into piles that will be heated up to eliminate any pathogenic bacteria and then mixed with fungi, selected for their ability to absorb heavy metals that may be in the soil.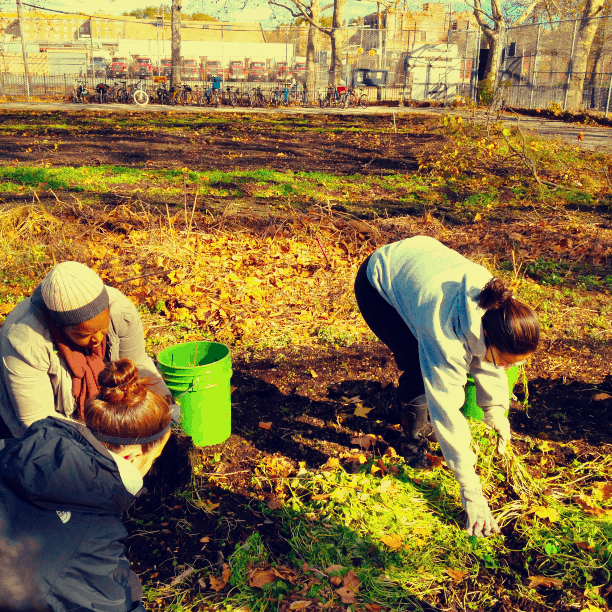 The pumpkin patch, which almost floated away, will be restored. The farm has received some clean soil so garlic planting is set to begin. The worm boxes and greenhouse are being repaired; the tools are being cleaned. Red Hook Community Farm will thrive again and they'll be able to get back to the business of planting, re-opening its seasonal farmer's market, and changing the way the community thinks about food and farming. "We've had a great outpouring of support and things are great," said Marvey. "But we do have a lot of needs."
New Yorkers and tourists have shown up to help till the Sandy-sabotaged stretch of land. We met RHCF member Georgia from Harlem, and Anna, a Northeastern University student working on a finance co-op project. We worked alongside a woman from Colorado who ran over to Red Hook in her NYC Marathon clothes. If you are interested in helping, visit Added Value's website or its Facebook page to see how you can bring the farm back to life through volunteering or donating or dining out at one of the local restaurants that sources food from RHCF. Frankies Spuntino (457 Court St.), The Good Fork (391 Van Brunt St), and iCi (246 Dekalb Ave) ensure that the farm's investment stays within the community.
How to get there: Take the F or G train to the Carroll Street or the 4th Ave-9th Street stop Take the B61 to the corner of Beard Street and Ostego Street (the Ikea Building). Turn right and walk along Halleck street to the corner of Columbia Street. The farm is on that corner. (Red Hook Community Farm, 370 Brunt St., added-value.org/the-farms)

View Rebuilding Red Hook: Added Value Farms in a larger map
Photo: Valery Rizzo, via Nona Brooklyn, and Silvie Snow-Thomas