Take the time to venture an hour north of Albany to Washington County and you'll be duly rewarded–in sedative country vistas, historical architecture, a thriving arts scene and outdoor adventures fueled by farm-fresh treats. Stretching 80 miles long and 22,000 cows wide, the county's too much to conquer in one weekend. Get your toes wet with a trip down the Battenkill and around Cambridge, Salem, Greenwich and Granville.
Things to Do
1. Small town charm runs high in Cambridge, where an amble down Main Street will take you from Battenkill Books–a small, independent shop with a large selection of agriculture and gardening reads–to arts and craft co-op Valley Artisans Market and the adjoining The Village Store, a general store with a charming selection of toys, housewares, candy and in-house popped corn. All proceeds from the shop benefit community arts center Hubbard Hall. The 1878 opera house continues to host opera performances, alongside visual arts, theater, dance and musical shows, including Music from Salem's forgivingly priced chamber music series ($20 suggested donation).
2. Make an appointment to tour the studio of impressionist George Van Hook, whose plein air paintings include a series of striking fly-fishing landscapes (518-677-5106); and Leslie Parke, whose paintings, including older series of boxing paintings, landscapes and appropriated (Giotto, Matisse, etc.) works and more current still life abstracts (think close ups of flattened cans and recycled bottles) spans the entire top floor of a converted factory. Parke is the driving force behind the Curiosity Forum, a series of intimate talks with authors and artists "to inspire the mind and ignite the creative spirit." If studio hopping from factory to farmhouse is your idea of an ideal weekend, time your visit to the Open Studios Tour, featuring upwards of 15 Washington County artists.
3. Just north of Cambridge, more arts and crafts await in Salem. See art on the lawn, in barns and in the making at Salem Art Works. Interns and artists-in-residence set up camp in tents, RVs and a communal house in this dairy farm-turned-non-profit art center and sculpture park. Relax (it's that kind of place) and wander for free; or learn a new skill at one of SAW's summer workshops. The artists' haven plays hosts to public events, like SAWFest, an annual outdoor music festival featuring regional bands, food, drink and free camping. Nearby, Sue Clary and her husband sell an impressive collection of antiques in their backyard barn and the entire first floor of their home, McCartee's Barn.
4. Rotating art exhibits fill two 19th-century barns and a silo in Greenwich's Gallery 668. Pack a few snacks and drinks with you (alcohol is okay), or bring a few dollars for the hot dog/sausage stand at Surya Polo in Greenwich. Since founding the club and creating the world-class field in 2010, Ketav Shah has achieved his goal: fostering "Polo for the People." Through grassroots efforts and for Shah creating a space for quality playing with a full service school and casual, affordable and accessible (the announcer fills newcomers in on the rules of the game) spectatorship. Limited seating is available in a small wooden pavilion, lawn chairs and picnic tables, and visitors are encouraged to bring their own blanket or lawn chair for guaranteed comfort ($10 for pavilion seating; $5 general admission).
5. A valley of storybook farm country tucked between the Taconic and Adirondack Mountains, Washington County is best discovered outdoors. Consider Battenkill Valley Outdoors your one-stop adventure shop. The friendly company, based at the entryway to the Battenkill State Forest, will customize your day based on your land-and-water whims (though be warned: tubes and rafts often sell out, so you may want to book ahead). A picturesque tubing trip might take you down a section of the 59.4-mile Battenkill River, from Vermont and under a covered bridge back into New York. The ride is generally calm, but start early and/or in Vermont for your best shot at a tranquil float. On weekend afternoons, much of the river tends to fill with islands of tubes, some carrying families, others carrying rowdier parties and coolers of beer.
If lazy river cruising isn't your style, hop into one of BVO's kayaks or canoes. The company is happy to meet you at a picnic spot to trade boat for bike, a popular activity around these parts. If you don't have your own bike in tow, you can rent one for just $15 a day. Bike through Salem's historical covered bridges and cool off with a few dips in the 'Kill: the river bends and deepens around The Georgi, an art museum (make an appointment to visit during the summer) and nine-acre park; kids big and small enjoy an adrenaline rush leaping from a rope swing by the Eagleville Covered Bridge. Walk without fear in the Shushan Covered Bridge, now a museum dedicated to period machinery. The adjacent one room schoolhouse is also open to the public (both museums are free).
Where to Eat (& Drink)
1. Buy a cone–or quart­–of Battenkill Valley Creamery's fantastic homemade ice cream at their farm-side ice cream shop in Salem. While you're there, grab a bottle of their famously creamy chocolate milk from the honor system refrigerator.
2. Blink and you'll miss the center of Shushan, where locals rely on grocery and deli Yushak's Supermarket for tasty sandwiches and local veggie medleys. Enjoy your picnic lunch with a view of the river around the corner at The Georgi.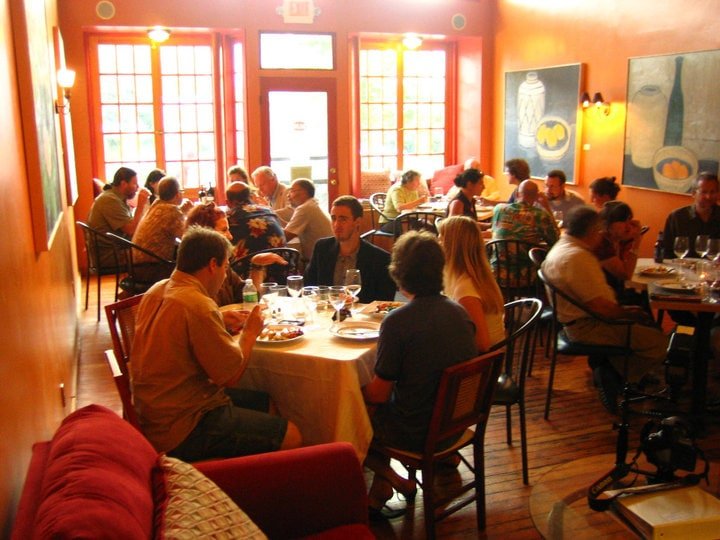 3. A lofty but homey café in Greenwich Center, Dish Bistro offers eclectic dishes, like chana masala (Indian spiced chickpea stew) and apricot-dotted Moroccan chicken stew, made from local, sustainable ingredients.
4. In the clearing by Hubbard Hall, a weekly farmers market pops up every Sunday, from 10-2pm. Make your rounds through the small but bountiful market to the tune of live music, fresh produce, locally raised meats, artisan cheeses, local honey, maple products, homemade soaps, and gourmet nut and seed butters.  If you're pressed for time, make a beeline to Pompanuck Farm's Round House Bakery, where freshly baked pizza, homemade, organic artisan breads, pastries and cookies (do yourself a favor and get both Sicilian macaroon and the almond cookie) are best washed down with a cup of maple iced tea.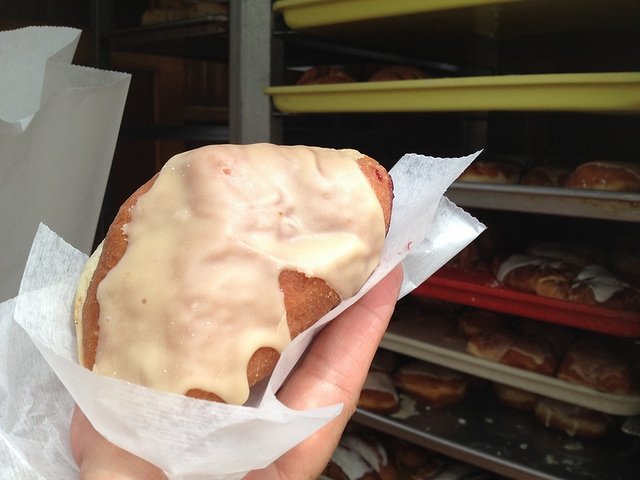 5. The King family reincarnated their late, beloved bakery in the form of King Bakery Donut Cart at Double K Farm. At 8am every Sunday, Jana and James King sling homemade donuts and pastries from a refurbished Freighofer's Bread Wagon parked outside of their Main Street home; the same home where the couple bakes the sweets with James' mother, Sally. Just a whiff of the superfresh, pillowy-soft donuts is enough to make passerby weak in the knees. The Sunday selection includes classic glazed and the sugar-sprinkled, bursting-with-cream bismark, plus seasonal specialties like the Moaning Donut, a moan-inducing orange glazed with a red currant filling made with fruits from the Kings' backyard garden.
6. The state's oldest u-pick orchard, Middle Granville's Hicks Orchards first opened their fields to the public in 1905. Today, visitors can still graze the fields for affordable fruit (blueberries and cherries are $2.25/pound), or go straight to the farm store for cider donuts (as seasonally available) and local farm products. While you're there, check out the agricultural relics on display upstairs, visit the barnyard and get lost in the corn maze. Nearby, cider donuts play second fiddle to more spirited pleasures at Granville's Slyboro Ciderhouse. If Magners is all you know of (hard) cider, consider Slyboro your first true cider experience. Visit the handsome tasting room (11-5, daily) for a flight of Slyboro's six nuanced and distinct still, sparkling and ice ciders.
Where to Stay
1. Cambridge: Get the historical B&B experience, minus the stiff bed and stuffy feel, at Rice Mansion Inn (from $105). The former home of seed mogul Jerome B. Rice, the inn is rich with historical details, like the birdcage elevator resting in the foyer. Guests sleep in the mansion or the carriage house, where rooms are decorated with Rice Seed memorabilia and by local theme, like Balloons Over Cambridge, an ode to the Cambridge Valley Hot Air Balloon Festival. Enjoy homecooked meals with a local bent in Mr. and Mrs. Rice's parlours.
2. Salem: Enjoy a warm family atmosphere and green surroundings at the gently priced Bunker Hill Inn (from $53). You'll want to rise early to make time to walk the grounds after breakfast.
3. Granville: Take in Mickey's beautiful garden and a relaxing breakfast at Station House B&B (from $85). A former railroad station, the four-room B&B is a great place for those venturing to the nearby Adirondacks and Slate Valley Museum.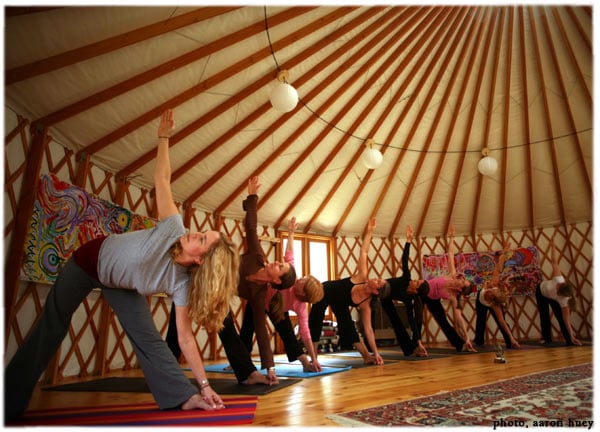 4. White Creek: Make your getaway a true escape at Pompanuck Farm Institute's eco-retreat center, about 10 miles from Cambridge. With 78 acres of field, forest and streams and 2800 acres of surrounding state forest to wander, meals catered by an on-site garden, frequent wellness workshops and massage and body treatments (both at extra cost), you might have trouble tearing yourself away from this White Creek hideaway. All are welcome t0 stay at Pompanuck from three nights to one month. Contact Pompanuck for more information on staying in the roundhouse (from $75), private straw-bale guesthouse (from $175) canvas-roofed yurts or camping out.
Getting There
Washington County is a cyclists' heaven and Amtrak's Ethan Allen line has just launched a new initiative to allow bikes on board and help further the cycling movement in the Empire State. (Easily check in with Amtrak's online operator to make sure the train your taking can accommodate two wheels.)  You can either enjoy the scenic train ride along the Hudson and pick up a car at Albany Rensselaer station (Generally $40-77 each way) or drive up from the city. For a cheaper option, take the Megabus to Albany Rensselaer (prices vary; as low as $3 when booked in advance).
Photo: Diane Cordell, Adirondack Kayaker, Jaclyn Einis, Leslie Parke, Dish, Pompanuck