Greenpoint is commonly known throughout Brooklyn as a kind of an oasis; a bit out of the way, its quaint, tree-lined streets are quiet, but peppered with shops and restaurants worthy of the journey there. A neighborhood whose original Polish immigrant population proudly mixes their kielbasa with the young generation whose bikes are attached to every street pole deserves a day or two of leisurely exploration. It's best to approach Greenpoint from one of the two main drags; Manhattan Ave. and Franklin Ave.; everything else is an easy offshoot.
Manhattan Ave. is a thickly populated street, crowded with shops, cars and people of all kinds. It's an easy walk through McCarren Park off the L train at Bedford, or take the G to Nassau to step into the thick of it.
Where to eat and drink
If you're searching for 'Real Brooklyn," Peter Pan Donuts is about as authentic as it gets in Greenpoint. Its old school counter is no-frills, no-nonsense, and therefore beckons an older crowd who can be found wiling away the day sipping egg creams or enjoying a small feast on any one of the bakery's handmade donuts or pastry creations. A window into the past, cheap and filling, it's a nice alternative to the artisanal donut chains popular on the other side of the river.
Five Leaves is as much of a Greenpoint institution as Peter Pan Donuts, but in a different vein. Though its 'moment' has passed, on any given afternoon or evening, bistro tables are spilling out onto Bedford, with an audible din from down the street. People flock to the French-inspired cafe as much for the food (try the beloved truffle fries) as for the scene, which is heavy on tattooed, stylish, local beauties. The adjoining coffee window is a nice way to get a taste of the experience, short but sweet.
Steps away from Five Leaves, sister spot Nights and Weekends is reminiscent of a swim up bar, but on the sidewalk. Stools line the open bar windows so that patrons essentially are drinking on the street. They also serve Caribbean and Mexican influenced comfort bar food, like the Croque Senora, pork shoulder with spicy pickle on brioche topped with a fried egg, and a Frisse and Chorizo salad topped with corn nuts.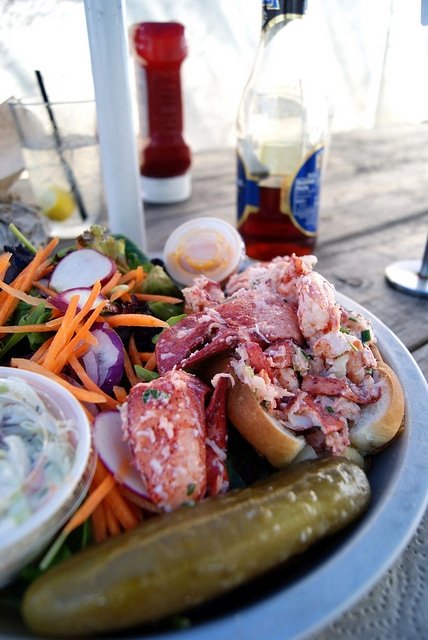 Nestled in a nook of Manhattan Ave., Brooklyn Mac is a hole-in-the-wall mac and cheese factory, a treasured gem serving up tongue-in-cheek neighborhood themed plates like the 'Carroll Gardens' mac with caramelized apples and brie, and the 'Greenpoint' with cheddar, broccoli, horseradish, and smoked kielbasa sausage.
A cheese and beer lover's paradise, the petite Eastern District Cheese and Beer has a wide array of cheeses to be sniffed and lots of local brews you can carry away in a growler. The staff lends a neighborhood feel sitting with an open newspaper, minding their own business—very Brooklyn.
Counter service at the Lobster Joint means a carefree vibe in the small seafood shack at the end of Manhattan Ave. The menu is extensive and offers what most would expect, except for spins on the classics such as a Lobster Club roll that adds avocado and bacon, and lemonade spiked with vodka, perfect for outdoor drinking in their lovely garden area packed with picnic benches.
A cool Korean spot, Mrs. Kim's creates an open air diner with transitional doors and windows. The menu offers something for everyone, like any good Korean mother would, including hamburgers and salads, but the specialty dishes like soondubu jjigae (soft tofu stew) and bulgogi dup bob (marinated meat over rice and vegetables) are what make this restaurant a rare find in these parts.
The Pencil Factory sits on a corner and is an excellent indoor spot to spend the winter, although summertime brings chairs and tables out to its slanted sidewalks. The dark wood floors and exposed brick walls are the remainders of what used to be a favorite bar of longshoremen, but they translate nicely into the modern renaissance revival the neighborhood is experiencing. Twenty-two beers on tap and a jukebox means a faithful crowd most nights of the week.
Where to shop
Handmade jeans at Loren are crafted in-house at one of the six sewing machines in the small shop and showroom, and will cost you the equivalent of about one month's rent in an apartment nearby. There is a large selection of their own collection as well, for a fraction of the price, and in a variety of styles and unique prints, such as tie-dyed skinny jeans for women and raw denim for men.
Fox and Fawn is a tiny vintage shop highly curated by eagle-eye fashionistas. They offer a buy/sell/trade option which lends the notion of a communal closet for cool girls in Greenpoint. It's not uncommon to discover a designer good for a delightfully low price amongst the well-organized displays and racks.
Near the waterfront (and a stellar view of the city skyline) Franklin Ave. is a quiet street with a lot going on. Take the water taxi from Manhattan or South Brooklyn and you'll arrive in style.
A 'his and hers'  haven, the clothing shop, aptly called Alter has two unique locations on each side of Franklin Ave. The boutiques are debuting their own line which is completely conceived, designed, and made in Brooklyn. Designs with attention to local style offer interesting details on very wearable classics.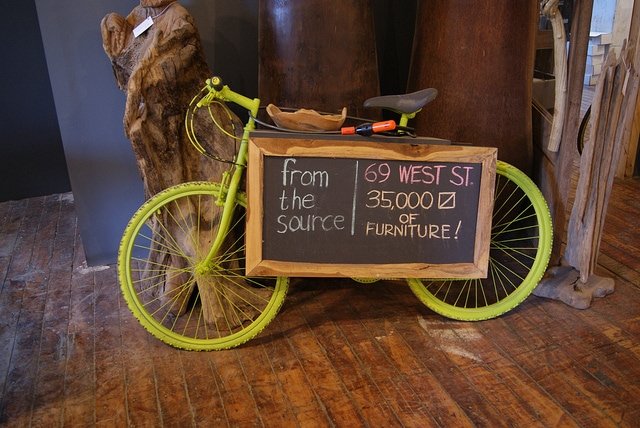 Lovingly crafted from organic materials, the From the Source warehouse showcases a huge collection of furnishings, varying from dining tables to stump sculptures, practical to purely artistic. It's something akin to a wood museum, and it's not uncommon to wander around the place for hours on end, testing out the multitude of sleek, modern designs in natural materials.
How to get to Greenpoint:
Escape to Greenpoint via the East River Ferry from Manhattan or South Brooklyn, the one-way trip is $4, and arrivals and departures take place from the bottom of India Street, on the water. The G train makes two stops in Greenpoint, Nassau Ave. and Greenpoint Ave. The G train only runs in Brooklyn and Queens, and is accessible by the L, 7, or E trains.
Photos:Frank Hebbert, Carly Pifer.


View Guide to Greenpoint in a larger map
Carly Pifer is a freelance writer who has been known to follow whims inspired by romantic movie scenes or colorful street style shots to India, Japan, Tunisia and Argentina. After stints living in Seoul, Boston, Paris and Los Angeles, writing and searching for something intangible, she landed somewhat steadily in Brooklyn and has begun to find inspiration in her more immediate surroundings (and also the permanence of her bookshelf). She writes about fashion for Refinery29 and has been known to pack an outfit per day on backpacking trips. Please visit her website to read her travel diaries and other writing on the web at www.carlypifer.com or follow her on instagram .