The next time you're planning a date, how about you skip the High Line-biergarden route in favor of something a little less. . . standard. Whatever makes your heart beat faster–be it biking, barbeque or burlesque –oM's got some titillating tips for how to make magic happen offline and off the main island.
Stay Classy
The only thing hotter than having a date teach you something new? Learning something new together. Take it to the classroom and worst-case scenario, you'll have plenty of distractions and leave with a few new tricks and treats.
1. Gowanus's Brooklyn Brainery offers an eclectic range of affordable lectures and workshops, from mixing seasonal cocktails to sunset street art tours to one-on-one literary agent advice. (Most classes $10-30/person) Brooklyn Brainery: 516 Court Street, Carroll Gardens

2. For your next rainy day date, why not bring the outside in? Grab a few figurines and a container and get your hands mossy in a terrarium at Sprout or Twig. Private workshops and for-purchase materials (Twig boasts figures "from hikers to hookers") are also available. ($35-45/person and up) Sprout: 44 Grand St, Williamsburg and Twig: 274 3rd Ave, at President, Gowanus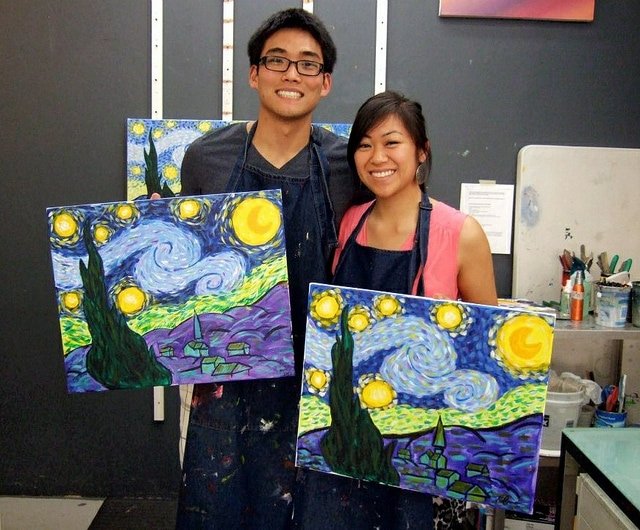 3. Pick your painter and your poison. At each of Painting Lounge's BYOB classes, students learn how to create a different design and leave with their 16×20" masterpiece in hand (or their date's). They've got the art supplies, corkscrews and cups covered; all you have to bring is some liquid courage to get those creative juices flowing. ($50/person). Painting Lounge: 438 Union Ave, Williamsburg
4. There's something for every taste bud in Brooklyn Kitchen's culinary laboratory, from "How to Become a Cheese Wiz," to "Ice Cream Making," "Veggie Burgers 4 Ways," "Vietnamese Street Food" and a even a romantic "Couples Dinner Class." (Most classes $50-85/person). Brooklyn Kitchen: 100 Frost Street, Williamsburg
For more NYC classes, visit coursehorse.com.