Kristen Wiig, Humphrey Bogart, Toto, Robert Redford, Hugo, Rango, they'll all be there for your viewing pleasure this summer, plus a slew of underground (still al fresco) flicks. Grab some grapes and a cuddle buddy and find a seat at one of these six series of outdoor films in NYC. (And if these movies don't suit your mood, try the Intrepid, Habana Outpost, and Central Park.)
Movies Under the Stars | 100 Sinatra Dr., Hoboken
Pier A Park offers free screenings every Wednesday all summer long. Expect new and classic hits like Casablanca, Bridesmaids, The Wizard of Oz, and more. Guests can bring chairs and food items, but alcohol is not permitted.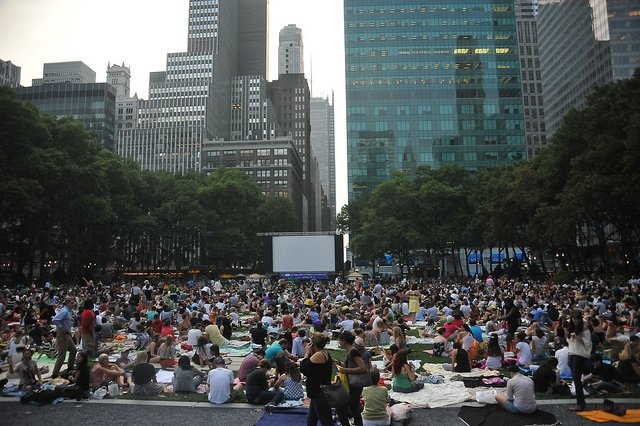 HBO Bryant Park Summer Film Festival | 41 W. 40th St.
Bryant Park's free film festival is back with cinema classics like Butch Cassidy and The Sundance Kid, Psycho, Rebel Without a Cause, and All About Eve. The park hosts the event every Monday beginning June 18th, and offers free bike parking at the Pétanque Courts.
Movies With a View | Brooklyn Bridge Park
Movies With a View launches its 13th season on July 5 and will show a film every Thursday. Flicks include ET: The Extra Terrestrial, To Kill A Mockingbird, Clueless, and more. Brooklyn Radio DJs curate the free screenings, which include BAMcinématek shorts after each feature. The event also offers valet bike service. Grab a drink before at Photoville, the park's new pop-up beer garden.
Rooftop Films | Locations vary
The local non-profit group Rooftop Films returns with a summer film fest of indie movies throughout the summer at various intimate venues. The full schedule is available on the event's website and tickets are $12.
River Flicks 2012 | Hudson River Park
The Upper West Side park features free movies (and popcorn!) all summer long for both kids and adults. Wednesdays are "grown-up" movie days with Moneyball, Bridesmaids, and more, while Fridays feature kids movies that include Hugo and Rango.
Red Hook Flicks | Valentino Pier
Red Hook Flicks kicks off another summer of free movies under the stars, starting Tuesday, July 12. Selections include How to Train Your Dragon, Lost Boys, Alien, and Young Frankenstein. Fans of old cartoons will be reeling with excitement when Popeye the Sailor Man appears for an episode before each feature film.
Photos: Rooftop Films Inc., Asterix611, Brendan McCarthy of Urban Fly Guide