Less than three hours outside Manhattan lies one of those rare destinations with that special je ne sais quoi. Things just "happen" in the North Fork. Once, a passing driver rescued my walking party and delivered us to her favorite vineyard, where the owner proceeded to lend us his own bikes for the day. And on my most recent trip, a coffee stop became a whole evening of, well, magic.
Here's how to create a little magic of your own on a getaway to Long Island's North Fork.
Where to sleep
Set in the tiny hamlet of East Marion, about 10 minutes by bike from both Orient Point and Greenport, The Blue Inn (7850 Main Road) is a newly opened homey escape offering comfortable, modern rooms. The main building is a classic home, replete with white rockers on an elegant covered porch. Cozy quarters in back provide views of the properties gorgeous grounds.
The Blue Inn's 29 guest rooms vary in decor, but all have a breezy feel, with charming details like exposed ceiling beams or dark wood furnishings against sunny yellow walls. Outside, rows of trees line a large sunken pool, and bright flowers, lovingly maintained by the inn's friendly manager, Barbara, peek out of the garden.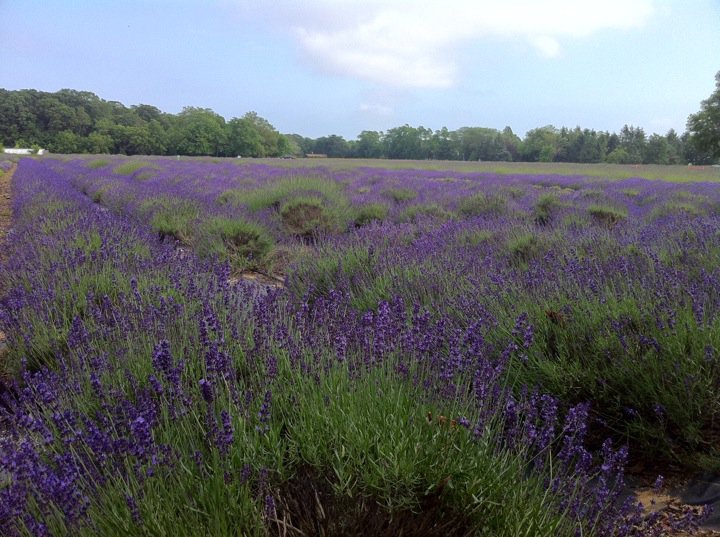 There's a covered deck, perfect for enjoying a drink or bite from the property's bright, beachy restaurant (look up on the roof to see the remains of the old farm's windmill), or you can cook up the day's fresh catch at one of the grills on the lawn. Next door to the Inn is Lavender by the Bay, a lavender farm (visitors welcome seven days a week throughout the summer) and quaint shop selling honey, crafts, and all things lavender. This means that The Blue Inn's entire back area overlooks row after enchanting row of lavender, which perfumes the air all summer long.
Book the special midweek package, which includes one free bike rental per couple from Dan's Bike Rentals, one free tasting per couple at nearby Old Field Vineyard, a 20% discount for a round of golf at next door Island End Golf and Country Club, continental breakfast and a free drink plus a free entrée at the Blue Inn restaurant. When you book two nights ($225/night), you get the third night free. Valid Sun-Thurs. (Weekend guests can enjoy all of these package perks, minus the third night free.)
Go for a ride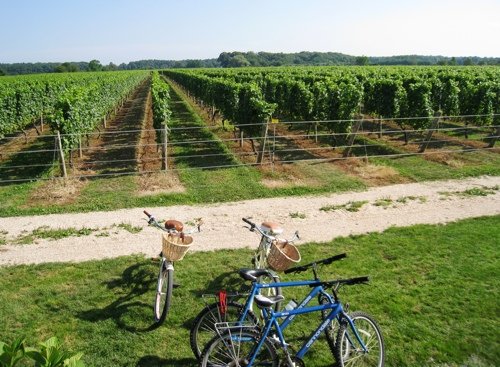 My welcoming committee to the area was Dan of Dan's Bike Rental, which delivers specialized hybrid bikes to hotels, marinas, and train stations around the North Fork ($25-30 per day, depending on delivery location).
Upon Dan's advice, I bypassed popular Orient Beach State Park and veered left to into Orient Point County Park. I bumped along out to the water, where I found myself alone at the edge of the earth (or New York, anyway). To one side, a wood-shingled mansion sat on a bluff and to the other was the cartoon-cute Orient Point ("Coffee Pot") Lighthouse. Butterflies fluttered in the grass, and the crisp quiet was punctuated only by lapping water and the occasional songbird.
Hit the town
Back in the picturesque town of Greenport, I went boutiquing, stopping to sample at new-kid-on-the-block Vines and Branches (411 Main St.), a gourmand heaven filled with everything from "butter olive oil" to all sorts of infused oils and vinegars, plus a lovely selection of specialty foods and a sweet cafe with outdoor tables.
Next it was time for a refresher at the Greenport Harbor Brewing Company (234 Carpenter St.). At the cool tasting room, set in a former firehouse (next door to a minuscule, historic brick jail), you can sample a variety of brews, all for the cost of a glass ($8). While you're there, pick up some hearty, delicious bread made by "brewery baker LeeAnn Romanelli using the brewery's spent grain ($5 a loaf).
Make a little magic

I had planned to indulge in some fresh seafood and Parmesan truffle fries at the The Frisky Oyster later on, but little did I know when I stepped into D'Latte (218 Main St.) that my coffee craving would alter the course of my night. Shortly after settling at a sun-drenched table in the adjacent Biere—part of the cafe by day and by night (Thursday to Sunday only) a bistro and craft beer—the place closed.
Frank, the joint's amiable proprietor, welcomed me to hang around as he took up his guitar near the window. And the next thing I knew, I was touring D'Latte's backroom lounge-cum-historic-treasure-trove with Venecia. Her own family history dating back to the town's early days, she identified faces in the yellowing photos on the wall before shyly pointing out her ancestor's signature on a gorgeous framed copy of the Declaration of Independence.
The rest of the evening passed as a series of vignettes, pastel in color and blurred around the edges: crisp whites from One Woman Wines (the nearby winery run by Frank's ex-wife), homemade salami, the couple looking for coffee (who stayed for dinner), lively conversation (Venecia as the "Pepsi Girl" in the '50s, live music jams at the bar, North Fork history…), a beautiful dinner "thrown together" in the style of any good Italian graced with unexpected guests..
It was a lucky evening, to be sure, but pedaling back to the Blue Inn in the glow of dusk and a "did that just happen?" daze, I determined that such things are not uncommon in these parts.
How to get there: Take the Hampton Jitney and get off at the Greenport stop, just a five-minute walk from The Blue Inn. Or take the LIRR to Greenport Station. For those bringing their own bikes on board, make sure you follow instructions first.
For more North Fork activities by bike, read oM's North Fork Vineyard Guide.

View Exploring the North Fork of Long Island in a larger map