For romantic occasions or a night out with friends, New York's glistening skyscrapers offer the perfect backdrop for special events of any kind.
Manhattan itself may have its fair share of scenic rooftop and waterfront dining, but only these neighboring eateries can serve up full panoramic views of the famed city skyline with their entrées.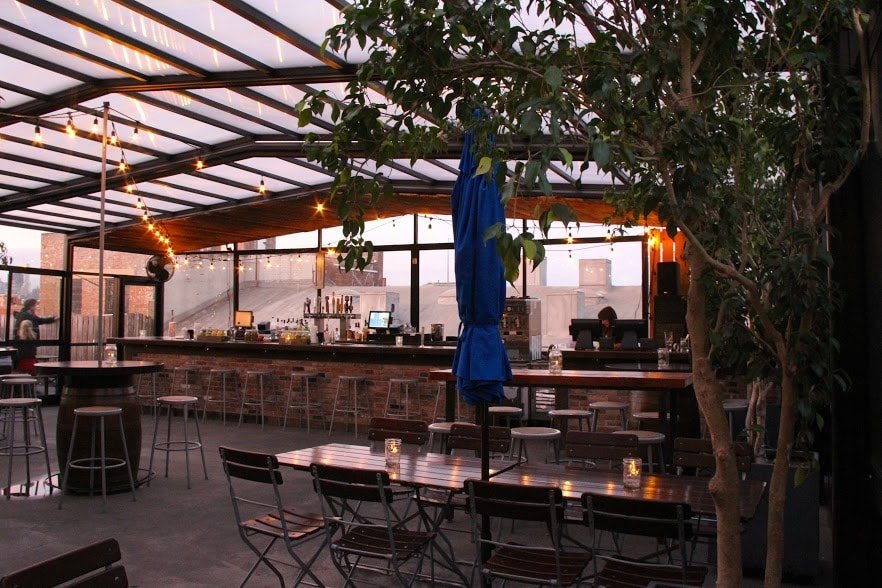 Berry Park | 4 Berry St., Brooklyn | Take the L to Bedford or the G to Nassau
With views of McCarren Park on one end and the Manhattan Skyline on the other, Berry Park's expansive rooftop beer garden adds an intimate ambiance to this neighborhood bar. Take a seat in a corner nook with a plate of Pretzel Crusted Chicken with Duck Fat Fries or a Pulled Pork Sandwich, and make sure to try one of their many Bavarian beers on tap.
Z Hotel Rooftop Lounge | 11-01 43rd Ave., Long Island City | Take the F train to 21 St – Queensbridge
Sitting atop the Z Hotel is a stylish beer garden with a full 360-degree view of New York. Just steps away from the Queensboro Bridge, hotel guests and bar-goers alike can relax with signature cocktails and bar fare at this popular rooftop lounge.
Bubby's Brooklyn | One Main St., Brooklyn | Take the A/C to High Street; F to York; or 2/3 to Clark Street
Following the popularity of their Tribeca location, Bubby and Company headed across the river into DUMBO between the Brooklyn and Manhattan Bridges to open Bubby's Brooklyn. Fighting  to "defend the American table," the restaurant serves up daily specials like New York Organic Pasture Raised Strips, along with mainstays like House Cured Bacon Wrapped Meatloaf.
Water's Edge Restaurant | 401 44th St., Long Island City | Take the G to 21st; 7 or 7x to Vernon-Jackson
This Long Island City restaurant offers seafood and American cuisine with fresh seasonal sides, prepared against their stunning view of eastern Manhattan. Diners can enjoy Char-Broiled Baby Octopus or Crescent Farm Duck Breast, paired with a glass of wine from their extensive selection.
SHI | 4720 Center Blvd., Long Island City | Take the G to 21st; 7 or 7x to Hunters Point
For a casual atmosphere with a touch of sophistication, Shi is another hidden Long Island City surprise tucked along the East River. The Asian lounge offers outdoor seating in warmer months, placing diners in the Gantry Plaza Park as they nosh on sushi and sashimi.
ALMA | 187 Columbia St., Brooklyn | Take the F or G to Carrol or Bergen
This Mexican joint in the Columbia Street Waterfront District boasts three levels of skyline views, including year-round rooftop dining and a first-floor neighborhood bar. Alma is known for their generous portions of classic Mexican dishes, as well margaritas specials like Cucumber and Blood-Orange.
Giando On The Water | 412 Kent Ave., Brooklyn | Take the J, M, or Z to Marcy
Giando may be sleek and flashy, with in-house pianist and giant chandeliers, but the amazing views of the Williamsburg Bridge and East River set this locale apart from other Classic Italian eateries. Enjoy Fish du jour or a generous serving of Friend Calamari while taking in the stunning skyline.
Chart House | 1500 Harbor Blvd., Weekhawken | Take the Hudson River Ferry to Lincoln Harbor
With several waterfront locations nationwide, the Chart House of Weehawken is one part seafood, one part steakhouse. Though they are known for their exotic entrees, their signature dish is their Hot Chocolate Lava Cake dessert, which is almost as savory as the views of the Hudson River.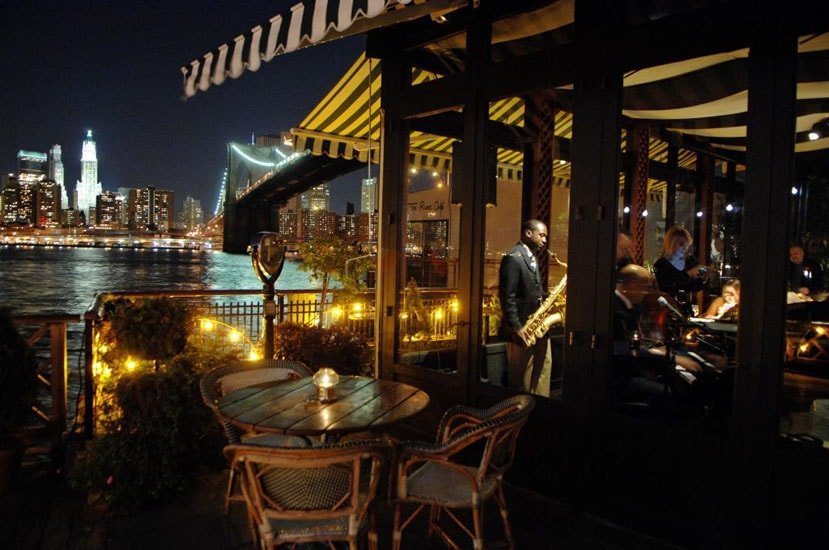 River Café | One Water St., Brooklyn | Take the A or C High; the F to York; or the 2 or 3 to Clark
Seated comfortably under the Brooklyn Bridge, The River Café helped transform its waterfront locale into an elegant delight for all the senses. The restaurant plates American fare like Colorado Rack of Lamb and duck breast, but be sure to save room for the Chocolate Marquise Brooklyn Bridge, which arrives in the shape of the landmark bridge the River Café overlooks. The restaurant has been closed due to damage from Hurricane Sandy, but is set to reopen before Christmas.
Plus, read this oM story on more places to get high in the NYC sky.

View Best Restaurant Views of Manhattan Skyline in a larger map
Header photo by Betty Tsang