Our unabashed love affair with the burger borders on culinary nationalism. So what if hamburgers are said to have their roots in Hamburg, Germany? From its humble beginning, the succulent ground beef patty has risen to prominence on our very own shores, sizzling on grills across the land. The hamburger is so thoroughly American that making a meal of one is practically patriotic.
We journeyed across the boroughs and beyond to places like a traditional pub, an iconic steakhouse, and a trendy Williamsburg restaurant, on a quest for the best burger (with the best prices) of them all. Whether they are served on a simple seeded roll or brioche bun, grass-fed or a blend of sirloin and chuck, this cornucopia of patties will satiate even the most demanding carnivore. Get started on a car-free odyssey to sample the top 10 burgers in NYC and beyond.
Where: Donovan's Pub | 5724 Roosevelt Ave. | Woodside, Queens
The Burger Basics: Donovan's is a classic Irish pub with a fiercely loyal clientele. Don't expect bells and whistles at this old-world tavern, but do expect an honest burger that perfectly compliments the beer-centric beverage offerings. Very juicy with an excellent exterior char, the eight-ounce burger comes with thick-cut fries. It is a bargain at under 10 bucks, even when loaded with extras like bacon strips and cheese. Bring cash as no credit cards are accepted.
How to get there: 7 Train to Woodside-61 Street, exit at 61st and Roosevelt and head 4 blocks west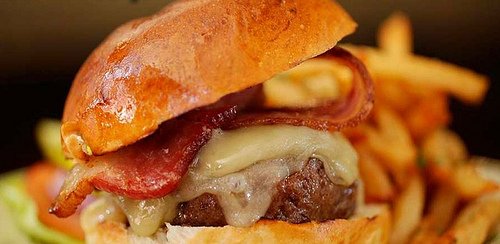 Where: DuMont Burger | 314 Bedford Avenue | Williamsburg
The Burger Basics: An offshoot of older sibling DuMont, this casual kitchen's grilled burgers are among the best in this burger-crazed borough. DuMont is set to reopen on May 14, 2014 and is located in the ultimate hipster neighborhood, where these artisan-style burgers are served with fresh condiments like crisp house-made pickles, ripe tomatoes and pristine lettuce, served on a lightly toasted brioche bun. You can choose from five different cheeses at no additional charge. The DuMont Burger comes with your choice of shatteringly crisp fries, sublimely sweet onion rings, salad or soup. The daintier, five-ounce mini burger is served on crusty toasted ciabatta bread. There is a full bar, and the house cocktails include several winning combinations. With only a few dozen seats and so many burger devotees, come prepared to wait.
How to get there: L train to Bedford Ave.
Where: Piper's Kilt | 170 W 231st St | The Bronx
The Burger Basics: Locals gather at this boisterous Celtic bar in Kingsbridge to watch football, drink beer and down the self-proclaimed best burger in the Bronx. They don't tinker with the basic formula, and they don't need to. From a timeless plain to a hearty chili-topped, these beefy rounds satisfy without being fancy. Tuesday nights the burgers are all half-price, or come on the weekends from 12-3 p.m. for the all-you-can-drink special, $16.99, including any burger on the menu. In spite of the copious amounts of alcohol consumed here, this place is often full of families, so bring the kids.
How to get there: #1 train to 231 Street
Where: 67 Burger | 67 Lafayette | Fort Greene
The Burger Basics: This causal burger joint is garnering respect from burger lovers around town thanks to its tasty burgers, speedy service and low prices. The seven-ounce burger features beef ground fresh daily and is served on a classic sesame-topped bun. There are lots of condiments for you to personalize your burger, including standards like cheese and raw veggies, to more unusual toppings like crispy fried artichokes. Seasoned curly fries have just the right amount of kick. You can order a turkey, chicken or veggie burger, with delicious results. A Park Slope branch at 234 Flatbush Ave. has just opened.
How to get there: G train to Fulton or C train to Lafayette
Where: Peter Luger | 178 Broadway | Williamsburg
The Burger Basics: Peter Luger has been serving its famed Porterhouse steak since 1887. Time has stood still at this old school Chop House. You will be greeted by the maître d', dressed in formal jacket and served by a bow tie clad waiter. The flame-broiled burger is over-sized, weighing in at over eight ounces of tender, just-ground prime beef, with a supreme ratio of fat to lean. Peter Luger's is perfection if you are seeking a first-rate, pure-meat experience in a nostalgic setting. The essential garnish here is the fried onions, sweet, chewy and deeply caramelized. Forego the ketchup and indulge in the flavorful house steak sauce. No credit cards accepted, and burgers available at lunch only.
How to get there: J, M, Z to Marcy Avenue. Walk on Broadway towards the East River to 178 Broadway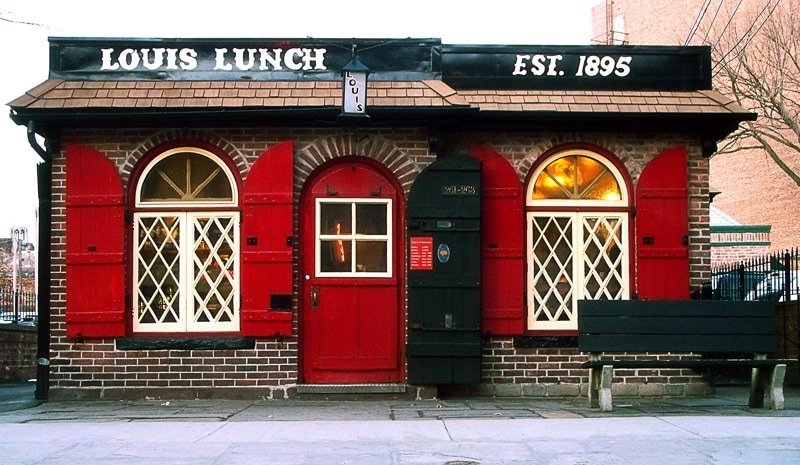 Where: Louis' Lunch, 263 Crown St., New Haven, CT.
The Burger Basics: Beef lore says that the American version of the hamburger was born here in 1900, when Louis Lassen placed ground steak trimmings between two slices of toast. This luncheonette is steeped in tradition, the most unusual being that the customary ketchup and mustard is not available. The only condiments deemed appropriate are cheese, tomato and onion. Don't come here looking for fries either, as potato salad, loaded with hard-cooked egg chunks, is the carb of choice. The burgers are tasty, but the real treat is an authentic bite of history, with the patties cooked in the original upright broiler. Cash only, closed Sunday, Monday and for the entire month of August.
How to get there: Metro North to New Haven.  Louis' Lunch is about a 15-minute walk from the station.  Head towards the Yale University neighborhood, take a right on College and a left on Crown.
Grass-Fed Burgers
Grass-fed cows forage for their food in the pasture, unlike their less fortunate grain-fed cousins. There are a myriad of environmental and health benefits that come along with eating grass-fed meat, but the distinct taste of the meat stands on its own, and is converting numerous foodies to its camp for its flavor value. A happy cow makes a tasty burger.
Where: Melt | 440 Bergen St. | Park Slope
The Burger Basics: The Melt Burger is comprised of a glorious patty of NY State Sugar Hill Farm Grass-Fed Black Angus beef, topped with aged-white cheddar and fire-roasted tomato that enhance the meat's lean flavor. Sides include hand-cut fries, sweet potato fries or beer battered onion rings, and are worth the extra $5 at dinner. The innovative cocktail menu is a welcome touch.
How to get there: Take the 2, 3 or 4 to Bergen Street
Where: Lot 2 | 687 6th Ave. | Windsor Terrace/Park Slope
The Burger Basics: Lot 2 serves a grass-fed burger that is the epitome of juicy, without being soggy. House-made pickles add a crunchy flourish, as do the accompanying thick potato wedges brushed with duck fat. They are twice fried, with a great crust and just the right touch of salt, which blissfully complement the subtle, grassy taste of the beef. No reservations accepted, but the exceptionally down-to-earth staff will make your wait tolerable.
How to get there: F to 7th Avenue. Make a right on 19th street, left on 6th Ave.
Where: Bareburger | 2301 31st St. | Astoria
The Burger Basics: Grass-fed beef, all-natural cheeses and organic vegetables are served on your choice of buns or wrap options at this organic food Mecca. Pasture-raised ostrich, elk and lamb burgers add an eclectic and exotic note to the menu.  They somehow manage to keep the naturally lean meats juicy and exceptionally tender, even when ordered well done. The recommended accompaniment is the fries with inventive dipping sauces that come in portions big enough to share. There is outdoor seating on the patio in warmer months. Yummy milkshakes made with organic milk and a well-priced kid's menu means you can skip the babysitter and bring the kids along.
How to get here: N train to Astoria-Ditmars Blvd
Where: Dubuque | 58 Court St. | Carroll Gardens – Update: this restaurant has now closed.
The Burger Basics: This friendly neighborhood burger joint uses top-quality meat to make a divine burger. The menu highlights are the creative stuffed burgers: one crammed with a bright green basil pesto; the other variation brimming with woodsy, earthy duxelles. Order a side of tangy fries and a beer and you will approach burger bliss. Tuesday night's $10 beer and burger special is a bargain.
How to get there: 2 or 3 train to Borough Hall
Photos: avlxyz, dumont, louis' lunch
Allison is a native New Yorker, who has lived in Rome, Tuscany, Melbourne, Toronto and Los Angeles. She frequently contributes travel pieces to Family Travel Forum, using her own children as guinea pigs as they travel the globe. She is fluent in Italian and Spanish and laughably adequate in French. Her background as an Early Childhood Educator gives her an added understanding of what it takes to travel with kids in tow. She firmly believes that the most important part of education takes place outside of the classroom, on the road, around the world. She never misses a chance to sample local delicacies, as her love for travel goes hand-in-hand with her love for food and wine. Follow Allison at @gourmetrav.