What's better than going to the most popular bar in the city, with crushing crowds of chick-cruisers, drink specials that end before sundown and bartenders who barely respond? Sure, it's hard to find a good bar, and even harder to find one you don't have to drive to, but they do exist. And once in a while, you can even find one that hasn't gotten too popular for its own good.
The Green Room in Harrison, NJ (off of the PATH train) is the kind of bar that you don't see often. It has the atmosphere of a great music bar without the crowds and overblown hype. The name has little to do with the Irish heritage that the area is known for, and is an allusion to where every music fan wants to be, backstage with the artists in the green room.
There's no better place within walking distance of a PATH train that offers $3 dollar sangrias (no fruit-punch flavor), and spinach and black bean quesadillas. It has a full-vegetarian and meat-lovers menu, a bartender who greets you like he would any regular (even if you're a first timer), and is perfect for an after-work happy hour or a night out with friends.
And so it was, at a post-work happy hour in the middle of the week, that a colleague introduced me to the Green Room. Although the sangria is "on tap," delivered via spigot, it's just as strong and fresh tasting as sangria should be. (And that, my friends, is coming from a Portuguese girl who knows her sangria.)
The quesadillas are packed with flavor and taste, and are much healthier than anything you could get at most other bars. The portions are very well-sized for prices that won't force you to rebudget your lunch rations for the week. Though I can't vouch for the rest of their selection, I've heard good things and am eager to sample even more myself. The Green Room has both an extensive food menu and enough drink options to keep you coming back and rut-free.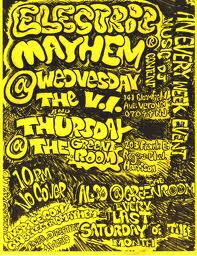 Weekends bring live music to the scene, with local bands hitting the stage, adding another level of satisfaction. It's not exactly easy to find a place with quality food, inexpensive (but not "cheap") drinks and a music scene under one easy-to-access roof.
Who would have thought that the oft-overlooked Harrison NJ could offer such a gem? I know I didn't.
How to get there: Take the PATH toward Newark (change at Journal Square if not on the WTC train) and get off at the Harrison station. Turn left on Frank E. Rodgers Boulevard and walk toward number 203. You can get more information about them from their (slightly over-exuberant) MySpace page. It's open from 11:30 a.m. to 2 a.m., seven days a week.