Summertime, for some New Yorkers, can mean spending all weekend, every weekend at the beach, in the park, or sipping Coronas at the Frying Pan. If you'd like to enliven that nice but predictable calendar, consider attending one of these nine outdoor festivals near NYC, with themes ranging from Shakespeare to lobster to Lucille Ball and live jazz.
What: Hudson Valley Shakespeare Festival
Where: Boscobel, NY
When: June 14 to August 31
Why: Arrange a blanket on the green, dig into your pre-ordered picnic, and share a few laughs with the Hudson Valley Shakespeare Company. On the bill this season, "The Comedy of Errors," "Hamlet," and Mark Brown's hilarious adaptation of "Around the World in 80 Days."
Cost: Around $30; certain special performances with a wine tasting cost $54.
How to get there: Metro-North railroad from Grand Central Terminal until Cold Spring. The festival is providing a Bard Bus which picks up patrons from Cold Spring and transports to the festival grounds for only $6.
What: Atlantic City Food and Wine Festival
Where: Atlantic City, NJ
When: July 28 to 31
Why: Travel to the East Coast's version of Vegas, and prepare to be wined, dined and educated at the hands of super star chefs. Imbibe via the wine tastings and educational sampling panels and indulge in the cooking demonstrations hosted by Food Network personalities. At the end of the day, hang out after hours with Food Network stars at the House of Blues.
Cost: Prices vary per event: Wine 101 tasting event for $40. Guy Fieri's Cheese Steak Battle for $75. The Chef Party at the House of Blues is $99.
How to get there: Consult oM's public transit guide to AC.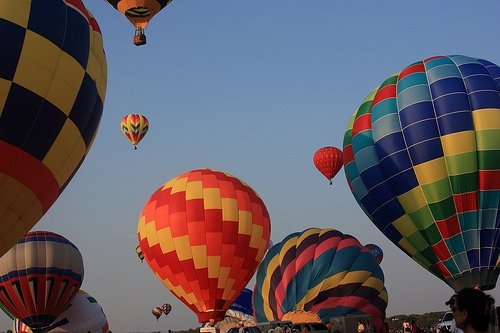 What: The 29th Annual Quick Chek New Jersey Festival of Ballooning.
Where: Readington, NJ
When: July 29 to 31
Why: Going up? Enjoy a balloon ride 1,000 feet above the Readington festival grounds. Watch the sky fill with colorful balloons in new shapes for 2011, including a butterfly, Ben & Jerry's ice cream cone and a shark. While ballooning is at the festival's core, popular music acts will also be performing, including Meat Loaf and Bare Naked Ladies.
Cost: $20 entry fee, $200 for a balloon ride. Performances are a separate fee.
How to get there: Take the PATH train and depart at the Newark Penn Station. From here, board a train bound for Raritan Station. Once at Raritan, take a taxi to arrive at the Solberg Airport, where the festival will take place.
What: The 64th Annual Maine Lobster Fest
Where: Rockland, ME
When: August 3 to 7
Why: If you've ever wondered how many vats of butter it would take to accompany 20,000 pounds of lobster, Penobscot Bay is the place to be. In addition to enjoying the festival's namesake seafood, watch lobster crate races, enjoy live music and celebrate the coronation of a new Maine Sea Goddess, along with her royal, seafaring court. Wednesday is "Hometown Day," and the grounds are free from noon until 10 pm.
Cost: Four day passes are $25.
How to get there: Amtrak Northeast Regional train to the Backbay of Boston, MA. From there, transfer to Boston, MA North Station. Ride the Downeaster train until Portland, ME. Catch a bus from Portland to Bath, Maine. Finally, ride the Maine Eastern Railroad from Bath to Rockland. Or consult offManhattan's guide to renting hybrids in NYC. It's worth the trip.

What: Lucille Ball Festival of Comedy
Where: Jamestown, NY
When: August 3 to 7
Why: America's original funny lady would have been 100 this year, and her hometown of Jamestown is pulling out all of the stops to honor her. Tour the village where Ball grew up, participate in a Lucy & Desi trivia challenge and enjoy performances by the reigning women of comedy: Joan Rivers and Whitney Cummings. Conclude your celebration with a bite of Lucille Ball's 100th birthday cake.
Cost: Prices vary depending on the event, from a $15 tour of Lucy's Cemetery to tickets to see Joan Rivers ranging from $30 to $70.
How to get there: Ride Amtrak's Empire Service line out of Grand Central Terminal and arrive in Buffalo, NY. Buses are available from the Exchange St. Station in Buffalo to Jamestown.
What: The 57th Annual Newport Jazz Festival
Where: Newport, RI
When: August 5 to August 7
Why: George Wein has delivered fresh musical talent to the crowds since creating the first jazz festival in America, pulling big name artists including Louis Armstrong and John Coltrane. Gracing the Festival's stage this year will be Grammy-winning best new artist Esparanza Spalding, as well as renowned trumpeter Wynton Marsalis and Coltrane's son, Ravi Coltrane. Participate in a musical experience with future legendary performers.
Cost: Tickets are $69 in advance or $75 the festival weekend. Children 3-15 are $15 per day, while children under 3 are free
How to get there: Amtrak Northeast Regional train to the Providence station. The Peter Pan Bus terminal in Providence provides service to Newport. Consult oM's public transit guide to Providence.
What: NY Green Fest 2011
Where: Alfred, NY
When: August 5 to 7
Why: Feel good about your participation in forums, exhibitions, and a fair that make it easy to learn how to help keep the planet feeling good too. The festival is thoroughly eco-friendly, with musical acts performing on a solar stage, amplification provided by a portable, solar sound system. Learn about living a green life during the day, and enjoy dance fundraisers by night. All proceeds from the festival will support the Green Party.
Cost: $45, $20 for teens/youth
How to get there: Ride Amtrak's Empire Service line to Buffalo or Rochester. The Green Fest has set up a ride share program to pick up attendees from the train stations and airports in Buffalo and Rochester. Email register@nygreenfest.org to sign up.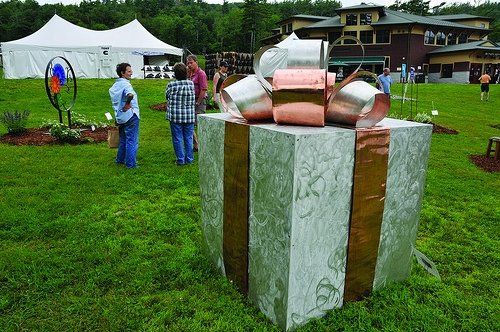 What: 78th Annual Craftsmen's Fair
Where: Newbury, NH
When: August 6 to 14
Why: One-of-a-kind is the theme of this fair, with unique, hand-made treasures filling the interior of Sunapee State Park. The Annual Craftsmen's Fair has over 200 individual booths, vending such creations as pottery, metalwork, jewelry, furniture and more for you to take home. Check out the Living with Craft exhibition to view entire rooms filled with hand-made furniture.
Cost: $9 for two days.
How to get there: Consult offManhattan's guide to renting hybrids in NYC.
What: The Great New York State Fair
Where: Syracuse, NY
When:  August 25 to Sept 5
Why: Head to greener pastures and meet some barnyard friends up close at the NY State Fair. New York City children will jump at the opportunity to attend a livestock show and be within feet of a cow or pig. Other events include Dairy Day and Beef Day, plus performances from legendary rock band Journey and modern day favorite Maroon 5.
Cost: Tickets to enter the fairgrounds are $10, with discounts daily for children or seniors, however attending Grandstand events will require a separate ticket.
How to get there: Ride Amtrak's Empire Service from Penn Station to Syracuse. From there, catch a 15 minute taxi to the State Fairgrounds.
Top Photo: Doug Mason