When you're moving upwards of 70 miles per hour, there is a great satisfaction in being able to take your eyes off the road to look out the window and marvel at that gorgeous countryside for the length of your journey. No road rage. No heavy carbon footprint. No wheel-clutching, head-twitching concentration. But public transportation's liberating and environmental perks don't always come cheap.
If you'd like to get out of town this summer without dreading that vacation's credit card statement, consider one of these 10 superb public transit deals for travelers leaving Manhattan, heading to a variety of destinations as near as Montauk and as far as Martha's Vineyard.

The Transportation: New Jersey transit to Six Flags Great Adventure
The Date: Through Fall 2011
The Deal: The Six Flags NJ Transit package price of $62/adult or $43/child (a savings of $37) includes roundtrip bus transportation and admission to the theme park and Wild Safari.
The Transportation: Hampton Jitney
The Date: August 9, 2011
The Deal: $145 for a sightseeing tour of the Hamptons, including transportation to and from NYC. Spy on homes of the rich and famous, visit the Montauk Lighthouse and Shinnecock Museum, and enjoy delicious refreshments.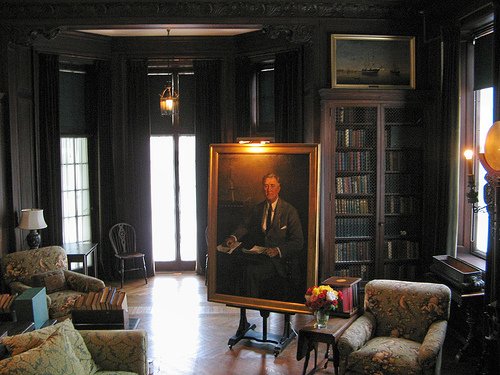 The Transportation: Metro North Hudson Line
The Date: Now through October 31, 2011
The Deal: Explore President Franklin Roosevelt's home and final resting place in Hyde Park with the help of a free shuttle that will pick you up at Poughkeepsie Station in the Hudson Valley and chauffeur you over to the historic grounds.
The Transportation: LIRR Beachcomber Deals
The Date: Now through September 5
The Deal: $21, plus discounted beach admission, from Manhattan and Brooklyn. $18 from Jamaica. Ride the LIRR from Penn Station to one of Long Islands best summer beaches. Upcoming events include art festivals and the Quiksilver Pro New York – World Professional Surfing Competition in September.
The Transportation: Cape Cod Central Railroad and Hy-Line Cruise
The Date: Throughout summer, check the schedule for specific times
The Deal: $32 Rail Sail Combo. Explore Cape Cod's charming coastline and historic inland through this narrated three-hour voyage by land and sea.
The Transportation: Save up to 25% on Northeast Regional Amtrak line
The Date: Year-round
The Deal: When you book 14 days in advance, enjoy discounted one-way rail fare from New York to a range of cities like Philadelphia ($36), D.C. ($49) or Boston ($49). Amtrak Northeast service is soon expected to offer Wi-Fi in 2011.
The Transportation: Essex Steam Train and Riverboat ride during a two-day tour of Martha's Vineyard.
The Date: Monday, Wednesday, Saturday through Fall
The Deal: For $128, a bus departs from 87 Bowery in Chinatown, and travels to Connecticut, touring Essex, Mystic Seaport and Aquarium, and places like New London's Naval Submarine Base before moving on to Providence, RI. One night of hotel accommodations in Providence is included in the trip, at a Comfort Inn or similar. The next day, tour Martha's Vineyard via steam ship and arrive back in New York around 7pm. (Oh, buy two tickets get one free.)
The Transportation: New Jersey Transit
The Date: Now through September 5, 2011
The Deal: Save $6.50 per ticket with a New Jersey Transit Beach Package. Whether you choose to travel to Long Branch, Asbury Park, Ocean Grove, Bradley Beach, Belmar, or Manasquan, enjoy a traffic-free ride and a $31.50 fare, including your beach pass.
The Transportation: Amtrak's Northeast Regional
The Date: Through winter 2011
The Deal: Families save 15% when riding Amtrak to Providence, RI. Up to two children ages 2 to 15 can accompany each adult at half the regular (full) adult rail fare.
The Transportation: New Jersey Transit
The Date: Weekends and Holidays year-round
The Deal: With NJ Transit's Family Super Saver Fare plan, two kids age 11 and under ride free.
Photos: Amtrak, Randy, and olivermccloud